Interview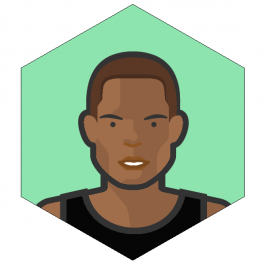 We talked with Terry Tomlin in February, 2020.
Stats
👋 Hi! Tell us about yourself and your training
I'm Terry Tomlin, 29 and from Virginia Beach, VA. Currently living in Hampton, VA with my fiancée Kayla.
I work as a PCA Agent for Alorica which is a call center for UPS. I am currently getting my bachelor's degree in business administration and concentration in entrepreneurship at Strayer University.
I have been training for 8 years. I started because I wanted to get in shape, so I could compete in a bodybuilding competition.
I really like the way training gives me self confidence and how it's helping me grow muscle over time (my deadlift PR is 375 lb).
Besides bodybuilding, I have been running track in 6th grade and besides bodybuilding/fitness, I enjoy spending time with my family, playing with my 4 dogs, movies, and concerts.
I have been sponsored by Meal Pro 2 Go. I originally started out as a brand ambassador but was sponsored days later and I represented my sponsor.
⏱ Describe a typical day of training
My philosophy is to work hard, stay focused, and the results speak for themselves. I always train alone. I train 5-6 days a week for 1 hour and a half(4 days on, 1 day off). I usually do push-pull-legs which have given me good results.
In the off-season, I do drop sets, pyramids, heavy weights and low reps.
My pre-competition fat loss technique is to drink 1-2 gallons of water and stay consistent with my meal preparation.
I go to One Life Fitness – Newport News. I have actually been a member of One Life since 2011. They make me feel like family and the vibe is always positive. In my fitness bag, I always have a weight lifting belt and wrist straps.
I prepare me for training by pre-workout supplementation and pre-workout meal. And I take BCAAs after training for recovery.
👊 How do you keep going and push harder?
---
The biggest challenge I've faced was to recover from a car accident back in 2017
---
I keep going and push harder by telling myself to never give up! I schedule my training time daily with a to-do list. And I make myself go to the gym when the motivation is low by remembering why I started.
I have managed to keep training for so long because I grew up with a horrible body image and as I became part of the gym I consistently wanted to make a change. The best hack of improving in the gym is to use a range of motion on each exercise.
The biggest challenge I've faced was to recover from a car accident back in 2017. My car was totaled and I came close to death and it really affected my training.
Concerning injuries, my best tip for recovering is letting your body rest for a week to hopefully lessen the pain.
🏆 How are you doing today and what does the future look like?
My training is going great at the moment. And my goal for the next 5 years is to win the OCB Pro Card because I want to be a champion. I always train hard, eat clean to reach my goal. Besides that, I want to open my own gym.
I would be more self-motivated if I could start over my bodybuilding/fitness journey.
🤕 How do you recover, rest and handle injuries?
I rest and recover by doing no training for 48 hours. I sleep for 7 to 8 hours. I just go with the flow in case of traveling by changing my schedule.
I take BCAA Aminos by BPI Sports to improve my recovery. I use a foam roller for massaging my body.
🍎 How is your diet and what supplements do you use?
---
Cheat days are twice a week in offseason and once a week during prep.
---
I take high protein and high carb. And I have been able to build muscle more consistently for these. I take about 3640 calories per day. I use Myfitnesspal app for tracking macros.
In the offseason, I eat more red meat like steak, high grams of carbohydrates such as certain starches like potatoes and rice. And in the contest preparation season, I reduce my carbohydrate intake with lower-carb vegetables such as asparagus and fibrous vegetables.
I use BPI Sports One More Rep, BPI Sports BCAA Aminos. I have used these supplements for years and they are low stimulants and taste good. So, I have not had a bad experience with them yet.
I try to time my meals and supplement intake while working a full-time job, in school, and at the gym regularly.
Cheat days are twice a week in offseason and once a week during prep. My favorite is ice cream and cheeseburger and fries from five guys as cheat meals.
I usually eat a protein bar instead of a candy bar. I try to stay lean year-round. I always make sure my meals are prepped daily and that I bring my gallon water jug with me wherever I go. I try to time my meals so my blood sugar levels don't drop.
I rarely drink alcohol nor do I drink coffee. On social occasions, I drink water instead of alcohol or sugary sodas and snacks.
I use a body space app for my workouts and my fitness pal for macros.
👍 What has inspired and motivated you?
I have used Bodybuilding Anatomy by Nick Evans for years and what's great about that book, it illustrates the exercises and how to execute each workout with ranges of motion.
I listen to hip-hop, heavy metal, rock, alternative, and EDM at the gym.
The best advice I have ever received is "Feed your focus, starve your distractions."
My inspiration is Marjorie Thrash because she is not only an OCB pro but she won the 2017 Yorton cup after a 2-year hiatus from competing and she is also the marketing coordinator for OCB and promoter. She is a great person and someone I admire for her work that she does!
I follow Dwayne "The Rock" Johnson because I grew up idolizing him and his work ethic is what I want to emulate.
✏️ Advice for other people who want to improve themselves?
If I were new to bodybuilding, I would research exercises, learn human anatomy, how to eat clean, etc. One should utilize books and research everything relative to bodybuilding.
The most stupid thing I have seen in the gym was texting and sitting on the machine but not using it at all. A lot of people do wrong in the gym because of lifting too heavy and having bad form.
You can use bodybuilding for conditioning for basketball or any outdoor activities.
I engage myself in video gaming, and spend quality time with loved ones, and travel.
🤝 Are you taking on clients right now?
I want to be able to help people accomplish their goals and reach their full potential. Not all trainers tell the truth and there's a saying goes, "you get what you paid for." I am building a brand and I want to show the quality to my clients.
It will take at least 90 days to see results. It's not an overnight process!
I have also a few online clients, I work with.
The most common training question I get is "How much do you bench?" My answer is, "It's not about how much weight I bench its how I complete the lift." Quality over quantity matters!
📝 Where can we learn more about you?
Website: tomlin-fitness.net
Facebook: Tomlin Fitness Coaching
Instagram: @tomlinfitness
Twitter: @tomlin_fitness
I use my Instagram more than my Facebook.