Interview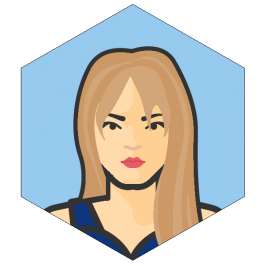 We talked with Tia Blanco in December, 2019.
Stats
👋 Hi! Tell us about yourself and your training
Hi, my name is Tia Blanco and I am a 22 year old professional surfer.
I grew up in a military family so we moved around a lot growing up. I was born in Puerto Rico, moved up and down the coast of California, lived in Hawaii, and now I reside back in California.
My biggest accolades were winning 2 gold medals in the ISA (International Surfing Association).
I currently compete all around the world chasing my dreams!
Also, I am a young entrepreneur and run a skincare business called Dear Self Skincare. Along with my skincare, I am a part owner in Sugar Taco and Kinder Beauty.
Lastly, I am known for being a vegan activist and animal lover!
⏱ Describe a typical day of training
---
While I am not surfing I focus on bettering my athletic abilities.
---
I surf every single day! Even when the waves are small/poor, I like to get in the water and get my blood moving.
Aside from surfing I enjoy cross training like yoga, running, pilates, and other surf related gym exercises. My rule of thumb is to get your heart rate going at least once a day!
My main goal and priority is to qualify for the WSL CT (World Surf League Championship Tour).
In order to do that I need to be physically and mentally strong! I put in as much water time as I can to progress my surfing.
While I am not surfing I focus on bettering my athletic abilities. I am currently practicing a push, pull, and leg day routine which focuses on a specific muscle group every session.
I am constantly making a mental note of where I am in weights (for each excercise) and each session I push myself to step up my game.
Lastly, one specific yoga goal I have is to touch my toes to my head in the scorpion pose!
👊 How do you keep going and push harder?
I believe the best way to stay motivated is to set goals. For me, reaching goals is the best feeling, therefore I find that setting goals makes me strive to work harder.
Other than setting goals, to help you start pushing harder you can listen to music or a podcast that gets you pumped up.
Whatever it is you do to get you in a positive frame of mind, do that before any activity! Feeding your mind with positive thoughts is the foundation to being happy and successful.
My biggest challenge I think is being a good loser… Losing is a part of the game and the key element to progression.
After I lose I get very down on myself and sometimes it will take days before I start getting my motivation back.
However, I have acknowledged this as a weakness and moving forward I will work through my loses with a more positive mindset.
🏆 How are you doing today and what does the future look like?
Today I am working my butt off in every aspect of my life. I love the hustle of working hard and striving to reach my goals.
I am surfing a lot, training hard, running the ins and outs of my business endeavors, and doing my best to push myself in whatever I do.
Go for it in this life, because at the end of your life you are not going to want to regret holding yourself back in life.
🤕 How do you recover, rest and handle injuries?
About 30 minutes after working out I like to eat a meal high in plant based protein.
If I am doing intense training I usually take the 'CALM' magnesium supplement before bed that helps muscle cramps and promotes a good night of sleep.
I usually like to get at least 8 hours of sleep to feel my absolute best.
Lastly, to prevent injury I do a warm up routine before working out or surfing and I do yoga or a stretching routine post workout.
🍎 How is your diet and what supplements do you use?
---
I have never eaten meat in my life
---
Personally, I have noticed a night and day difference in my energy levels eating a clean, plant based, wholefoods diet.
Eating vegan has helped my energy levels as well as my recovery levels after my workouts.
I use to eat a lot of dairy before I was vegan and I noticed an immediate change after cutting that out. Over time I lost unwanted fat, toned out, and just overall felt better.
I have been vegan for almost 7 years now and I feel amazing!
I am not super strict with my diet as long as its vegan… I never deprive myself of certain foods if I want them.
In saying that, I noticed the more I cut out processed sugar, the less I crave it. Therefore, I try to base my desserts around natural sweeteners as much as possible (such as fruit, dates, maple syrup, etc.).
Also, I recognized that the more Whole Foods I ate, the more Whole Foods I craved. However, I definitely think there is a time and place for vegan junk food and I do not deprive myself of it if thats why I want that day!
My vegan guilty pleasures would have to be pizza, grilled cheese, burgers, or ice cream!
I have not had alcohol in about a year… I am not against drinking or people who drink, however its personally not my favorite thing to partake in.
I hate the taste of alcohol and the way it makes me feel. In contrast, I love coffee and tea! I love waking up in the morning to a warm beverage.
Concerning going out, I never think too much into it!
I have never eaten meat in my life, therefore I have always dealt with situations when there is not vegan food available…
I either bring my own food if I know there won't be vegan options, or I eat before or after the party!
👍 What has inspired and motivated you?
---
Honestly, I find social media to be incredibly inspiring.
---
Honestly, I find social media to be incredibly inspiring. I really do follow a lot of really inspiring people…
Granted, everyone is portraying their best lives and showcases their highlights, however sometimes I feel like certain content is really motivating.
For example, if other surfers are posting their surf clips, it will make me hyped to go surfing and push my limits in the water!
Or if I see someone at the gym, it pushes me to go too. Whether it is healthy recipes, gym workouts, footage of other athletes etc, I find social media is always keeping me motivated to be my best self.
If I had to name some people that I follow on social media and who inspire me, it would be:
Coco Ho (Pro Surfer)
Jessica Olie (Yogi Enthusiast)
Daniella Monet (Vegan Activist + Entrepreneur)
✏️ Advice for other people who want to improve themselves?
I would suggest setting very specific, clear goals and working towards them on a daily basis.
The biggest advice when it comes to fitness is consistency and drive. Even on days when you are over it and Netflix might sound more appealing in the moment, push through it and get to the gym…
You will always feel proud of yourself and content after putting in the work.
🤝 Are you taking on clients right now?
No.
📝 Where can we learn more about you?
Instagram: @tiablanco & @tiasvegankitchen
Facebook: @Tia.Blanco
Twitter: @tia_blanco