Interview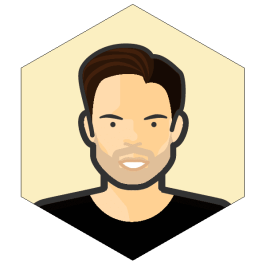 We talked with Paul Dermody in April, 2020.
Stats
👋 Hi! Tell us about yourself and your training
I'm Paul Dermody, 30 years old and originally from Ireland. I have been living in Vietnam with my girlfriend for nearly one year after moving from Barcelona where I lived, also for a year.
I am a personal trainer, though I feel much more than that. My passion is getting people to develop a healthy relationship with food. I feel strongly about getting my clients "off the diet" once and for all and to set goals from that mindset.
I work mostly online with clients all over the world. I also do a small amount of in-person coaching and have now done so in Ireland, Spain and Vietnam.
I have a podcast — with over one hundred episodes, and I have recently started writing articles on Medium highlighting some of my client success stories.
I have been active for over a decade and as I've gotten a little older have defined less of my identity away from fitness as an all-consuming lifestyle and more how it slots nicely into everything that I enjoy.
I have competed in Men's Physique on a national level in Ireland just one time and have since hung up the posing short to focus on other things in life—business, my relationship and travel being the main factors.
⏱ Describe a typical day of training
---
I like to look and feel good and healthy and I place more attention on longevity.
---
I tend to do weights four to five days per week. I admire aspects from all disciplines and have taken parts from bodybuilding, calisthenics and yoga.
I have suffered some bad shoulder injuries in my youth so I no longer feel the need to lift heavy. I focus more on form and how gracefully and controlled the body can move through a full range of motion.
I don't mind whether I train alone or with someone. Working online leaves you without human connection sometimes so it can be nice to have someone to train with. Similarly, getting into the zone is nice too. I'm pretty chill either way.
Every single day I get a long walk in so I am active seven days a week. I believe we create an identity for ourselves that we can deposit into daily with small actions. This helps both mine and my clients philosophy for behaviour change.
I don't train for a certain end-result. I like to look and feel good and healthy and I place more attention on longevity. When I turned 30, all the niggles became that little more apparent. I am grateful for what my body can do.
My gym bag doesn't have much—a few bands and some gymnastic rings. I don't use supplements anymore and I don't over think the process.
Some people make fitness and health their whole life, and there's nothing wrong with that, but it was a pursuit I didn't enjoy.
Now I'm much more relaxed.
👊 How do you keep going and push harder?
I don't beat myself up when I'm lacking a little motivation. I believe in accepting things as they are, not as we want them to be. I find this a useful technique to understand my actions. I often take unplanned rest days.
For the most part, my habits are the same. I eat four to five times daily—foods I love and with loads of nutrition for the most part. I also walk each day to get some air, although the air can be a little heavy here in Vietnam.
When I rest, I'm happy and when I push hard I enjoy it too. Rest and recovery are key to a healthy body.
Competing in physique when I was younger taught me much about character development. I pushed my limits beyond what I thought I was capable of and I used those qualities for everyday life like business or other skills. I have learned just how much our own biggest enemy is our limiting story about who we are, not anyone or anything else.
Sometimes I find clients' motivation remains low because they start off way too deep. Start slow, with manageable chunks and build accordingly.
We are all different in our tastes and interest and it's the same with fitness ethos and goals.
🏆 How are you doing today and what does the future look like?
My goals are not fitness-related. Right now, I'm a fit guy. I don't carry that much body fat and the pursuit of mountains of muscle is something that doesn't get my juices flowing.
It's easier to maintain the house than it is to build the house and that's very much where I feel I'm at in my fitness journey.
My focus is on business, on seeing more of the world and perhaps moving back to Spain in the next few years.
I can't say I know what's ahead for sure, but I'm very excited about it
🤕 How do you recover, rest and handle injuries?
---
Training smarter with lighter weights, better form and better movements has helped greatly in the past few years.
---
I've suffered dislocations on both shoulders. I've had nearly 10 in total. I've had a broken leg because I got hit by a car. I haven't been very fortunate but I'm lucky top be alive. I'm quite relaxed by nature so these things happen.
Training smarter with lighter weights, better form and better movements has helped greatly in the past few years. I travel a lot—particularly these past two years. I don't get too fussed when I miss a day or two of my structure.
Life is longer than we realise and if the cost of a cool trip to a new beach is missing a gym session or a few meals I'm very OK with that.
I never let it become an excuse to derail me for a few days.
Like all things in life, choose a behaviour and accept that consequence. Simple really, and liberating.
I sleep at least eight hours. So many factors that indirectly influence health and body composition are influenced by sleep.
We don't notice the effect of a bad night sleep until we get into a good routine and therefore cannot look back, in which case it becomes easier to understand how much decision-making, enthusiasm, passive activity and willingness to exercise are negatively influenced, not to mention food choices.
🍎 How is your diet and what supplements do you use?
---
When I'm structured I'm happy and it's the same when I indulge.
---
I don't "diet"
I have used my experience in calorie tracking to understand what portion sizes look like and I eat accordingly. I enjoy the way I eat. When I'm structured I'm happy and it's the same when I indulge.
I believe when you are never on a diet then you can never be off a diet. That is a mentality, and one that serves me and my clients. It's the best mindset shift we can make.
My diet has protein, veg, fruit and flexibility—enough of each to ensure longevity.
I rarely have cravings but that's because I don't see things in black and white absolutes the way many do. If I have a little urge, I satisfy it but I love my varied diet so it's not an issue.
My diet is flexible, colourful and tasty. It satisfies not just my macro and micro nutrition but also that more social and emotional sides of health too. Health is multi-faceted and too often we box ourselves into diet "camps"
I love coffee. I drink two cups daily, always before midday. I hate tea, which is funny because I'm Irish.
I love a drink or three. Nothing better than a cold pint.
I don't "diet" so nothing is off limit at parties. I don't worry about specific foods, just the quantity.
I make a decision, enjoy it and just move on, or happily refrain. We over-complicate and over-dramatise these things too much.
👍 What has inspired and motivated you?
My girlfriend is my biggest inspiration externally. Aside from that, I'm self-driven. I don't like relying on anyone for a whole lot. I mean that in a positive way.
No one in life motivates me the way I can motivate myself, and motivation may be the wrong word. I have a certain way I like to live, and therefore I draw all I need from that image.
Podcasts—my good mate Brian Keane has a great podcast. I also listen to Gary Vee's podcast. I've been fortunate to have him on mine. Check that one out ????
I've become less of a consumer of late and more of a do-er.
✏️ Advice for other people who want to improve themselves?
My goal in fitness is to be the influence I needed when I was younger, so if you have someone in your life or on your feed with whom you resonate with and trust, then seek advice from them.
I am always happy to offer advice to younger or eager people hoping to begin to change their lives. Longevity is key, so build a very sustainable way to do things. Don't dive in at the deep end first.
🤝 Are you taking on clients right now?
Yes. I am.
My specialty is in the relationship with each client. I have had a number clients lose over 100 pounds, one of whom has lost 150 pounds. I have also taken clients to photo shoot and stage condition although this is no longer a part of the industry I enjoy as much.
I work with all kinds of people and tend to draw the best from people who want long lasting behavioural change. Leadership and communication are two of my strengths, and my confidence often rubs off on my clients—on their goals and in their lives.
Clients often ask me how to get to a point where food isn't always on their minds.
Again, this comes down to perspective. You cannot create change and decide to be miserable. You must know what YOU want , and enjoy the process.
I like the idea of teaching clients HOW to think not what to do.
Results depend on the person individually. I couldn't possibly blanket answer.
If we cater for the amount of unlearning some people need to do, we understand the complexity of the situation.
📝 Where can we learn more about you?
If you would like to know more about me, check out my Instagram @Pauldermodypt, as well as my Facebook Paul Dermody and my podcast, aptly named the Paul Dermody podcast.
I also publish articles on my Medium account too.