Interview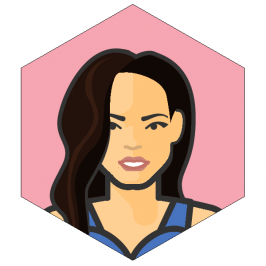 We talked with Elisa Pecini in January, 2020.
Stats
👋 Hi! Tell us about yourself and your training
Hello, My name is Elisa Pecini. I'm 22 years old and I live in Brazil. Nowadays my job is to be an athlete and I feel alive.
I'm not married, but I have a boyfriend and I'm still too young to take children. I'm in my last year of physics college.
I started training at the age of 16 after recovering from an illness (anorexia and bulimia), and the gym was what helped me to recover and get the body I wanted in a healthy way.
Nowadays I have sponsorship which helps me a lot as an athlete.
My supplements are all from New Millen, that also help me with tickets and accommodation for competitions, Protan which is my official painting, Anestezia who creates my Bikinis for competitions, Barbozao Manipulacao that makes my vitamins, BodyEngineers which is a great clothing company in the fitness industry.
Bodybuilding has taught me how to be more responsible and know that I can achieve something if I really dedicate myself. Not all my friends do the same sport as me, but they respect the sport I have choosen.
⏱ Describe a typical day of training
---
My favorite exercise is shoulder training!
---
I train 6 days a week. My rest day is on the seventh day which is usually on Sundays. My training routine for the week varies a lot according to the competition phase, at the moment it looks like this: shoulder, buttocks, back, shoulder, buttock, and chest.
I always vary my workouts and never repeat the same workout, I always like the various stimuli, do slow, focused exercises, sometimes use a drop set, sometimes use more load but always maintaining the quality of movement and amplitude, for me variations in a workout are very important.
Always before training, I take pre-training C4 BETA PUMP, L-Carnitna, L-Glutamine and Adrenalin. During training, I use BCAA powder and after training L-Glutamine, Whey Protein Isolate (sometimes with a banana) and Vitamin C are all NewMillen supplements.
My cardio is always after the 30-minute workout I like to do with the treadmill at a moderate speed(a brisk walk). My favorite exercise is shoulder training!
👊 How do you keep going and push harder?
---
I like to beat my own records.
---
Not every day we are extremely motivated, there are days that we are a little lower especially in preparation when our moods often change, but we must know why we are doing this and think about the sense of accomplishment that will be upfront.
So I always wonder what it will be like on competition day, watch motivation videos, competition videos and increase my motivation more and more.
Since I really want to win the Olympia a few more times, I like to beat my own records. I want to help people get motivated and believe in themselves.
🏆 How are you doing today and what does the future look like?
---
I would never change a comma of my path so far, I've lost many times, won, disappointed but never gave up.
---
Today I realized the biggest dream I had in the sport of being Olympia Campea, and became the youngest champion in the history of Olympia.
But now I have new dreams and new goals, I want to get that title for years and I know it's hard because we are talking about the biggest championship in the world, but I will do my best for that.
I would never change a comma of my path so far, I've lost many times, won, disappointed but never gave up. In each difficult phase, I went through I became stronger, and I continued to be even more motivated. So everything that happened brought me here today.
🤕 How do you recover, rest and handle injuries?
I take great care in the exercises so I don't get injured, but what helps me a lot of messages such as myofascial release or drainage. They make me feel more relaxed and endure the preparation and day to day.
Never hurt myself. I sleep 6 hours a day this is enough to me.
🍎 How is your diet and what supplements do you use?
My diet changes several times during preparation but these are minor adjustments. It is composed of carbohydrates: rice, oats. Proteins: chicken, fish, egg white, whey protein and sometimes red meat. And lipids like avocado, nuts, peanut butter, olive oil.
What changes in my off-season and pre-contest diet are the quantities as the foods are basically the same. In offseason, I have 1 free meal a week, and most of the time its a hamburger, but my favorite dish is to go to a good restaurant and eat a grilled salmon with black rice and vegetables without having to weigh the food.
I use supplements in my diets like whey protein, bcaa, glutamine, l carnitine, caffeine, pre-workout and all I use are from NewMillen because it's the brand I know and trust, I don't like to risk what I don't know.
In pre-contest 1200 to 1500 and off-season 2300kcal per day.
👍 What has inspired and motivated you?
Watching motivational videos helps me a lot to stay motivated, to see the history of other athletes and to know that each one has their own time and that we should not compare ourselves to anyone else just following our life doing our best every day.
During training, I like to listen to motivational music or sometimes I prefer not to hear anything. One of the videos that calm me about everything is Monja Coen's videos.
My prefered athletes are Jantet, Angelia Teixeira, Danna Linn Bailey.
The Coen sister makes reflective videos about various facts of life, reflections and that makes me feel good.
✏️ Advice for other people who want to improve themselves?
My advice to the newcomer is patience and persistence. Practice makes us perfect but we need patience as the process is not overnight and the biggest mistake is comparing yourself to other people.
Do your best in your time, look for a trusted trainer and get 100% of what you have to do! There is no mistake. I always trusted the work of my coach Ricardo Pannain and did 100% of what he advised if you don't trust who you hire you not for 100%.
🤝 Are you taking on clients right now?
I have an online pose course that calls Bikini Divas to help other athletes learn to pose.
I do online consulting but not always, in the competition phase, I work with fewer clients so I can have more concentration on my competitions.
📝 Where can we learn more about you?
I post all my routine on my Instagram @IsaPecini and have videos on my YOUTUBE channel Isa Pecini Bikini PRO.
My website is isapecini.com.