Interview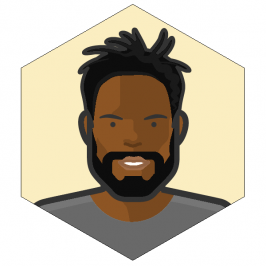 We talked with Terrance Brown in January, 2020.
Stats
👋 Hi! Tell us about yourself and your training
Hello, my name is Terrance Brown and I am 30 yrs old. I am originally from Miami, Florida and now living in Santa Barbara, California.
I'm a full time personal trainer and certified through "National Academy of Sports Medicine"(NASM). I'm also a spinning instructor and certified through a spinning indoor cycling program called, "MADD DOGG".
I've been training for seven years. I love assisting and changing people's lives for the better. Growing up, I played baseball and football up until college. I train basketball players, baseball players, football players, water polo players, and more. I even had the honor to train celebrities and pro athletes, which gave me a lot of exposure.
For hobbies, I love playing pickup games with friends and training at the gym with my fitness buddies.
In sports, I competed in high levels of sports. I played football at Kansas State University and Santa Barbara City College. I also played baseball, Alabama State University.
Back in 2012, I ruptured my Achilles and then became out the shape by gaining 50 pounds…of fat! I needed to find a way to get back to my old self, so I started training myself. My main goal was to work out every day until I had lost those 50 pounds and more. A year later, I ended losing 55 pounds. I now work out five days a week and two days for recovery.
In 2013, I developed a fitness program called, "Brown's Fitness", that is based in Santa Barbara, California. Anyone can join Brown's Fitness, just come prepared to work hard and I'll help achieve any goals that are set!
And the best part is that there's no speed of the process. I believe the process is processed… it does not matter if it's fast or slow.
⏱ Describe a typical day of training
For me, working out is like a five-day task. I train outdoors most days out of the week and 1-2 days inside the gym. My workout bag is full of small training devices. Such as resistance bands, light dumbbells, and a jump rope.
Usually, I start working with my clients in the mornings until lunch. Then after, I resume training from the afternoon's through the evenings. Once I get home, I would have my last meal of the deal and then prepare myself for the next day.
In the past, I followed a workout plan when I played football, it focused on building muscle, mostly. But now that I am no longer competing, I have created my own workout plan that focuses on cardio and strength. I believe the cardiovascular system needs cardio. Lifting is not about living. I love training all the muscle groups.
Monday: Leg day – here's an example workout:
Squats 4 x 100 reps (with a resistance band)
Alternate lunge jumps 4 x 30 reps
Step-ups 4 x 30 reps
Run up 50 stairs (10 times)
Finish with a 20-minute ab workout
Tuesday: Cardio Day – here's an example workout:
I wake up six o'clock in the morning to run 6 miles. In he afternoon I run up 50 stairs (5 times)
During the evening, I teach a spin class at the "Santa Barbara Athletic Club", for one hour
Stretch for 15 mins
Wednesday: Shoulders and Chest Day(Hypertrophy) – here's an example workout:
Warm-up and mobility Drills
Dumbbell Chest Press 4×20 reps
Dumbbell Shoulder Press 3×12 to 8 reps
Push-Ups 4×50 reps
Bench Press 4×10 reps (135 Lbs)
Thursday: Full Body Workout(Polymetric and HIIT) here's an example of a full-body workout:
Jumping Jacks 50
Burpees 40
Box Jumps 4×20 reps
Jump Rope 10 Minutes
Jump Squats 4×20 reps
Ball slams 2×30 reps
Core (Planks, Crunches, Toe Touches, Bicycle Kicks, knee Tucks and Flutter Kicks)
Friday: Back, Biceps and Triceps Day – here's an example of a Friday workout:
Pull Downs 4×20 reps (120 lbs)
Superman 4×50 reps
Dumbbell Curls 4x reps (20 lbs)
Pull-ups 4×10 reps
Dips 4×20 reps
Triceps extensions 4×20 reps (110 lbs)
Saturday: Restorative Day – here's an example:
45 minutes Walk
Yoga (1 Hour)
Sunday: Rest Day
👊 How do you keep going and push harder?
---
I love changing people's lives for the better, it gives me positive energy!
---
My job is to motivate and set great examples for others. I love utilizing my natural gift to encourage people to get and stay in shape both as a fitness instructor and as a motivational speaker. My ultimate goals are, to teach and inspire individuals to transform their lives while having fun doing it.
Being busy is challenging because I don't get to spend a lot of time with my family and friends. So every Saturday, I try to spend as much time with them since that's my only day off.
🏆 How are you doing today and what does the future look like?
I am currently in a peaceful and happy place. I feel healthy, internally and externally. My business is growing every day and I hope that it continues.
Also, I have the vision to travel around the world and train others, in all 50 states. Everyone doesn't have that motive to workout every day— but if I could go around the globe to change people's lives for the better, I'll feel more accomplished.
Furthermore, I am currently filming my first fitness documentary called, "Fitness In Santa Barbara", and hoping to finish it by my birthday, March 2!
This film will show how I conduct my program, from the beginning of my career to now. Viewers will see the ugly and the good, during the start of my training career.
Also, you will witness the relationships that I have with every client and the transition that we all went through. I am bringing so much rawness to this film! With this film, I am hoping to inspire those who don't believe in themselves.
Rough roads don't have to come to an end, just be determined and trust the process!
🤕 How do you recover, rest and handle injuries?
I believe resting and recovery allow my muscles to heal and make me stronger. Rest also helps re-energize my body. Therefore, I have the stamina to give it mine all during my next workout.
When I ruptured my Achilles, it took me about eight months to make a full recovery. Ever since, I have been stretching, religiously. My Achilles feels better than ever.
Imyofascial release is important for the human body (sometimes called soft tissue therapy) includes massage and foam rolling. Performed immediately before and after exercise, it helps decrease feelings of delayed onset muscle soreness while speeding muscle recovery, I do this every two weeks.
Sleep, this is a large part of the recovery mechanism. During sleep, I feel that my body produces the majority of its growth factors and hormones that aid in daily muscle repair and recovery. Getting the recommended seven to nine hours of sleep per night allows those growth factors to do their work.
🍎 How is your diet and what supplements do you use?
---
I don't attempt to stick to a defined diet.
---
In my opinion, the best way to stay healthy is to choose a wide variety of nutritious foods from all food groups. Real food contains healthy things a pill can't give me. When I take a nutrient out of food and concentrate it in a pill, it's not quite the same thing.
I try to make my diet as simple as possible. My goal is to have a balanced diet and combine it with exercise. Most people try to eliminate all junk foods. Not me, I enjoy them in moderation. I have found that trying to completely avoid certain foods just makes me crave them more.
I try to include vegetables, protein and whole grains in every meal but I don't always succeed. I also drink a protein shakes every day that I make with, spinach and/or kale, dark berries, organic protein powder and a couple of ounces of mixed nuts and seeds.
I change up the liquid so the taste varies. I may use water, leftover herbal tea, or almond milk. I may also add additional fruit if I have some that need to be used up.
I don't attempt to stick to a defined diet. I just try to make some healthier choices. For example, if I want pancakes and sausage for breakfast, I will make the pancakes with whole wheat flour and top it with melted peanut butter instead of syrup.
Since I am not getting enough complex carbs like I would if I had vegetables with it, I usually drink my smoothie earlier in the day than I normally would. It's all about balance.
👍 What has inspired and motivated you?
While aging, I don't want my body to get in the way of all the things I still want to do, fitness is the main way of being around and active to do all that, it's like a cheap medicine.
I workout with my clients, rather than just giving them instructions. We always challenge each other during every session, this makes the workout more enjoyable.
When a client is working hard, I try to work even harder.
✏️ Advice for other people who want to improve themselves?
---
Make a purpose every night for the morning. That way, you'll be ahead of the game!
---
I understand that being fit isn't just about the number on the scale: it's about a lifestyle. It's about believing that you deserve to be healthy. Therefore, dedication and hard work is the key. I bring this infectious passion for health wellness, and most importantly, self-love, to every class that I teach and every person that I encounter.
🤝 Are you taking on clients right now?
I am always accepting new clients, rather if it's online or outdoors. I do have a few available slots but in general, I am quite busy.
Most of my clients meet outdoors for 1 to 1 and group sessions but I also have online clients. To start, just come with a positive attitude and be ready to work hard.
There are numerous benefits and improvements with my program: burning calories, building muscle tone, increasing cardio endurance, relieving stress, reducing risks of injury, and super important > having fun!
I want everyone to live a strong and healthy life.
📝 Where can we learn more about you?
Instagram: @Brownsfitness
Facebook: @TerranceBrownsfitness
Email: [email protected]