Interview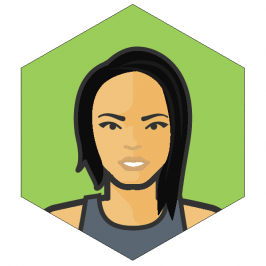 We talked with Uracha Teerawanitsan in May, 2020.
Stats
Uracha Teerawanitsans Stats When We Talked with Her 💪

👋 Hi! Tell us about yourself and your training
Hi, I'm Uracha Teerawanitsan, or you can call me Jar (my nickname). I'm 27 years old, born and raised in Bangkok, and have been doing Crossfit for seven years.
I don't have any sports background. I was always a fat kid and grew up skinny fat with eating disorders when I was adolescent.
I started the exercise journey nine years ago when I met my boyfriend, Gap (Keerawat Srirungruangjit) who is also my coach. I started in a normal global gym, like Gap had done back then.
Later we found and started Crossfit together with a class. After that Gap got offered to be the coach at the box in Bangkok and I was an assistant coach back then. That's how I start my Crossfit journey.
Not long after we started our Crossfit careers, we both started competing locally and joined the Crossfit Regional Pacific 2015 in Australia with the East West team.
After that from 2016-2018, I qualified individual Crossfit regional Pacific and have been fittest in Thailand from 2015 till now.
Last year 2019 and this year 2020, I won National champion and was invited to the Crossfit Games.
⏱ Describe a typical day of training
---
I do conditioning of course!
---
These days I train two sessions five days a week and have two full rest days on Thursday and Sunday.
Gap is the one who takes care of my training. He knows me the best. We are together all the time so he knows when I'm tired or fresh and he programs for me accordingly.
I record every training session in detail so I can also keep tracking my progress.
Currently, we both move to live, train and work in Samui island, Southern Thailand, at Superpro Crossfit gym from August 2019. We both have been living in Bangkok all the time so this is quite a big move for us.
My favorite exercises are Snatch, Power clean, Chest to bar pull up. I do conditioning of course!
I prefer training alone but sometimes training with others is also fun 😉
In my fitness bag, I always have:
Skipping rope
Gymnastics grips
Whey protein/BCAA/Creatine and shaker
White board marker
Tape with me all the time!
👊 How do you keep going and push harder?
---
I'm chasing the better version of me all the time.
---
Luckily my goal has always been to be better than yesterday. I never compared my progress with anyone else. I'm chasing the better version of me all the time.
I never lack the motivation to train at all. I love training and love seeing me doing better.
Last year in May 2019, I broke the right ankle (Talus) from falling from the bar and landed on an uneven surface. I have never stopped training at all to be honest. I was just training around my injury and modified the movement.
My boyfriend and the physios helped me a lot at that time.
My biggest challenge right now is I am waiting to hear the update of CrossFit Games! It's killing me waiting.
🏆 How are you doing today and what does the future look like?
I actually appreciate the injury as it made my mind stronger and pushed me out of my comfort zone. I learned to train smarter, learn to listen to myself, knowing when to push harder or when to back off.
My goal now and the next five years will be the same: Be a better version of me.
I don't want to look back and feel regret that I didn't do 100%. I would not also want to change anything in the past because the past made me become me today.
🤕 How do you recover, rest and handle injuries?
My boyfriend always adjust the program if he see that I'm tired, so I have never got serious injuries (apart from the falling accident) or overtraining.
I try to get as much sleep as my schedule allows. If I have early coaching, I try to go to bed early. If I feel sleepy I try to nap during the day. I think sleep is the most important factor for recovery.
I most often sleep 8.5-9.5 hours at night.
🍎 How is your diet and what supplements do you use?
I track what I eat all the time. I try to eat mostly whole food and listen to my body. We cook ourselves or get delivered food from a trusted cafe (@juicequeenthailand) in Samui island.
I take whey protein and BCAA around the training too. I got support by @musclefoodshop for the supplements.
I have cheat days where I don't track what I eat and allow myself to eat dessert/snacks.
I'm obsessed with coffee. I really love coffee. I'm ok with tea, lemon tea is my go-to. I don't drink alcohol because I simply just don't like it.
If I have social events, I will pick whole food and use my eye ball guesstimates.
👍 What has inspired and motivated you?
I want to be better and I get supported by my boyfriend and family all the time. These people are my motivation. I want to make them and myself proud.
I am mostly deaf when I workout. I personally like pop/any music that I can sing but my boyfriend likes hip hop, so I just let him open whatever he wants. In my opinion, I don't think music matters much for me.
✏️ Advice for other people who want to improve themselves?
I would suggest you first find a goal to chase. You will need to know your why to stay focused and stay motivated.
I dislike carrying EGO along and showing off in front of people. I just don't like such attitudes and it's not really safe at all.
🤝 Are you taking on clients right now?
I'm currently working offline coaching classes at Superpro Samui Crossfit. My boyfriend is taking some online 1:1 programming spots. He loves to help people become better in fitness.
A common question I get is: Will lifting/Crossfit make me get big/muscular?
Well, it's not that easy to gain muscle/fat IF you know what you're eating. Gaining or losing weight is about calories in and out!!!!
📝 Where can we learn more about you?
I, my boyfriend, and my dog are sharing on Instagram @iamgapjarr. We like to post our training, and random stuff on our Instagram accounts! Hahaha!