Interview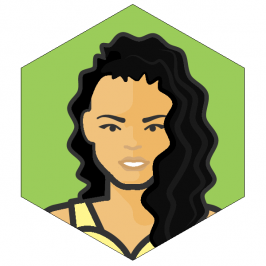 We talked with Tameika Gentles in February, 2020.
Stats
Tameika Gentles' Stats When We Talked with Her 💪

👋 Hi! Tell us about yourself and your training
My name is Tameika Gentles, I'm 33 years old, and I live a nomadic lifestyle – traveling the world full time. I was burnt out working in corporate and decided it was time to free myself from all of my belongings and truly live a life of abundance and freedom.
I sold everything, rented out my place, and hit the road. I'm on year 3 and haven't looked back! I've since traveled to over 40 countries and have developed online businesses to help sustain.
My base is Toronto, but many months out of the year I am traveling and exploring the world. I am a certified PT, online wellness coach, and the co-owner/founder of The Whole Experience Retreats.
⏱ Describe a typical day of training
---
No two weeks are ever really the same!
---
I typically train four days per week, isolating muscle groups and incorporating HIIT whenever possible. Because I travel full time, much of my time is spent in gyms around the world – meaning I have to be very strategic with my training.
Most gyms around the world offer dropin rates and monthly rates (depending on how long I'll be there for). I usually find gyms on Google or by asking my Airbnb host.
On a good week, I'll have incredible facilities where I can incorporate strength and functional training, but sometimes, if I'm extremely remote, I use my resistance bands, do an at home workout, or use the outdoors for cardio.
No two weeks are ever really the same! One thing I ensure is that, regardless of where I am, I move my body each day (use a step counter for that) – and do some form of resistance training four times per week.
👊 How do you keep going and push harder?
I'm a natural athlete and competitor so self motivation and discipline come pretty naturally for me. So much of my spare time is spent in service of others, helping them achieve success on their wellness journey, that the people I serve often give me the intrinsic motivation to push myself to the limits.
🏆 How are you doing today and what does the future look like?
I'm really comfortable in my skin and with my training methodology so my biggest purpose right now is to serve other women on this journey through my coaching.
I personally lost 100lbs and have seen the overall benefits of transformation so weight loss is my speciality and area of expertise. Nowadays, I focus all of my attention on helping change lives, which is really my purpose these days.
🤕 How do you recover, rest and handle injuries?
I truly listen to my body. I allow myself to recover and rest every other day and seldom do back-to-back training. Having strength trained for 13 years, and as I get old, I see the benefits of rest.
I also incorporate yoga twice per week and am an avid stretcher. It's completely helped with injury prevention; I seldom get injured anymore and never had any serious ones, just the average hamstring pull, or shoulder strain, but it has set me out for a few weeks.
I do massages weekly but not as a part of my recovery routine. More for self care!
🍎 How is your diet and what supplements do you use?
---
I'm not super strict, If I'm out and am craving some meat, I'll enjoy it!
---
Recently, I've started to transition to a more plant-based diet. I eat three meals a day, and two of those three meals are usually vegan. During one meal I'll enjoy a small piece of fish, and/or some cheese.
I'm not super strict, If I'm out and am craving some meat, I'll enjoy it! But for the most part, I'm about 80% vegan, which has made my body feel really good. I chose vegan because it was moral/ethical reasons. I no longer wanted to support the meat industry with my dollars. By going 80%, I feel like I'm doing my part. I'm only 80% vegan and have been for a few months now!
I don't take any supplements. I consume so many plant-based whole foods my nutrients are there. I feel high in energy and really focus on getting enough sleep each day, meditating, and doing other wellness activities to help sustain my lifestyle.
👍 What has inspired and motivated you?
My clients – hands down. Being able to help people completely transform their lives and then turn around and help the people in their communities – it's been so motivating and inspiring! \
The ripple effect is real, and having a hand in starting that has been a real life changer.
✏️ Advice for other people who want to improve themselves?
---
Do what's best for you, listen to your inner voice, and really focus on sustainability.
---
Think sustainability first. Really. So often we want to do the most, do what we see on social media, or from our favourite influencer – but really, focus on what works for you.
Maybe it's only training 2x per week, or maybe it's simply group classes and avoiding the gym all together. Whatever it is, ask yourself if you can do it for the next five, 10, 15 years. If the answer is yes, you've found your niche!
So often people do things, to conform to societal expectations and I really think it sets them up for failure. It's a reason why 98% of diets fail, and why gym drop out rates are so high.
Do what's best for you, listen to your inner voice, and really focus on sustainability. That is the key to vitality and longevity.
🤝 Are you taking on clients right now?
Yes, our upcoming group coaching program starts in April 2020. Our program happens quarterly! It's a fully immersive eight-week transformational online group coaching program, focusing on evolving the mind, body, and spirit. We're now accepting applications!
We really focus on the trilogy – mind, body spirit. The first two weeks of the program are strictly focused on mindset – unpacking the past, reflection, designing a morning routine. The following two weeks are then pivoted to focus on a movement and nutrition guidance. Then, the following four weeks are focused on lifestyle implementation.
Our program also includes weekly workout videos, yoga videos, meditations, as well as accountability measures. We do it in group format, where you meet with your group weekly so you can help build community and tribe. It's all encompassing!
📝 Where can we learn more about you?
Instagram: @tameikag
Websites: tameikag.com / thewholeexperience.org