Interview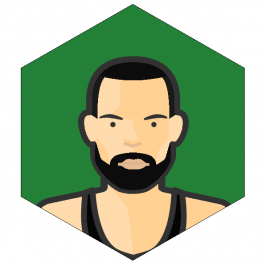 We talked with Albert Albie Aldahawi in April, 2020.
Stats
👋 Hi! Tell us about yourself and your training
I am Albert Albie Aldahawi, better known as Albie. I am a professional wrestler and fitness model. I recently had a documentary on National Australian Television entitled, "Where are you really from" that focused on my early life as a refugee and how I was able to turn my life around and live my dream.
When I was eight years old, my parents and I ran away from my birth country, Jordan Aman, after there was a war against Christians. We escaped the country on two small fishing boats with 60 other people.
During our journey, we were lost at sea for seven days. One boat had sunk and those who survived were captured and put into jail. When we reached Australia, I was locked up at Christmas Island jail for one year, my younger brother was born here.
Throughout my childhood, the one thing that kept me hopeful was watching wrestling on TV with my dad whenever we got the chance to. When we were released, I started wrestling my little brother in my backyard and uploading the videos on YouTube. Eventually our videos reached over 20 million views and I enrolled into a professional wrestling school.
I was able to win my first tag team championship from the Australian Wrestling Federation with my tag team partner, Jason. In my modelling career, I have been lucky enough to shoot for multiple fitness and fashion brands such as Nike, Stussy and Levi's.
One of my career highlights was being able to release my own signature cologne, "ALBIE: Tabac Al Oud" through city Perfume and my website, AlbieShop.com.
I love to give back to my local community and fans by holding meet and greets and running my own annual wrestling shows for charity with the help of my sponsors and community.
⏱ Describe a typical day of training
---
I love using a skipping rope, I find it easy to take with me every where I go and it's a fast way to warm up the entire body.
---
The most important thing for me is food. I have trained myself to be able to avoid certain foods and eat very well.
I split my training from cardio/ring work and weights. I focus on individual body parts every day on weight days. Every third day is cardio based to focus on agility and overall fitness, which helps me with my ring work. On weekends, I like to try and train in a wrestling ring at least once a week.
I love using a skipping rope, I find it easy to take with me every where I go and it's a fast way to warm up the entire body.
I only train alone, I put my music on and sometimes I even wear a hoodie. I don't like wasting my time there so I time myself for 45 minutes to one hour and get out. I always switch my phone on silent.
I usually bring towel, skipping rope and gloves. Don't need anything else.
👊 How do you keep going and push harder?
What keeps me going is my busy schedule. I love being able to shoot any day of the week at any time because my body is always ready. If I don't stick to my schedule then I am risking not looking my best if I was to get a last-minute booking. So it's more of a fear haha! To always look my best.
If I don't feel motivated then I have a full lazy day so that I rest my body completely and reset for the next day. I don't push myself when I feel that my body needs to rest.
My mental health and well-being are the most crucial parts for me as I already have some body and image confidence that I try my best to not trigger.
Avoiding social media comments and keeping myself as busy as possible through either work or hanging out with family and loved ones keeps me happy and motivated.
🏆 How are you doing today and what does the future look like?
Currently, as I write this we are in a worldwide lockdown due to the COVID-19 pandemic. I am doing my best to train at home and use what I have. My main focus right now is on business and future opportunities I am working on. My wife is pregnant and I am expecting my first baby in two months. Interesting times are coming !!!
My biggest challenge is multitasking between everything I do. I currently run a catering business with five large clubs under Catering HQ. I run my own fragrance line and online shop/website. I compete as a professional wrestler and shoot/model for various brands.
On top of this, I try my best to keep up my appearances to help promote my product, train, eat well and spend time with my family. Everything I do is recorded on my calendar and I prioritise my schedule.
🤕 How do you recover, rest and handle injuries?
---
I have a jet spa at home that I use after all my fights and big workouts/long days.
---
I always warm up before exercise to help with recovery after training. When it comes to wrestling, I stretch my body out completely and heat up my body before bumping in the ring.
Throughout my career, I have torn my shoulder and I have learned just how important it is to have patience. I always get my body checked out if I feel sore or hurt after a big match just to be safe.
I have a jet spa at home that I use after all my fights and big workouts/long days. When travelling, if I don't have access to my food, I will eat the bare minimum to fuel my body until I am able to get to a supermarket and get what I need.
I sleep seven to eight hours every night unless I have a big event or early shoot I need to prepare for.
🍎 How is your diet and what supplements do you use?
My advice to anyone would be to minimize sugar intake in any way possible, like myself I try to not have any sugar. My go-to supplements include AM/PM fat burner from Bulk Nutrients, Krill oil for joints, Vit D and C, Animal Shreds (for one month, every 3rd month), which helps me stay as shredded as possible and a variety of protein/low fat snack from My Protein Aus.
I always eat well before an event and sometimes I bring my own snacks if I can. I enjoy drinking green tea, other than that no. If I really crave something, I will have a small bite to takeaway my cravings. I don't like holding myself off as I don't want to have that craving lasting over me for days.
👍 What has inspired and motivated you?
My journey and my family have inspired me. Coming from nothing and to be able to live in a country with so much support and opportunity, having the freedom to follow your dreams and become whatever it is you want to be is what inspires me as I was not able to do this growing up in my old country.
✏️ Advice for other people who want to improve themselves?
---
When you are doing well, make sure you reward yourself, enjoy a nice treat or buy yourself something you've been wanting.
---
Break down your goals into smaller achievable goals that you can achieve daily. If you want to become a bodybuilder, start by enrolling into a gym, achieve a workout per day, have a logbook and take photos daily to see results.
When you are doing well, make sure you reward yourself, enjoy a nice treat or buy yourself something you've been wanting. If you don't take the first step, how are you supposed to grow in your field?
If you want to be a professional wrestler, you have to enroll in a school and try your best to keep up and learn. Make sure you enjoy what you do, that is the most important thing, and you won't know until you try!
🤝 Are you taking on clients right now?
I was taking on clients early on in my career but now I have stopped. I don't want to have a client if I am not able to provide my time and full attention. At this stage, I am focused on other business ventures.
📝 Where can we learn more about you?
My website is Albieshop.com
My socials include:
Instagram: @itsAlbie
Facebook: Albert Albie Aldahawi
YouTube: Albert Aldahawi