Testosterone Boosters like TestoJack 200 are designed to boost testosterone, which offers a range of health benefits.
Unfortunately, the marketing behind these types of products is gimmicky, with many products unable to prove the claims that they have made.
This T-booster is aimed at vegan and vegetarians, but is it effective? The following TestoJack 200 review will reveal the truth behind the claims.[toc]
What Is TestoJack 200?
TestoJack 200 is a testosterone booster manufactured by NOW Foods, a company that specializes in producing natural supplements. Almost all of the products they manufacture are suitable for both vegetarian and vegan users.
NOW Foods have 3 different testosterone boosters with similar names. These are TestoJack 100, TestoJack 200, and TestoJack 300.
While the names are similar, it is important that you realize that these are different products with completely different formulas. This means that they not only contain different concentrations of ingredients but different ingredients entirely.
TestoJack 200 is designed to boost your libido and to enhance your sexual health. It is also designed to promote physical benefits too.
As with many testosterone boosting supplements it is marketed towards older men looking to improve their sexual performance in the bedroom, to boost gym gains, and to improve overall energy levels.
TestoJack 200 Ingredients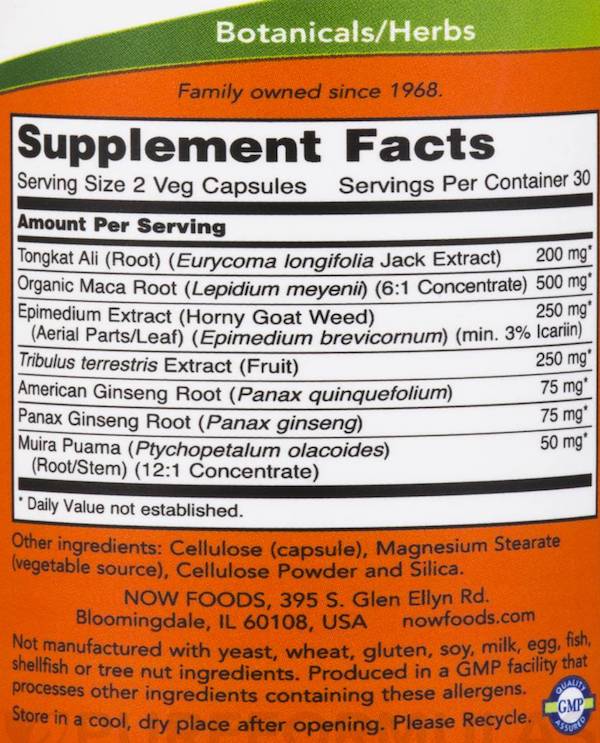 Let's look at the ingredients found in this testosterone booster to see if they offer any real benefit to you:
Tongkat Ali (Root) (Eurycoma Longifolia Jack Extract) 200 mg
The first ingredient listed here is what gives this product its name.
Tongkat Ali is otherwise known as Longjack. It is a herbal aphrodisiac that has a reputation for promoting reproductive health.
It is claimed that by suppressing your cortisol levels it can help boost your testosterone levels.
While there is research that shows this to be true, it is not quite as effective as the marketing makes it out to be [1].
Organic Maca Root ( Lepidium Meyenii) (6:1 Concentrate) 500 mg
This is another ingredient commonly added to testosterone boosting or male sexual health supplements.
It is claimed to be effective at increasing male sex drive and to help boost energy levels.
Maca is not marketed as a testosterone booster, so make sure if you see it listed in a supplement that there are other ingredients available that do actually boost your T-levels.
Epimedium Extract (Horny Goat Weed) (Aerial Parts/Leaf) (Epimedium Brevicornum) (min. 3% Icariin) 250 mg
Horny Goat Weed contains chemicals such as Icariin that can help increase blood flow and improve sexual function.
3% Icariin is not a bad percentage, but there are supplements available with a higher dosage.
Tribulus Terrestris Extract (Fruit) 250 mg
Another common ingredient found in testosterone boosters is Tribulus.
It has been shown to help you last longer in bed, and aid in the recovery from exercise too [2].
Other Ingredients
Other ingredients found in TestoJack 200 include 75 mg of American Ginseng Root (Panax Quinquefolium), 75 mg of Panax Ginseng Root (Panax Ginseng), and 50 mg of Muira Puama (Ptychopetalum Olacoides) (Root/Stem).
The purpose of these final ingredients is to help increase your energy levels. While these ingredients have been shown to boost energy, unfortunately, the dosages of each ingredient is too low to have much of an impact.
Pros And Cons Of TestoJack 200
Pros
Sexual performance is boosted naturally

All dosages of each ingredient have been revealed. A common issue with supplements is that the manufacturer hides the dosage information
Cons
The dosages are fairly low

Does not offer much testosterone boosting benefits

Neutral customer reviews
TestoJack 200 Side Effects
You may think that using all-natural ingredients would mean that there was no risk of encountering any side effects. Unfortunately, this is not the case.
While rare a few of the ingredients found in TestoJack 200 have been found to cause side effects. Particularly if high doses have been used.
For example, Tongkat Ali has been shown to cause insomnia and irritability, Horny Goat Weed can cause dizziness and vomiting, while Tribulus Terrestris may cause stomach pain, diarrhea, and nausea.
It is important that you always stick to the recommended dosage and if you do encounter any issues that you discontinue use immediately.
Where To Buy TestoJack 200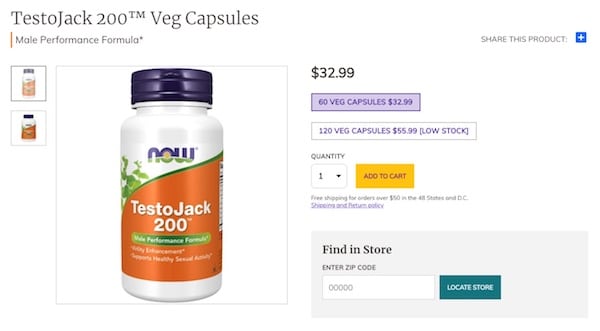 You can buy TestoJack 200 from a variety of online sellers, including the official NOW Foods website.
I would recommend buying directly from the manufacturer, even if you can find it cheaper on a third-party seller. This is because you have a satisfaction guarantee available when buying direct.
If you wish to buy from a physical store, this is an option too. Simply add your zip code to the NOW Foods website and they will be able to find the closest store to you that stocks their supplements.
User Reviews Of TestoJack 200
At the time of writing this review over 60% of customers who have purchased this supplement through Amazon has left a 5-star review.
These customers have been impressed with the product, stating that they have seen an increase in libido and sexual performance.
"It will make you horny in a couple of days. If sex drive is what you are after, this stuff does work." – MerzDiesler, Amazon Review
"Noticed a slight sex drive increase and a slight energy bump." – Adam Sievers, Amazon Review
There are also others who have left 1-star reviews, stating that this supplement did nothing.
"Didn't do anything..no changes." – Gisele, Amazon Review
"I took the capsules as directed, yet found that they had absolutely zero effect." – DavidCK, Amazon Review
TestoJack 200 FAQs
The following are some commonly asked questions, to submit your own leave a message in the comment section below:
How Do You Take TestoJack 200?
It is recommended that you take TestoJack 200 with food, or as recommended with your healthcare practitioner.
What Is The Recommended Dosage For TestoJack 200?
The recommended dosage for TestoJack 200 is 2 capsules 1-3 times daily.
How Long Should You Use TestoJack 200?
There are no restrictions suggested for TestoJack 200, which means that it can be used long term if you wish.
How Quickly Before You Start To See Results From TestoJack 200?
If you are looking for increased sex drive then you should start to see changes within a few days when using TestoJack 200. To see an increase in testosterone, this could take much longer.
In Conclusion: Is TestoJack An Effective Testosterone Booster?
If you are looking to boost your testosterone levels then this is probably not the best product for you.
While its ingredients do contain testosterone boosting ingredients, they are not at a dosage likely to offer many benefits. However, if you are looking for a boost to your sexual performance then this supplement could be an option.
For a more effective testosterone booster, I would recommend checking out our Testogen review.