Interview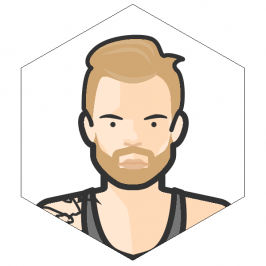 We talked with Ty Lucas in October, 2020.
Stats
Hi! Tell us about yourself and your training
My name is Ty Lucas I am a born and bred Australian, from sunshine Coast Queensland. I have lived most of my life in Australia but I have a second home is Bali.
I am a personal trainer turned health professional with a degree in complementary and alternative medicine. My business as a health and performance coach consists of helping people around the world optimise their health and performance to be at their best every single day. I do this through my coaching program The Health Blueprint with a systematic approach to getting the results they desire and keep them long term.
I also have another aspect of my business where I help personal trainers upskill their ability to get great results with their clients just like I do. My focused marketing team helps them create an online presence and put systems in place to allow them to save time and scale their business to generate extra income.
I started out my fitness journey from a young age always loving to compete in any sport I could get involved in such as track & field, swimming, surfing, golf and rugby. This transitioned into going to the gym and soon turned into a passion of bodybuilding.
I had a lot of success in the bodybuilding industry winning multiple shows such as the IFBB QLD championships, IFBB world qualifier and runner up in the Arnold classic Australia & National championships in the classic category. Throughout this time I had multiple sponsors such as Mass nutrition, ASN, Cyborg sports, Platinum Labs and Jporter clothing.
I moved away from the bodybuilding industry in early 2016 when I fell in love with my true passion of health and longevity. Life is short so i decided to put all my effort into living my life with the utmost quality of life.
Describe a typical day of training
My training has completely changed from the bodybuilding ways. I like to partake in multiple training strategies that help me with #healthgains.
My weekly training goes like this:
Daily steady state cardio
Daily mobility routine
Weight training x3 per week (full body)
Sauna xe per week
Surf whenever it is good (I replace my weight training with surfing when it's good so I don't overdo it and burn out.)
I have my morning formula that has completely changed my life. It consists of hydration, mediation or breath work, mobility, coffee and journal.
I take a holistic approach to maintaining my health and performance by tracking my nutrition, sleep, training, HRV and RHR to take the guesswork out of my health and longevity.
How do you keep going and push harder?
I am more a fan of minimum effect dose to maintain my health and performance. one of the biggest misconceptions in the health and fitness industry is that you always need to keep pushing harder. I have created habits and rituals that are automatic and don't feel hard, which is why I am in the best health and shape of my life.
How are you doing today and what does the future look like?
I am doing great today, I feel the best I ever have on a health and energy profile. My goal for the next five years is to heap thousands more people to reach this level of vitality. My plan for reaching this is teaching other other personal trainers and health professionals how to implement this with their clients. As well as scale The Health Blueprint by bringing on more coaches to my team.
How do you recover, rest and handle injuries?
I have been fortunate enough to not have any serious injuries throughout my life (touch wood). I can put this down to having daily, weekly and periodic practices. With daily mobility, good nutrition, quality sleep, weekly strength exercise and periodic endurance training. There is a fine combination of preventative measures to be able to recover and not get injuries. This is where the minimum effective dose to getting and maintaining results really shines.
How is your diet and what supplements do you use?
---
It doesn't really matter which diet you follow, the main thing that matters is that you can stick to it, you enjoy it and it helps you with the results you want.
---
At the current point in time, I do intermittent fasting of 16-8. I eat three to four meals per day that are geared towards covering my macro and micronutrient target along with making sure I am well hydrated. It doesn't really matter which diet you follow, the main thing that matters is that you can stick to it, you enjoy it and it helps you with the results you want.
I love using supplements however, I am not taking many supplements any more as my nutrition covers all my bases. I use a post workout drink which is a hydrolyzed collagen protein peptide formula with creatine monohydrate by ATP science.
Currently, I am also using CBD oil in the evenings and some magnesium citrate. I am a strong believer supplements only need to be used to fix deficiencies and the only supplements I use all the time are post workout and magnesium. I also rotate different proteins and magnesium to get the most benefit from usage.
What has inspired and motivated you?
---
You can never stop being motivated and inspired if you seek out new information and opportunities.
---
I was first inspired by my first coach Shane Humphries, I met Shane in karratha at a fifo job. There weren't too many of the guys on the construction site that would go to the gym after work. At the time Shane was prepping for a bodybuilding show and let's just say he was the way I wanted to look (Jacked, Shredded and tan). This is how I began my bodybuilding career and I will be forever grateful for him pushing me to get onto stage wearing a pair of shiny underwear.
I was next inspired by Charles Poliquin. I was lucky enough to have been taught by Charles at many of his certifications through the poliquin group. What really inspired me and opened my eyes to a whole new world was meeting Matt legge in the early days of ATP science. He used to give me some tips and different supplements to try to enhance my bodybuilding performance. The way Matt spoke and the knowledge he has is something I really look up to and is the reason I began my degree in the complementary and alternative medicine field.
I can't say that there is just one thing that motivates and inspires me. I am always listening, reading, watching and being taught my different mentors. You can never stop being motivated and inspired if you seek out new information and opportunities. My passion for health and performance is what drives me to live the life I do today.
Advice for other people who want to improve themselves?
Honestly anyone that is starting out you need to focus on nailing the basics of daily activity, good nutrition and hydration. Like I have said above, if you want long term sustainable results then you need to get your foundation down first and then you can begin to layer on techniques to enhance your results.
Are you taking on clients right now?
Yes, I am taking on clients at the moment, I specialise in optimising individuals health to perform at a high level each day. I have designed The Health Blueprint to combine ancestral wisdom with new age science to get you not only a before and after photo. But an after, after lifestyle you can have for the rest of your life instead of going in and out of dieting trends. My goal as a coach is for The Health Blueprint to be the last health and fitness program you will ever need.
Where can we learn more about you?
Website: tylucas.com.au
Facebook: @Iamtylucas
Instagram: @ty_lucas