Interview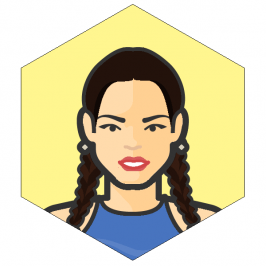 We talked with Zeina Kabbara in May, 2020.
Stats
Hi! Tell us about yourself and your training
My name is Zeina Kabbara, I am a certified Pilates & Barre instructor. I am originally from Lebanon and have been living in the UAE for 10 years. I am currently working as a freelancer and work with various studios around the city; I train private clients as well, at the comfort of their own home (before COVID-19). Now my privates and group classes moved over to ZOOM ☺
I have a background in dance and found Pilates after an injury in my left leg. After physiotherapy, I discovered that Pilates and Barre classes efficiently strengthen the muscles in a targeted manner and helped me resume my dancing training. Having been trained in Jazz, Contemporary and Hip Hop, I realized that Pilates is an extension of dance, a training that not only strengthens but also aligns the body.
I hold a Bachelor in Business Administration from the American University of Beirut and am a CPA and have worked in the corporate world for a decade before realizing that inspiring others to achieve their fitness goals is much more satisfying. I am also the founder of Zee ateliers, an online concept store for unique and handmade designs.
I teach Belly-Dance Fitness, Barre, Mat and Reformer Pilates and cater for prenatal and postnatal clients in my classes. I have also completed an Injuries and Special Populations course by STOTT PILATES and was involved in the rehabilitation program for many young and adult athletes.
Describe a typical day of training
---
My favorite exercise type is my HIIT Pilates that I design to include both cardio elements and strength elements so you'd get the benefits of both worlds.
---
I train six days a week, different from what you'd expect. It's not all Pilates that I do, but dance really! Every day is different for me, some days we work on technique and others we work on strength, choreography, learning new skills, etc..
As a dancer, I take at least two ballet classes a week, two or three choreography classes per week with Sima Dance Company. Company classes are usually 1.5 hours and sometimes they're followed by another 1.5 hour of choreography.
On my own, I do Pilates and Yoga to keep my joints healthy and muscles flexible working within the safe range of motion. Living in a sunny country, I usually take my practice outside to the pool, the beach or the park.
My favorite exercise type is my HIIT Pilates that I design to include both cardio elements and strength elements so you'd get the benefits of both worlds. I would also do that one once or twice a week to help me with stamina. I am not a cardio fan, I hate running, but I am happy to dance for hours!
I do keep a video log, I take videos of how I perform an exercise or a choreography and then come back to watch old videos to see the progress I made over time. It takes time, patience and resilience. But I love videos and I often take videos of my clients so they can see their own improvements!
I allow myself at least one rest day per week.
How do you keep going and push harder?
My clients are my biggest motivation! When I wake up knowing that I am up with the purpose of helping a client get closer to their goals, I am the happiest person in the world! And this in turn gives me motivation and reminds me why I do this!
On a lot of occasions I keep my eyes open, and learn on the go. And when I fail, and feel I am at my worst, I let myself be sad for a short time, I allow myself to feel all the feels but then I let it be a learning moment to work on improving my skills, my mindset and perspective.
It is very hard as it is, so my strategy is to stop comparing myself and my progress to others; My mentor once told me and opened my eyes to the fact that we all have different anatomies and different starting points. So it is illogical to start comparing myself to others and this resonated so well!
So my biggest challenge was to overcome this and really accept myself for I who am and keep on working hard (not just on the physical side, but also on the mindset side).
How are you doing today and what does the future look like?
During these difficult times, I am continuing to support my community online with free workouts on my YouTube Channel, pro tips on my Instagram and Facebook pages.
I am still doing private lessons and group lessons over Zoom.
In the meantime, I am studying when I can and I am working on my website and creating more content online.
How do you recover, rest and handle injuries?
This must be my favorite question of all, because my answer is PILATES! As I mentioned at the start of this interview, I recovered from my injuries through Pilates and manage my pain through Pilates and although as dancers we are prone to injuries, our training and recovery regimes help us stay safe.
I listen to my body, when I feel something is off. I simply stop the exercise or opt for a modification rather than just pushing my body mindlessly.
How is your diet and what supplements do you use?
I eat healthy mostly, I don't take any supplements yet, I try to get all the nutrients and energy I need through food. I don't count calories, I moved to intuitive eating and really listening to my body.
And I am quoting a Hollywood star here when the interviewer asked her how she stays fit, "If I don't spend the energy I don't eat it".
Of course, as a woman, my hormones will play differently over the month and on days where I feel I am craving food, I allow myself to have it, knowing that I am back on track afterwards.
What has inspired and motivated you?
Following the journey and looking at the humble beginnings of successful peers such as the Body Coach – Joe wicks and Tracey Mallett.
Focusing on my own progress rather than comparing myself to other peers and fitness influencers. Following people and accounts that inspire me and motivate me and muting those that bring me down.
Advice for other people who want to improve themselves?
---
Don't give up or lose heart if you found yourself lacking the technique, it takes time for your brain to learn and process any new skill and for your body to execute.
---
I am going to share with you the advice I just shared to my audience in Arabic, try more than one class with various instructors. Find out what you like and enjoy so you develop a passion for it and it becomes part of your lifestyle.
Don't give up or lose heart if you found yourself lacking the technique, it takes time for your brain to learn and process any new skill and for your body to execute. Sure your instructor or other people in class started somewhere.
Consider taking private classes if you can, even only a few of them so you can learn proper technique and then you can take this on wards to join group classes if that's what you enjoy.
Are you taking on clients right now?
I am taking on clients now and I continue training online visa zoom. I specialize in Pilates obviously with a hint of Dance, that's why my clients choose training with me as I offer them a variety of movements and techniques while working within the Pilates frame as a base and moving beyond that frame to include standing exercises like Barre, Cardio with HIIT Pilates and Dance. They keep on exploring new ways their bodies can move, whether their goal is to improve their fitness, recover from an injury……etc.
Joseph Pilates said: "in 10 sessions you'll feel the difference, in 20 you'll see the difference and in 30 you'll have a new body"
Depending on your goals but as a general rule of thumb, nothing happens overnight, my recommendation is to commit to a training program for at least 3 months coupled with an adequate nutrition plan, to see results. I always get asked "how many calories will I burn in this session" and I give it straight to them, there is no magical number!
It all depends on your weight, muscle mass, the type and the intensity of exercise. I discuss all these and more in my Blog on my website.
Where can we learn more about you?
You can find me on Instagram and Facebook for my workouts tips and tutorials. If you'd like to work out with me you can check my YouTube Channel and Subscribe as I upload a new video every week!
You can also head to my website to learn more about me and check events happening near you!