Interview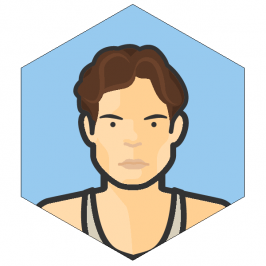 We talked with Johnathan Sprucebank in December, 2019.
Stats
👋 Hi! Tell us about yourself and your training
My name is Johnathan Sprucebank and I am 25 years old from Dinwiddie, Virginia. I am a wildlife rehabber and vegan educator.
The animals I mainly interact with and rehab are skunks, coons, opossums and bats. For me, there is no greater joy than seeing them grow from babies to teens and return back to the wild to be free. Something that would not have happened without me so there is a lot of pride there.
It is tough work that isn't just about snuggling baby animals because there is a lot of heart breaks as well as many animals that come in are just too far gone to be saved.
I have a degree in Wildlife Conservation Society from Oregon State and one day, I aspire to be a game warden if my injuries allow me to. The biggest hindrance is my inability to run from injuries I sustained from the Marine Corps.
If I am unable to become a game warden, I'll continue being vegan educator and wildlife rehabber. As long as my purpose involves animals, I am happy.
I have been married to my wife, Catherine for six years now and we have two puppers that we treat just like kids. They go everywhere we go, to include hikes and traveling, we all even sleep together.
I played football all my life and I played two years in the Marine Corps. With previous injuries and powerlifting goals, the risk does not match the reward for such a heavy contact sport. I am now getting back into boxing and hope to use that as a means of cardio. I have been lifting for 10 years and powerlifting for the last two years.
If I am not powerlifting, bottle feeding baby animals or creating vegan content, I am researching on how to improve on one of the three aforementioned.
⏱ Describe a typical day of training
---
I superset everything and change it up often to constantly shock my body.
---
Training occurs at 0700 sharp and for seven days a week, that is correct, no days off. I currently do the PPL method (push, pull, legs) and train for about 90 minutes.
I prefer to train alone, but occasionally lift with friends. Lifting is my break from this human world and I really use it as an escape means for peace. The gym is a short ride from house and I actually ride in silence till I get there.
I always say the corny joke that it is the calm before the storm. It is how I focus and prepare myself to lift because when I get to the gym, I am there to put in 90 minutes of work. A lot of guys want to talk and chit chat while there. I am there for a job, it's how I keep my regiment tight and my mind focused.
I superset everything and change it up often to constantly shock my body. This is to prevent my body from adapting to my workouts and to constantly tear the muscle. Another trick I have added is that if I do pull (back), I will add biceps in for 15 minutes somewhere. If I do push (chest or shoulders), I will add triceps in for 15 minutes. I have seen some very nice results from this over the past few months.
👊 How do you keep going and push harder?
I only powerlift to crush the vegan stereotype that muscle cannot be obtained on a vegan diet. What pushes me even harder is when I reflect on what the animals go through everyday in slaughterhouses around the world. That honestly wakes me up like no other pre work out could.
The more I set the example, the more attention it catches, with more attention, the more people I get to inform of veganism and how to be a game changer. That alone pushes me to keep training hard.
🏆 How are you doing today and what does the future look like?
My training today is better than it was a year ago or even a month ago. I feel as if each month that goes by, I become smarter and stronger with my training. The future honestly looks brighter than ever, especially for vegan lifters overall.
The world view is changing everyday. My goals are rather simple for training, which is to be the biggest & baddest guy in the gym, all while wearing my vegan tank top lol.
🤕 How do you recover, rest and handle injuries?
---
I try to build myself as a machine.
---
I don't allow disabilities to define me. After eight surgeries in three years, I feel like it only makes me mentally stronger because I have to push even harder to be the best.
I firmly believe in no days off. No matter the work and especially in the gym. I've learned over the years after my incident on how my body responds best to training hard and heavy.
Vegan food and sleep for at least five hours a night and I am ready for war. I am constantly trying to push my body and mind to the next level. My dad is a retired 1st Sgt in the Army and I did seven years in the Marines myself, so my body is programmed to function off four to six hours of sleep.
Without getting too off topic, I firmly believe in regiments, which I guess you can say that is how I recover or maintain so well. I try to build myself as a machine. I do the same routine every morning, seven days a week.
My mind knows to wake up at 0400 without an alarm. I do my routine around the house, I eat, and I go to the gym for 90 minutes and then come home to shower and eat again. By the time I am out the door for work, people are just waking up.
Now, I know sleep is crucial and everybody is different, but my philosophy on how to maintain and recover is to be a well-fed and oiled machine.
🍎 How is your diet and what supplements do you use?
I have been vegan for four years and follow a whole foods plant-based diet with limited soy intake. I became vegan for ethical reasons and firmly believe into the vegan movement.
My standard vegan meal prep container follows as such: 1 cup of Spanish rice, 1 cup of three bean chili, 1 cup of steamed broccoli. I will eat that meal around four to five times a day. I also eat 1 cup of sunflower seeds that is broken up throughout the day. I eat two apples a day that is dipped in peanut butter for each bite.
At the end of the day, I eat roughly 4,500 calories, 250G of protein and 530G of carbs. My body processes my meal plan very well so I eat that everyday. My wife does make dinner every night and I might add what she makes to my meal, but overall, I eat the same meal five times a day, to include holidays and birthdays!
Because my wife is an extreme foodie, I have more cheat snacks than I intend to. I am a powerlifter and have more of an American football player body type, so it doesn't affect me as much as it would someone who wishes to be extra lean.
My new idea, besides powerlifting, is that I care about body measurements, vice my actual weight. For example, I wish to have a 55-inch chest, 22-inch arms and 30-inch legs in 18 months. Currently, I am at 51 inch chest, 20 inch arms, and 27 inch legs. I feel like it is something different to give me a different mindset, along with my powerlifting.
Lastly, I take zero supplements for lifting. If I feel as if I need more protein, I will make my own protein shake in my vitamix that entails soy milk, ¼ cup pumpkin seeds, 1 cup of oats and mix berries. I make that every other leg day because legs kill me! I do take my B12 vitamin everyday which I recommend highly, even for non vegans.
👍 What has inspired and motivated you?
---
You have to be hungry and never full.
---
Beside the animals in slaughterhouses or in cages, music is my gateway to a free flowing work out. West Coast 90s music will have me locked and loaded. I need something I can nod my head to. Nothing too heavy, nothing too fast, something smooth with flow and rhythm.
When I am not feeling my mojo, I will often workout in silence. Working out in silence allows me to gather my thoughts out loud and they become more visual to me. It is just a mind clearing method I use to ground me.
Best advice: Everybody wants to be a big dog, but nobody wants to lift like a big dog.
✏️ Advice for other people who want to improve themselves?
Something that is very difficult for people, especially with social media today, but you have to love yourself. Forget other folks' feelings, forget their views towards you, forget their opinions.
At the end of the day, when you are brushing your teeth, you have to look at yourself in the mirror and accept if you put in everything you had today. If you can't accept that, take it to bed and reflect on it and when you first wake up, attack it in the morning. You have to be hungry and never full.
People always want to focus on dreams that are so far ahead or dwell on past failures, but it should always be about today. That is how you get to those dreams! Did I give it all today, did I take a shortcut, am I happy with my effort today? You can fake a lot of things in this world, but you cannot fake effort.
🤝 Are you taking on clients right now?
No, powerlifting is a hobby. All my clients have fur and eat bugs!
📝 Where can we learn more about you?
I just created a personal page on Facebook @JJSprucebank and Instagram @JJ Sprucebank for vegan education, atheism education, wildlife rehab and powerlifting. It is brand new, but a lot of cool content is coming and a website and podcast in 2020. Jay Sprucebank is my main Facebook account.