Interview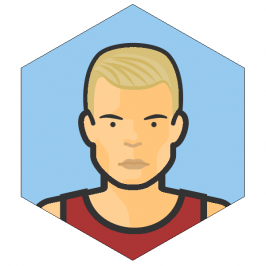 We talked with Tamoor Arif in January, 2020.
Stats
Tamoor Arifs Stats When We Talked with Him 💪

👋 Hi! Tell us about yourself and your training
Hello and thanks for the reading.
My name is Tamoor Arif. I'm 36 years old. Currently, I'm living in Toronto, Canada and I moved here 5 years ago from Pakistan.
I am married to the best person on earth, my wife Uzma. And we have three kids; two girls and a boy.
Since I moved to Canada, I got a job into GNC which is a well-known nutrition center and it is a huge part of my interest.
I have been lifting weight since 18. Actually that was my start of professional and competitive bodybuilding.
My day isn't complete without workout. And I love to learn more about nutrition and different workout protocols.
⏱ Describe a typical day of training
---
---
Well, it's a hard part for me to describe because often this is easy to say than do it.
Being a father of three and working full time, it's not easy to keep my workout schedule aligned with eating properly. But still I workout 6 days a week, sometimes I split my workout twice a day because of the shortage of time.
My workout is usually an hour and a half long and high volume is always my favorite workout routine. But I always try different sets and workout routine to give a shock to my muscles. That's why I prefer to workout alone.
I have a high metabolism and for this, I try to workout 4 times in offseason and eat more calories. I stay fairly lean compared to most, even when I'm operating in a caloric surplus.
Usually, I don't do cardio for fat loss but do it for the health purpose by keeping my bloodstream normal. I do 20 mins of cardio after the workout. I prefer stair climbing for cardio but sometimes I do treadmill and cycle too. Change is always good.
👊 How do you keep going and push harder?
Working full time and being busy with my family, sometime I really need external motivation to get things done and keep going on.
Have someone to keep you accountable is always helpful(like your partner, trainer, coach and your ownself). I always keep my eyes on my goals and try to get better and ensure this happens.
If I make a personal and internal commitment to myself, I keep it.
I love to eat and live a normal life but bodybuilding is a whole different life style with own routine of diet plan and eating and sleeping schedule.
For motivation, I like to listen motivational speech or watch videos.
🏆 How are you doing today and what does the future look like?
It's February 2020 and I'm preparing for a show back in home.
Recently in November, I placed third in President Cup, Toronto, Canada. I have been pushing myself for last few years.
I have the plan to take some time off after the upcoming show and do a great solid off season and compete in Pro Qualifier Show in Canada at the end of this year and try to achieve my pro card which is one of the most important parts of my future goals.
🤕 How do you recover, rest and handle injuries?
Since I am lifting from the age of 18, I didn't get any major injuries.
But yes, I pinched my nerve in L4 & L5 which cause me Sciatica and I have been suffering from that pain for 6 months. And I am totally fine and recovered now.
I always recommend my clients and other people to focus on your mobility and stretching, it helps a lot for your joint to move freely during workout.
Bodybuilding involved with weights, has always high risk of injuries but you have to play smart and always listen to your body and go accordingly and never skip stretching.
I am not a big fan of deep tissue massages or any other treatment unless I need it as I did for my tennis elbow and knee inflammation.
Otherwise I always keep eyes on my nutrition supplements and vitamins which has a key role for my muscle and joint recovery.
My sleep isn't good but I try to sleep minimum 6 hours, I know which is not a lot but my body responds very well on this.
🍎 How is your diet and what supplements do you use?
In my offseason, my diet is not really well planned, but I try to consume 4k calories a day and play around with carbs, I keep carbs low a couple of days in a week and 3 days moderate and 2 days high.
My pre-contest diet if always well planned and 5/6 meals a day containing my required macros.
In case of cheat food, I like junk food like pizza and beef burgers. But I make sure before my cheat day, I have earned it.
For the supplements, I always use multivitamins, omegas, joint support supplements. I like bcaa, protein shakes, weight gainers or pre-workouts change according to the goal requirement for the rest or for the off season and pre-contest.
My work always supports me for the supplements and I get a good discount.
👍 What has inspired and motivated you?
I feel that bodybuilding and sports are always been in my blood, it's just like my passion.
Yes in early age I have been watching Arnold Schwarzenegger competing and in action in movies. This thing really triggered and motivated me and now I listen to motivational speakers and movies to keep myself push harder.
✏️ Advice for other people who want to improve themselves?
---
Bodybuilding is the most difficult sport on the planet and consistency is the key to success.
---
Bodybuilding is the most difficult sport on the planet and consistency is the key to success. Just get started and there is no limit of effort and hard work. Go beyond your limits.
Eat healthily and train like a beast. There is no shortcut to keep pushing and things will come what exactly you are looking for.
🤝 Are you taking on clients right now?
Not at the moment but I'm taking clients after my show in the month of March. For coaching contact me at [email protected]
📝 Where can we learn more about you?
Find me on Instagram @gifted_4