Interview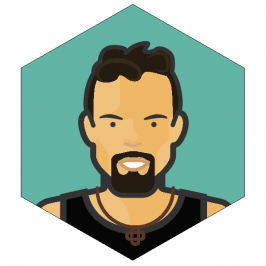 We talked with Allan Ray Enriquez in May, 2020.
Stats
👋 Hi! Tell us about yourself and your training
Hi there! My name is Allan Ray Enriquez, you may call me Allan. I am 37 years old and very happy with my own. I have been active since I was a kid where I played soccer as fullback and I practiced a little bit of Kung Fu as well.
I am currently a freelancer coach, myofascial release practitioner and a teacher, and I am part of the management team of Pranalaya Wellness Hub in Baguio City, Philippines.
I started as a blogger about running back in 2010. I ran several road races, marathons and ultramarathons. I began my fitness career professionally in 2013 as an assistant coach for CrossFit Striking in Manila.
Because of blogging and coaching, I have facilitated training and workshops about running, movement and gym sales, marketing and operations.
⏱ Describe a typical day of training
---
My favorite exercise would be cardio and strengthening circuit classes
---
I try to practice or workout three to four times a week. I usually work out and practice on my own, this is a good way to measure myself in the field whether in running, muay thai or yoga.
"It takes one step to make a big difference" is my training philosophy–so it doesn't mean when you stopped, you are already a failure. Tomorrow is another good day to start. In this time of pandemic, it is good that we accept our successes even if it is small.
I am fortunate that I still have a fairly fast metabolism at the age of 37 because after a tedious cardio workout, I could lose easily after two to three days.
When you open my fitness bag, you will surely see the bare essentials like change of clothes, my bath essentials, two water bottles.
My favorite exercise would be cardio and strengthening circuit classes. I only use a timer or simply for now I do 45 minutes to an hour especially we can only workout inside.
👊 How do you keep going and push harder?
When motivation is quite slim, I will most likely forgive myself. Back when I was starting in 2010, I tend to beat myself not considering that external factors are the cause of my lack of motivation or to stop–maybe because of work, weather, transportation.
I always make time for myself, I try to commit 45 minutes to an hour. Pushing myself is easy, I usually look for motivational songs on Spotify and I am already a happy soul.
When it comes inside the gym, always start with dynamic stretching since everyone races to the treadmill.
🏆 How are you doing today and what does the future look like?
Currently, I go with moderate circuit training, yoga or dance. These days have been quite challenging for most fitness coaches and wellness teachers as COVID-19 has forced people to choose the essentials.
Unfortunately, here in the Philippines, fitness and wellness is still considered a form of leisure and quite costly and so, we have to make a quick change of how to approach our clients and convince them to work out with us and this is through online. And because of the pandemic, we are asked to re-evaluate our goals to be short term but a sustainable one.
If I were to start over this fitness and wellness journey, I would have taken wellness courses earlier to address a lot of clients' needs when it comes to temporary setbacks due to injuries.
🤕 How do you recover, rest and handle injuries?
When I got hospitalized due to MRSA back in 2014, I was in the middle of competing for my first official CrossFit, I have to really stop as the bacteria has shrunk my muscle growth and my body resistance was just awful.
After three months, I returned but shifted my growth to muay thai, at this time I began looking at myofascial release and other rehab exercises for me to sustain this lifestyle as this became a pattern for most athletes; they are forced to stop all together and they will return to zero.
So I took several certifications to address these injuries. Now I am a certified myofascial practitioner so I also conduct sessions for IASTM, cupping, massage gun, resistance band, stretching and kinesiology taping.
🍎 How is your diet and what supplements do you use?
As I have a quite lean stature, I tend to carb-load and then a fine distribution of protein and fats.
I used to take pre-workout with BCAA and then drink twice after workout and before sleep of protein shake. It helped, however, when I was already taking yoga, I shifted to a high fiber, high protein, low carb diet.
I tend to distribute my meals to six equal distributions so I will not pig out on my main meals. Cheat days are usually every weekend or when I decide to rest, snacks in between meals is just okay and my body will really react when I eat more than I am used to.
But when it comes to social gatherings, I am not a picky eater. As long as for the next few days, I will workout again.
As I am quite energetic, I enjoy black coffee (three maximum cups for the day) and then just water.
👍 What has inspired and motivated you?
I really don't have fitness books but mostly self-help books on subjects like stoicism, grit, passion and leadership.
While I follow some people on Instagram like my fellow yoga teachers and fitness coaches, some popular personalities I follow are BJ Gaddour for fitness, Joe Wicks for home-based training, Nile Wilson for gymnastics and several CrossFit and yoga personalities.
✏️ Advice for other people who want to improve themselves?
---
See challenges as stepping stones towards success.
---
It takes a personal drive and mindset to start. We love procrastinating but time is not always a friend, change is constant and so should we.
Age can be defined when we do not take care of ourselves as our decisions in the past will really affect our health, our physical and mental well-being.
It is a fun habit of showing thirst traps on social media and now with the rise of TikTok, we see a lot of half naked people trying to dance and gyrate, however, ridiculous as long as they are validated with the views and the likes, it is only hype and in the end, you will not thank yourself with being not yourself behind the phone or when your "audience" leaves.
See challenges as stepping stones towards success. Enjoy the boring stuff because it teaches us discipline and only with that, true character will show.
🤝 Are you taking on clients right now?
I specialize in self-myofascial release and group classes for core, toning and conditioning. You may follow my Instagram or Facebook Page, moveyoubetter to learn more. From there you may book a one-on-one session or if you want to join a group class or even online classes, I will be happy to help.
I am not a physical therapist nor a sports science graduate, but I know how to motivate people and let them know and realize their potential and self-worth, and that is why investing in a good and effective coach or teacher is great–I hope my clients see that in me too.
Right now, because of COVID-19 limitations, I only accept online clients. I have yet to update my safety protocols when it comes to private sessions.
Most of my clients would ask me, "How can I be like you?" and my usual answer is, "You are your own project so handle it with care."
📝 Where can we learn more about you?
You may reach me through my Instagram and Facebook page, moveyoubetter or soon my blog: moveyoubetter.wordpress.com for that one-stop shop of my services and advice when it comes to fitness and wellness.