Interview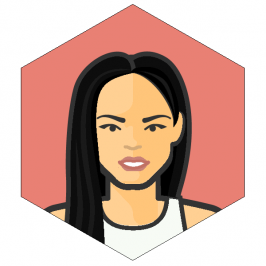 We talked with Peng-Peng Lee in February, 2020.
Stats
👋 Hi! Tell us about yourself and your training
Hi! My name is Peng-Peng Lee and I am 26 years old. I am a former competitive gymnast from Toronto. I was the 2012 Olympic Honorary Team captain for Canada, top Canadian athlete at the 2011 World Championships, Gold World Cup medalist and 2 time Pan American Games medalist. My athletic career has been anything but ordinary.
While I was training, I had a major back injury in high school that took me out of all physical activity for a year. I was unable to run, jump or do any athletics. I was only 14 when this happened and was told that I would not be able to do gymnastics again.
Although I thought I was never going to be able to do gymnastics again, I was still recruited by UCLA which inspired me to slowly come back to gymnastics. I made a huge comeback and went on to be the 2012 Canadian Gymnast of the Year.
My journey didn't stop there; I tore my ACL at the 2012 Olympic trials taking me out of the competition, however, team Canada still invited me to be their 2012 London Olympic Honorary Team captain. I wasn't able to compete but I was still extremely grateful that I was still able to have Olympic experience.
After my international elite career, I continued to UCLA on a full scholarship. During my collegiate career, I scored 10 perfect 10's, received the 2018 Honda Award, 2018 Pac-12 Scholar-Athlete of the Year and 2018 Pac-12 Athlete of the year. My career highlight was scoring two perfect 10's on both my events, bars, and beam, to help UCLA clinch the 2018 NCAA National Championship title by the smallest margin in history.
Currently, I am an ambassador for the Collegiate Gymnastics Growth Initiative, a Youtuber, host, and actress. I am still extremely active as I have to continue to do my knee rehab after my career. The thing I have to focus on now is maintenance after athletics.
I have a lot of fitness friends now and my longest friend from home Taylor Learmont has helped me to find exercises to maintain my strength for my knee without additional weight. There are things I need to limit now since my knee has taken a lot of wear and tear from my athletic career.
Something that I am also passionate about is performing. I have a love for music and sang the national anthem at the LA Clippers game, LA Dodgers and other various UCLA events!
My other passions have helped me tremendously when I was a competitive athlete because it gave me balance. I am continuing to pursue my dreams outside of athletics in the entertainment world.
⏱ Describe a typical day of training
---
Training today is very different than when I was an elite athlete.
---
When I was an elite athlete a typical day of training for me was about 4-6 hours. I had trained 25+ hours a week since I was 10 and each day was different.
However, every day started with a conditioning circuit to warm up our bodies. This included plyometrics and bodyweight exercises. We would spend 20 minutes of a running circuit that included a mix of leg exercises, core, and upper body. After the 20-minute cardio warmup, we would stretch for about 10 minutes, starting with our necks and working our way down to our ankles.
Since gymnasts required flexibility, we did a lot of PNF (Proprioceptive Neuromuscular Facilitation). Once we have stretched we would do 30 minutes of conditioning including leg lifts, rope climb, mountain climbers, and flips.
In gymnastics, we did not do a lot of weight lifting because the majority of our sport is body weight. If we were to bulk up it would have been hard for us to flip and lift ourselves.
During the season and off-season training are different. During the summer and pre-season, we focused on a lot of conditioning to get stronger as well as new skills. During the season, the conditioning load lightened up a lot so that we were able to save our energy for competition.
Training today is very different than when I was an elite athlete. I have an early stage of arthritis now in my knee so when I work out it is very much catered to my knee rehab. I pay attention a lot to my glutes, hamstrings, vmo, and calves to strengthen the muscles around my knee.
Most of my workout now will consist of a spin bike warm-up, 1 min resistance and 1 min off, and then my knee rehab. I am not able to do squats without pain so there is a limited amount of exercises I can do, and most of them are very low weight.
I have tried to push myself by adding weight with doing my rehab but my knee will swell up the next day, even though I don't necessarily feel the pain. My workout is low impact and as long as I do not feel pain in my knee, or hear it crunching I'm in the clear.
👊 How do you keep going and push harder?
While I was in athletics, I always grew up with a strict schedule of having going to practice. On those days where I wouldn't want to go to practice, I had to think about the big picture and how I would get there. My dream, while I was a gymnast, was to go to the Olympics.
There were definitely days where I was sore and tired and didn't feel like practicing. It really helped me to vocalize that to a coach or teammate so they were able to help me on the days where I couldn't push myself.
I think its important to reach out or find somebody to train with to keep each other accountable on the tough days. Another trick I would do is put myself in other athlete's shoes.
My favorite athlete is Roger Federer because I think he is not only strategic but does everything with such class. On the days where I found myself wanting to binge eat or not go to treatment, I would think, "What would Roger Federer do?"
🏆 How are you doing today and what does the future look like?
Now that I am a retired athlete a lot of my training is maintenance and rehab. I still have knee pain even a couple of years out of the sport and I'm only 26 years old. I need to make sure that my muscles around my knee are still firing so that I can do day to day things without pain.
If I were to do gymnastics all over again I would say that I would have focused more on recovery. That is icing, cupping, acupuncture, etc. I believe it's so important to be able to keep your body in great condition so that it can last all those days of training.
Currently, I am creating a YouTube show with a teammate called HonestLee where we showcase amazing athletes and inspire and motivate the next generation. I would like this show to be the Ellen Degeneres Show, but for athletes!
🤕 How do you recover, rest and handle injuries?
---
Sleep, I've learned is a crucial part of recovery.
---
I have dealt with my fair share of injuries during my career but the biggest thing that I took away from it was to be patient and not rush back.
I think a lot of athletes are eager to get back into the gym and want to push themselves but that could be a major setback in itself. Taking the time to do rehab properly will help strengthen yourself for when you are ready to get back into the full swing of things.
Something that helped me while I was an athlete was also getting the proper treatment. As much as I hated needles, my body responded to acupuncture extremely well. I think when you are an athlete you should be open-minded to the treatments out there because you never know what is going to work best.
Sleep, I've learned is a crucial part of recovery. In college, I would get a range between 5-7 hours of sleep but still have the energy to get through my day. I am naturally a very active person who has a hard time falling asleep and I am more of a "night owl" than a morning person.
I've come to accept that and allow myself to sleep in only because I'm more productive that way. I've tried to consistently wake up at 7 am to get my day started but I actually find that I am more exhausted when I do. I allow myself to sleep on its own cycle because I'm more awake, efficient and productive.
Another form of recovery that I always take with me is my lacrosse ball. It is the perfect trigger point of self-massage! It's easy to travel with and it gets the tough small spots.
🍎 How is your diet and what supplements do you use?
While I was a gymnast, I never went on a specific diet. I found that diets were restrictive and too structured for myself. I honestly did things in moderation and made sure I had all my food groups.
I found that cutting out certain foods didn't help my performance and sometimes made me more sluggish. I would try and avoid sugary and fried foods during the weekday and have a one day cheat day. That way I always looked forward to my cheat day.
While I was on the team, each team member would give up one thing during the season to help stay motivated and keep each other accountable. During the Olympic year I made a list of foods to not eat until I was done the competition; so that way I could reward myself!
Today, I still don't tend to a diet but I just tried to be balanced with vegetables, carbs, and protein. I find now that I am not an athlete, I am not as strict as needing meat as my protein so I'll substitute sometimes. I just try to eat clean when it comes to producing and products.
So I try to buy organic, non-GMO products that have the simplest ingredients. The only supplements I use are fish oil, and sometimes I'll take oil of oregano to help clean my gut.
👍 What has inspired and motivated you?
My fans have inspired me to want to keep going. I really believe that there is so much more than just competing. I felt so good when I was able to inspire and motivate someone else.
Throughout all my injuries and after when I came back, I had a new perspective on my hurdles. I realized that I was then able to help other people get through similar injuries and tough times. That way when I'm injured I would tell myself it is happening for a reason so that I can enjoy being patient and not rush the process back.
✏️ Advice for other people who want to improve themselves?
Some advice that I have for somebody is to link up with a professional. I truly believe having a coach of some sort is extremely helpful because they are the expert in the field. Ask them questions and try it out.
Another thing is taking a class is important too! Sometimes one class can change a person's perspective on things and motivate them more! I really think its hard to do it on your own but having a basic foundation of knowledge is important so you don't hurt yourself or do things wrong.
🤝 Are you taking on clients right now?
I'm not a trainer, so I don't take any clients.
📝 Where can we learn more about you?
You can learn more about me on my social media! All my handles are @PengPengCLee.