Interview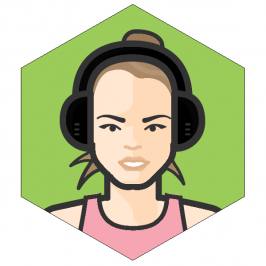 We talked with Lonnie Boe Pedersen in February, 2020.
Stats
👋 Hi! Tell us about yourself and your training
My name is Lonnie Boe Pedersen, I'm 44 years old and mother of two kids, age three and six.
I'm born and raised in Denmark and I have worked fulltime as a self-employed trainer for eight years and since 2015 owner of my own personal training studio, with six employees. I'm currently also studying for a master's degree in business administration.
My biggest accomplishments:
There are so many outstanding memories throughout my active life, but I have competed in a swimming for many years at top level. Switched to dressage riding at the age of 18 and started competing in dressage riding and at the same time strength training caught my interest. And at that time, I was one of the only girls in the free weights section.
I have recently run three OCR races and I'm feeling like this could be the next sport for me, since it contains all the elements I love: Power, speed, endurance, technique skills, adrenaline and often water and mud.
My passion for strength training is never going to change, since then strength training has supported me in my life decisions, helped me overcome trauma, helped me perform I various sports, the weights are some of my best friends.
My Major accomplishments and PRs:
Danish Champion in Athletic Fitness x 3
Winner of Nordic Championship in Athletic Fitness
Winner of Norway Open in Athletic Fitness
Danish Champion in Body Fitness -163 cm. and Masters + 35
Winner of Oslo Grand Prix Body Fitness -163 cm.
3. Placen Nordic Championship in Body Fitness -163
4th. Place European Championship in Body Fitness
Participated in Worlds Body Fitness placed 11th
Danish Champion in Bikini Fitness Masters + 35
Third Place Norway Open in Body Fitness
Danish Champion in Bench Press in the 52 kg category and Danish Record holder in the Masters 1, -52 kg. category 2018 & 2019.
My hobbies:
I love baking and making desserts.
In a healthy lifestyle, there is always room for dessert, it will always come down to the total amount of calories not only on a daily basis but on a weekly course. In general, I love cooking. I'm a Halloween maniac and love planning Halloween parties.
I used to have sponsors before it all came down to how many followers you have on IG, but now I don't have any sponsors. I love making all of my own decisions without being depending on whether your sponsor likes it or not or want something in return.
I don't need much, least of all a bucket of protein powder. I don't have big needs or wants, loving what I do is enough.
What I like most about fitness and bodybuilding is the ability to create the physique and shape your body in any way you want and the positive outcome of great strength, both mentally and physically.
⏱ Describe a typical day of training
I follow a specific training program designed for me by Børge Fagerli from Norway. For me he is the best trainer right now, since we are at the same age, with same interest in development.
It is important for me that he fully understands where I'm coming from and he is the best at understanding how to get the most out of a busy work schedule.
Most of my trainings are specific for developing strength in Bench Press, but are also developed as full body programs with specific focus points.
I always train alone without distractions from others since I have so little time available, except from once pr. Month where I meet up with my fellow power lifters from AK Frem (my powerlifting club) in their facility.
My rituals before training are drinking two cups of espresso as a pre-workout. I always train in my own studio except from the above mentioned.
I always keep a log of my training to track progress and that give me the ability to always spot when I'm stagnating and it's time to change the routine or make other adjustments.
After training, I work with clients and don't eat before lunch, which means two hours after finishing training. I normally don't do specific cardio, I do love to walk for meditative reasons.
I use the Oura Ring for measuring my sleep and monitor my overall well-being and it works as a good guideline for me of what I can do better or at least needs attention.
👊 How do you keep going and push harder?
---
I don't rely on motivation, I'm a big believer in habit formation, consistency is king.
---
I don't rely on motivation, I'm a big believer in habit formation, consistency is king. Some days my body is tired due to stress, lack of sleep or when my period is due. Then I take a step back knowing that I will be back to normal within a couple of days and ready to push harder.
I try to set realistic small goal moving me closer to a bigger goal but there isn't a timeline any more only when is the next meet and will I be able to break a new record.
I have always had the thought that when I entered the stage in any competitions I wouldn't have any regrets, meaning that I have done everything possible and within my control to optimize my strength and don't need to blame myself for not doing things right.
The biggest challenge I have faced and still struggle with is work/life balance, with family, training goals and being self-employed at the same time. But as long as results are showing I'm ok.
🏆 How are you doing today and what does the future look like?
I have injured my shoulder in bench press and for now I'm trying to work around it, hoping it will come around and allowing me to press. Right now, I'm on my second period of treatment from a manual sports therapist.
My goal is to bench 75 kg. and hopefully try competing in OCR with the elite.
Within two years, I hope to have completed my Master's degree without crashing!
I wouldn't change a thing if I had to do it all over!
🤕 How do you recover, rest and handle injuries?
I have been speared for serious setbacks until now and looking at my work pressure it might not come as a surprise that its occurring right know.
I love going to bed early and have found it to be one of the most important tasks when looking at what it means for overall health and recovery. I need at least eight hours of sleep and aims to be regular also during the weekend if possible.
When I'm traveling, I always bring gym clothes and a rubber band. I always find a way to move or train either at the hotel room or if I am lucky at the hotel gym, sometimes I find a gym but most of the times there is a limited time available.
I give me energy and peace of mind if I prioritize making time for a small workout before breakfast, then shower, eat breakfast and then I'm ready for whatever!
🍎 How is your diet and what supplements do you use?
I have tried so many diets during the years of competing but my number one approach to diet is variety, make space for what you like, eat anything in moderation, know your hunger signals and ques. Know your why's regarding your eating patterns, stay curious and work with your body, not against it!
I don't use other supplements than magnesium from Poliquin Supplements and d-vitamin during the winter. I have found it helpful to use Restorem in periods with stress.
👍 What has inspired and motivated you?
I love listening to podcast when I'm driving. I'm just using my podcast app.
My favorites:
Sigma nutrition
Stærk
Detox din hjerne
Fitness M/K
How to be awesome at your job
Sitter
Brainstorm
Anders og Anders
Best book:
Atomic Habits book has inspired me to move away from all or nothing to a better place in between with greater results and that changing tiny habits are the most powerful thing especially if you focus on doing more of what you are already good at instead of trying to master everything to perfection which is time and energy consuming.
✏️ Advice for other people who want to improve themselves?
---
Consistency is king, and Rome wasn't' build in one day.
---
If I was new I would find someone who I trust and not necessarily the most popular, someone who find the time for you and listen to you, you deserve it.
Consistency is king, and Rome wasn't' build in one day. It takes time and dedication, don't expect it all to happen overnight. Have patience with yourself.
🤝 Are you taking on clients right now?
I do take clients on and have a great list of top results with athletes I various sports.
I'm a hands-on person, meaning that I don't do online coaching. For me everything starts with watching you move and talk.
If you are in it for the long run, I'll take you in. I don't work with short term goals and I consider it a journey how to train and understand yourself better to be able to do it all by yourself with minimum support when we are done.
The things you learn with me are for life and they will change your life forever.
📝 Where can we learn more about you?
lonnieboepedersen.dk and lbpstrengthandfitness.dk
My main channels are Instagram (@lonnieboepedersen.dk) and Facebook (@lbpfstrength.fitness)