Interview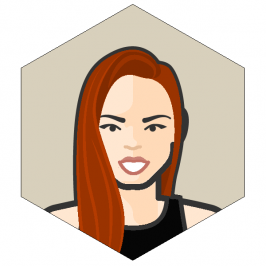 We talked with Kayla Kleinman in April, 2020.
Stats
Kayla Kleinmans Stats When We Talked 💪

👋 Hi! Tell us about yourself and your training
Hi, I'm Kayla! I'm an NYC based yoga teacher, fitness instructor, and wellness blogger.
I've been in the fitness industry for about 8 years now as a personal trainer and instructor and I also worked in marketing at a number of fitness start-ups.
I graduated from NYU/Tisch with a BFA in theater. While acting and theater will always be a passion of mine, right out of college I knew I wanted to bring my love of performance and movement to the fitness world.
Since then I've become a NASM certified personal trainer, AFAA certified group fitness instructor, did my 200-hour yoga teacher training and recently became a certified Bar Method barre instructor.
Working out and fitness changed my life. In college I was really struggling with anxiety and stress due to the intense nature of my theater program.
I found myself going to the gym as a way to release that stress. I became totally hooked and started my own blog, Kayla in the City around that time as a way to share my love for fitness.
I now teach 16 fitness classes a week here in NYC, a mixture of high energy yoga classes at Y7 Studio and barre classes at The Bar Method in Noho.
⏱ Describe a typical day of training
Even though I'm a certified trainer, I've always preferred the energy and community of a group fitness class.
Since I started teaching full-time I've had to really change the way I workout, teaching 5 classes a day in a hot yoga studios takes a lot out of you!
Right now I aim to take 5-6 barre classes at week at The Bar Method and at least 1 yoga class every week. Right now it's what works for me!
I don't specifically focus on cardio, the classes I teach at Bar Method are based on interval training so do get your heart rate up. I love taking spin classes from time to time and cardio dance classes.
Also, I've always preferred strength training to cardio. I'm a huge fan of deadlifts, when done properly, and planks because there's so many different variations you can play with.
In my fitness bag, I carry sticky socks for barre classes and face wipes to fresh up after hot yoga.
👊 How do you keep going and push harder?
---
Find that way of moving that you love.
---
I've honestly always been self-motivated. I know working out helps me feel like my best self, so knowing that has always inspired me to go to the gym.
I'm lucky that I spend so much time teaching at fitness studios that I can usually take a workout class before or after I'm teaching.
If you're struggling to stay motivated I always recommend finding a fitness class or workout that you love.
Don't force yourself to go to spin classes if you hate them. Find that way of moving that you love.
🏆 How are you doing today and what does the future look like?
Right now I'm just focusing on moving my body and staying injury-free. I used to train for big races (I ran the NYC Marathon in 2015!) but right now I'm not focused on an particular goals.
🤕 How do you recover, rest and handle injuries?
I always always always take a rest day every week. It is so important, whether you're training for a marathon or just love working out. Your body needs to recovery and REST.
I'm not great at prioritizing sleep right now, working in fitness means I'm often times up at 5AM to teach but also don't get home from my last class until 10PM.
Because my schedule is so sporadic as an instructor, I'm really diligent about resting during the hours I'm not teaching. I spend quite a bit of time on my own reading and watching TV to rest of my legs.
🍎 How is your diet and what supplements do you use?
I do not follow a specific diet. I happen to not eat red meat or pork, but that's something I've been doing since I was 9.
I also realize a few years ago that I'm lactose intolerant so I try to avoid dairy as it upsets my stomach.
Otherwise, I try to focus on eating real foods with ingredients I recognize.
I don't believe in cheat days or that certain foods should be categorized as junk food. While I generally try to stick to eating whole foods I also believe in balance.
Nothing is off-limits to me… except dairy because it makes me sick (because of my lactose intolerance).
I'm a big coffee drinker, specifically lattes. Gotta keep my energy up when I'm teaching 4 classes some days from 6AM to 8PM. I'll drink tea from time to time, but I prefer lattes.
I've never been a big alcohol drinker, maybe a drink with dinner or brunch on the weekends but that's about it.
When I go out, I tend to ask if there will be options for me.
If it's a party where everyone is bringing a dish I'll always bring something I know I can eat. Otherwise, I'll pre-eat before an event or gathering if I'm worried it's going to be all burgers and hot dogs or whatever.
👍 What has inspired and motivated you?
As I said earlier, I've always been pretty self-motivated.
I'm also so grateful for all the amazing fitness instructors that I take classes with regularly. They continue to push me, to keep me inspired and motivated when maybe I don't feel like working out.
Music is good for motivation, but most of my workouts right now are group fitness classes so I don't have control over the music.
During my running days, my playlists were basically chock full of musical theater (Hamilton came out the summer I was training for a marathon and it was perfection) and I'm also a major Green Day fan.
✏️ Advice for other people who want to improve themselves?
Find your inner motivation and the why behind what you want to do. It will keep you motivated.
If you're struggling find an accountability buddy to check in with you.
Also, as an instructor: Be your authentic self. And don't be worried about making every single class perfect.
🤝 Are you taking on clients right now?
I teach fitness classes in NYC, yoga at Y7 and barre at The Bar Method – Noho.
Clients should consider me for my positive vibe — you won't hear me saying things about losing weight or burning off calories. I try to put on a "show" in every class I teach and make it an experience.
The most common question I get asked is what's the best workout.
My answer is always the workout that keeps you motiviated — don't take spin classes if you hate them just because other people are telling you to do it.
📝 Where can we learn more about you?
My blog Kayla in the City and Instagram @kaylakleinman.