Interview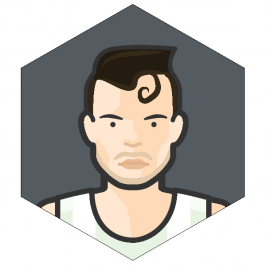 We talked with Mindaugas Grazys in August, 2020.
Stats
Hi! Tell us about yourself and your training
Hi, my name is Mindaugas Grazys, I go by MG for simplicity, I am 28yo, originally from Lithuania but somehow Mediterranean looking (maybe adopted). I live in London, UK where I moved to in 2014 to pursue my career in Economics but ended up in modelling and acting industries.
I have been training since 10yo inspired by Hollywood action movies. It pushed me to pick up old 2kg dumbbells rusting in the basement. With 500 one-off lean-ups every morning, I managed to get my eight pack when I was 12 and I've never lost it due to doing sports regularly, living an active lifestyle and eating healthy.
I have tried many sports in my teens and achieved good levels at basketball, football, wrestling, boxing and MA (JKD). It was the time when I was training seven times a week.
Nevertheless, my focus was on earning my living with my brain, not the body. Therefore, I studied Economics at the best university in my country and few other universities in Poland, Georgia, Estonia and a college in the UK.
At the moment, I am an entrepreneur selling pit bikes in Europe and keeping up with my career in entertainment. I love travelling a lot and I visited 55 countries around the globe so far.
Describe a typical day of training
---
It is believed and proved by a scientific experience that part-reps training can increase muscle growth by 30%.
---
I try to exercise every day, it can be a quick 20-min exercise on a full body strength and flexibility with resistance bands and basic exercises with a lot of stretching and water hydration.
When every Monday I try to do my chest, Wed – Legs and Fri – Arms&Shoulders with weights at the gym as I had a gym at home, unfortunately, I've moved out to another place a fortnight ago.
Therefore, I replaced weights with resistance bands and practiced part-reps technique at the moment. It is believed and proved by a scientific experience that part-reps training can increase muscle growth by 30%.
During three months of lockdown, I had a chance to hit the gym three times a week and I went from 70-72kg to 78-80kg adding a good amount of muscles. It is a great personal achievement as my metabolism is very fast and I eat 4-6 times daily.
My diet is rich in berries, nuts, seeds, vegetables, fruit, poultry and greens. Also, I add up some extra multivitamins, collagen, GF outs and hemp protein powder to keep myself energetic. Food is the key!
How do you keep going and push harder?
Set your goal.
Do you want to lose weight or you want to gain muscles, maybe you want to get shredded?
Then think about how much you want it and what can you do to achieve it?
What can you change in your daily activities?
Your diet?
What exercises will help you to achieve your goal?
Personally, I meditate to find my calm and collectiveness; it keeps me inspired and focused more.
The biggest challenge is self motivation but if one really wants something, everything is possible, there is no excuse and the only one who can stop you is yourself.
So keep it in mind, unfortunately, everything else is just an excuse.
How are you doing today and what does the future look like?
As today, I still need to rebuild my training regime as it was a busy time moving out and settling down at my new place, there was a really hot period as well, hitting 36 degrees Celsius and making it hard to exercise at home.
Nevertheless, my goal is to stay fit and retain my 8 pack despite my age. As far as I want to look good, I want to be healthier. So whatever it takes to stay healthy and fit it's always in my mind. It might be difficult sometimes to work around my work but hey, no excuse!
How do you recover, rest and handle injuries?
Personally, I had lots of minor and major injuries during my career in sports. Starting from sprayed ankles to broken nose or a split skull.
You need to know yourself, I know I can heal quickly and a sprained ankle is not a concern of a doctor, even my twice broken nose I fixed myself. It's extremely painful but I just don't like hospitals and chemical stuff. Please don't take this as an advice. So many times I needed to seek medical assistance at the hospital myself, it's just a personal choice to avoid it as far as I can.
Furthermore, by warming up very well before training and stretching before, whilst and after training, lowers the chances to get an injury. So do it, don't be lazy and you won't need to regret!
Moreover, it's very important to rest well! Try to sleep 8h daily, it's good to practice a quick afternoon nap session too. Massages are always great for recovery, a bath tub with sea salt too. Now yourself, if not, experiment until you get to know what works for you.
How is your diet and what supplements do you use?
I've never tried any specific diets in my life, also I've never counted any intakes, etc. Nevertheless, I follow some rules as I want to be a healthy person and I have intolerances to gluten, lactose, eggs, pork, beef and some other difficult to avoid daily products.
No junk food!
No fizzy drinks!
No frozen food!
No fried food!
No canned food!
No very processed food like sausages.
All that is just a pile of garbage and it will destroy you from the inside.
I try to eat four to six times daily and snack occasionally. I spend a great amount of time in the kitchen if you think about it. But I am healthy. Lots of fruit, veg, poultry, lamb, nuts, seeds and multivitamins on top. Don't forget your water!
Also, I can crave for junk food and I can allow myself to get some at my social times. It doesn't hurt my looks as my metabolism digests it very quickly without putting on much weight.
On the other hand, think about how this stuff stays inside your body for a long long time. It's toxic. Grab some nuts, berries or popcorn to snack instead.
What has inspired and motivated you?
The sequence of my motivation started with Arnold Schwarzenegger, Sylvester Stallone and J.C. van Damme in my childhood to Bruce Lee in my teens and just willingness to live my life fully in my adulthood.
Find your own motivation with high stakes, write them down and remind them yourself every morning and evening before going to sleep. It's important!
Advice for other people who want to improve themselves?
---
Everyone is different so don't get delusional that what works for others is going to work for you.
---
Find your own motivation with high stakes and remind yourself of it every morning and evening before going to sleep. It's important! Set your goals and set the precise time to achieve them.
Try new things and find what works best for you. Everyone is different so don't get delusional that what works for others is going to work for you. It will not necessarily work for you!
It's a XXI century, the Internet is full of information and you can learn how to build a rocket there. Fitness otherwise is less complicated so don't be lazy and drop all excuses.
Recently, I started exercising with resistance bands, arm grip and making smoothies with hemp protein powder, high-in-fibre and protein berries and seeds – all great investment!
Are you taking on clients right now?
I don't. I train for myself. I used to get lots of questions regarding to my fitness, especially my eight pack and I always emphasized a healthy diet and an active lifestyle as a very strong frame for the start.
Where can we learn more about you?
Facebook @grazysmindaugas
Instagram @mindaugas_grazys
Starnow mindaugasgrazys
thumpstar.eu