Interview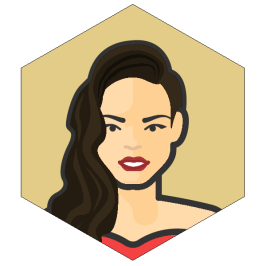 We talked with Lauren Kudsi in June, 2020.
Stats
Lauren Kudsis Stats When We Talked with Her 💪

Hi! Tell us about yourself and your training
My name is Lauren Kudsi and I am from Chicago, IL now living in sunny Los Angeles, California. I am a young graduate of Northwestern University where I studied Film, Theatre, and Political Science.
My passion for fitness stems from my dance background and musical theatre training. Outside of working in the Entertainment industry, I am a group fitness instructor with Equinox Sports Club LA and a Jazz singer!
While I have not competed in bodybuilding competitions, I am a former local titleholder and finalist in the Miss America and USA pageant systems and know the discipline it takes to achieve a fit physique!
Describe a typical day of training
---
Dancing would have to be my favorite workout because I get lost in the music and forget it's even exercise.
---
A typical day of training revolves around many factors.
Sleep, nutrition, and circuit training can do wonders! I love to mix up my workouts to make sure I don't plateau or get bored. Having a workout buddy, trainer, or class to look forward to can take you to the next level.
If I'm preparing for a show, etc. working out twice a day is the way to go. (Fasted cardio in the morning followed by resistance training or sculpting in the evening.)
Dancing would have to be my favorite workout because I get lost in the music and forget it's even exercise. After a fun sweat session, I like to have a post workout protein shake or a well balanced meal.
I recently purchased a Fitbit watch and am looking forward to tracking my calories burned, steps, and moderating my sleep. As far as keeping a training log, I like to record everything in my planner to hold myself accountable for following through with workouts.
How do you keep going and push harder?
I have a vision board in my room as well as the wallpaper background on my phone, as a reminder to stay focused in my endeavors.
If I am lacking motivation prior to a class, I remind myself how much joy it brings me to see my client's smiling faces. If they can wake up and arrive early for a sweat session on a Sunday morning, that just means my class is worth it! 🙂
Ultimately, exercise makes people feel good. Regardless of stressors pre-workout, I always feel better afterwards.
The biggest challenge I have faced so far would be moving to Los Angeles without knowing a single soul! I have had quite the journey and many adventures along the way.
How are you doing today and what does the future look like?
As we are in the midst of a global pandemic, it's safe to say we are all experiencing stress, depression, and anxiety. I worry for my parents — my mother especially who is a nurse on a Covid-19 unit.
Now more than ever exercise and a healthy lifestyle should be a priority, and yet the fitness industry has been turned topsy turvy. I have been devoting my time towards projects both personal and professional.
From designing my new apartment, launching virtual workouts, cultivating musical passions, and socially distancing with close friends, I have to see the positives in this unexpected pause. I look forward to when people, especially those on the front line, are no longer at risk or living in fear.
If I could change one thing about my fitness journey, it would be to prioritize all aspects of health. Components like sleep, nutrition, meditation, regeneration, and mental and emotional health are equally as important.
Advice I would give to my younger self would be to love yourself and not be your own worst critic.
How do you recover, rest and handle injuries?
Just last year, I suffered from a knee injury resulting from a car accident. Patience and rest are key in a speedy recovery! While I couldn't incorporate heavy weight lifting into my routine, formats such as barre, pilates, and using my own body weight helped immensely.
With regards to rest, I take sleep supplements ( i.e. Melatonin, OLLY Sleep, or Doxylamine Succinate tablets) before bed and aim for eight hours each night.
How is your diet and what supplements do you use?
I try to follow a healthy well-balanced diet as best as I can. For breakfast, I am usually on the go and grab a protein shake and an iced Americano. (I answered this question in my original response)
I seldom have junk food cravings but if I am going to cheat I limit it to once a week. If anything my vice would be an iced americano every morning and spicy margaritas on weekends.
Staying hydrated is crucial and having protein shakes (Premier Protein Chocolate is my favorite) earlier in the day are a great nutritional supplement. Additionally, I wear a fitbit watch to ensure I hit at least 10,000 steps a day and make sure to stay active.
What has inspired and motivated you?
I am inspired by those who work hard and are disciplined in achieving their goals. Seeing someone's journey is always motivating. Additionally, compiling the right playlist is a mood booster and gives me the extra adrenaline burst I need to get through an intense workout.
If I hear a song I'm obsessed with, I immediately add it to my dance playlist and eagerly choreograph a routine to bring to my students. Having a great trainer or fitness instructor is a game changer.
I love the group fitness environment and push myself even harder- especially when I am in a studio with fellow fitness aficionados
Best advice I've received was you're more powerful than you realize. Just own it.
Advice for other people who want to improve themselves?
---
Fitness is taking things one day at a time to create a transformational lifestyle change.
---
Congratulations on taking the next steps towards growth! By wanting to improve oneself, the process has already begun. Self-improvement is a marathon not a sprint. Fitness is taking things one day at a time to create a transformational lifestyle change.
If someone is new to fitness, I highly recommend a trainer as it is essential! How else can you insure you are having correct form and working out to improve the body not injure it?
Additionally, enrolling in group fitness classes is a great way to hold oneself accountable amongst peers.
Are you taking on clients right now?
In the ever changing world we live in, I am happy to take on new clients! I have a dance background and my specialty is dance fitness. I also love teaching workouts combining dance cardio with sculpting.
From my experience as an instructor, dancer, and former competitor in pageantry, I understand the discipline it takes to achieve results.
Where can we learn more about you?
I am in the process of launching my own dance fitness workouts on YouTube. In addition my Instagram link is @laurenkudsi and my new TikTok is @laurensings