Interview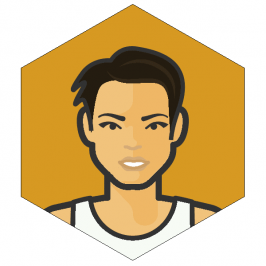 We talked with Esther Chen in May, 2020.
Stats
Esther Chens Stats When We Talked with Her 💪

👋 Hi! Tell us about yourself and your training
Hi! My name is Esther Chen and I'm a pole dancer. I'm from Monterrey, Mexico but currently living in Barcelona, Spain. I'm a full time pole dance teacher in Feeling Woman, one of the biggest pole studios in the world.
I have been pole dancing for 13 years and have a professional degree in contemporary dance and another in music. I have several fitness and pedagogy certifications and love to perform on stage.
I have created more than 20 awarded winning choreographies and keep competing to the date.
I never considered myself as an athlete because I see pole dance as an art form.
However Pole fitness is a real thing that demands a lot of physical preparation in order to succeed, so as a fitness coach I dedicate a lot of time in biomechanics research and performance enhancement.
⏱ Describe a typical day of training
---
---
I teach five days a week usually five to six hours per day so I try to find a proper balance for my body between pole training and conditioning like flexibility, cardio, and dance without burning myself as all my classes implied a huge physical effort.
When I'm preparing myself for competition I do pole training for two hours, three times per week, dance training two times per week, cardio every day and flexibility training twice a day.
So a usual day may start with cardio and flexibility in the morning and pole training, and flexibility again by the afternoon.
I do a lot of core conditioning, as its really necessary for pole dancing.
For cardio, I love HIIT. When you perform live, you need four minutes of power and grace, so I do a mix of high intensity, strength, jumping, running, burpees, etc. all in about five minutes rounds.
I have always preferred training alone but this is a very personal choice cause I'm easily distracted and I don't have a lot of time for traing, so I dont like to waste it on chit-chat.
Most pole dancers love to train in groups to support each other and find some kind of community feeling, I do this when a friend invite me or by a client request, but I see this kind of trainings more as social meetings for me.
I usually bring towel, yoga mat, resistance band, knee pads, bottle of water, protein snacks, almonds, a change of clothes, grip aids for sticking on the pole, pole gloves, and of course a bit of make up and perfume!
👊 How do you keep going and push harder?
I think the best way to keep growing is to compete so you can set goals with a date of expiration.
This is the best way to get organized and measure your achievements. It doesn't really matter how well you do in the competition itself, but the improvements you do in the process. This will give you a lot of satisfaction and motivation to keep training!
I find a lot of inspiration in telling a story during my performance, so I spend lots of time in movement exploration to translate words and feelings into movements, into non-verbal communication.
My biggest challenge has been that my body was not the right type of body for dancing. I was told this very early in my career as a dancer.
I had to find alternative methods to achieve simple things like splits or legs external rotation. I found in pole fitness a very wide range of exercises that help me go though these limitations!
🏆 How are you doing today and what does the future look like?
Right now I'm very interested in growing the quality of the education for pole instructors around the world. I'm working on developing a standard system that helps the pole dance community to grow and be recognized as a proper training system.
This might take a while, as this is a very new activity but I'm on it!
🤕 How do you recover, rest and handle injuries?
---
When I have a serious injury I fully stop.
---
On normal days I usually take 2 free days in which I do nothing but eat and rest. The best you can do on a daily basis is to sleep 9 hours a day, so your body has time to fully recover every time.
Now that we are working from home, I have a lot of extra time I'm grateful for, because I can take care of little injuries that are the result of a work overload.
When I have a serious injury I fully stop. I appreciate a lot of my activity, so I don't want to compromise my career by not taking doctors advices.
I am right now dealing with shoulder injury due to over training. I am seizing this coronavirus chaos to recover by sleeping a lot, eating clean, and therapy, lots of therapy!
🍎 How is your diet and what supplements do you use?
I usually eat six times a day on a training day. I do small portions that include carbs and protein.
As I am very bad at eating fiber. I eat my whole fiber of the day on breakfast, making a smoothie with lots of veggies and oatmeal.
Also, I am a huge fan of protein powder solutions and pretraining and post training products. I feel much more productive when I take an energy booster to keep my muscles working good through the working hours.
I drink coffee and an occasional glass of wine.
I am not that severe with my diet when I am not training for competition. But when I am, I adjust the rest of the day meals so I can balance the extra calories.
There is a free day for cravings, usually sunday so I wait for it! On free days, I just treat myself.
👍 What has inspired and motivated you?
I think music is the best way to induce a new state of mind. I create a different playlist for each training, so I can set the mood for my students and create an atmosphere in class.
One of my role models is Marlo Fisken, who approach movement in a very interesting way.
✏️ Advice for other people who want to improve themselves?
---
Repetition is the mother of skills!
---
Give yourself time to learn and understand the basics before jumping in to the crazy aerial moves. Pole dance is a different journey for everyone but the key is patience and hard work. Repetition is the mother of skills!
This simple advice will keep you injury free and will build your confidence so you don't find yourself frustrated for the lack of results. This is a marathon, not a sprint.
🤝 Are you taking on clients right now?
Yes, I'm currently teaching at Feeling Woman, private and group lessons, but also I travel a lot offering seminars and workshops for all levels.
Now in these uncertain times in which we cannot travel I'm offering online classes: Dance, conditioning, flexibility and of course pole dance.
I have lots of experience in competition performance and scene artistry.
The most common question I get is "How much do I have to train to be like you?"
I always answer that everybody's journey is different and you should always be grateful and patient with your body. You will get there in time, so enjoy the ride!
📝 Where can we learn more about you?
Follow me on instagram @estherchen.dancer. I post a lot of free training tips and information about upcoming events.