Interview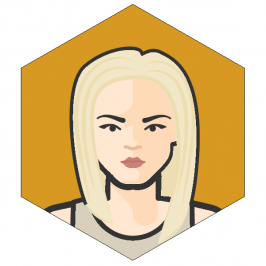 We talked with Helga Gudmundsdottir in March, 2020.
Stats
👋 Hi! Tell us about yourself and your training
My name is Helga Gudmundsdottir, I was born on May 8th 1974. I have three children and one granddaughter. I have been training something my whole life. I tried gymnastics, athletics, badminton, short distance running, long distance running, powerlifting, dancing, and CrossFit.
Since 2010, I have been doing CrossFit mainly, with a little break to try out powerlifting. I had one goal in powerlifting, which was to become the best in Iceland. I succeeded. I competed in both Europeans and the World Championships in the Open category.
I was older than most of them, starting this at the age of 40. But this sport doesn't care about age. You can bloom there at any age. I was the Icelandic champion overall 2015 and 2016 and I set many records in Iceland during that time. It was great! But then I got tired of lifting so much and I wanted to go back into CrossFit to get my cardio back on.
In powerlifting, you can compete in both equipped and raw competitions. I did both. When you are equipped, you wear super stiff clothing for the lifts. A squat and a deadlift suit, you also can wrap your knees. In the benchpress you wear a bencpress shirt from the same stiff material. It gives you extra kg on the lifts but it puts a great strain on your body. It sometimes tears your skin until it starts bleading.
My best lifts raw were Squat 135kg, Bench Press 100kg and Deadlift 165kg. In the equipped competitions I did Squat 182,5kg, Bench Press 135kg and Deadlift 182, 5kg. I competed in the -63kg category and a couple of times in the -72kg category. Being just about 65 kg myself then.
I work as a coach, I coach CrossFit classes, I have private training, online training and goal settings for my clients. I love coaching. I have a webpage www.fitbyhelga.com for my online programming. Most of my friends and family are active like me so it´s fun to be surrounded by like minded people every day.
⏱ Describe a typical day of training
---
I can do many things and my goal is to stay fit in general.
---
I usually just join a class and do the workout of the day in the gym that I work. But now I have some gym stuff at home, the virus is controlling everything so I work out at home. I have an Assault bike, a Bike Erg, some sets of dumbbells and kettlebells, a pullup bar-a-box, wall ball… some stuff to keep me going.
I actually like working out at home as an option. I´m lucky to have stuff at home to do it. And I invite my eldest daughter to workout with me or a CrossFit friend.
I am now just programming for myself, using the equipment that I have at home. I can do many things and my goal is to stay fit in general. I have always been strong and that helps.
I love bench pressing because that was my best lift in powerlifting but I also like cardio workouts with multiple movements, pushing myself to the limit. I think on average I train six times per week.
👊 How do you keep going and push harder?
I like working out! I can lack motivation like everyone else but when that happens I just push through, knowing that after the workout I will feel much better. I have a very competitive side, I don´t like losing, so I really try to do my best in a group training.
It was hard last year to make time for training because of I had also another job, I was in sales for a sport equipment. Barbells, kettlebells, rowers.. everything gym related..
I was working so many hours every day and little time for training. But I dragged myself out of bed to do a bike session at 6 a.m. most mornings just to do something.
🏆 How are you doing today and what does the future look like?
---
My goal in life is to have a six pack at 70 years old.
---
I´m doing ok today, just working out at home during these times. Pushing myself, making a plan every day. Hoping that some more people might buy my online programming as well so I can motivate them as well.
My goal in life is to have a six pack at 70 years old. Age is just a number and people can stay super fit their whole lives if they just work hard at it. I like helping people with their fitness goals. I am good at it and I know my methods work, which ever goal people might have.
🤕 How do you recover, rest and handle injuries?
Sleep is very important to me. I try to sleep eight hours every night. It's crucial for recovery and your energy level. If you don´t sleep well you can just forget about pushing yourself to the maximum of your ability. Diet is very important too.
I always have a training schedule even though I am travelling. I do not skip training. I love seeing other gyms and meeting new people to train with.
In my travels, that's usually what I love most! If I get injuries I work around them. I've had a shoulder injury, the only thing then to do was to have a steroid shot straight into the ligament from my doctor.
And also I had regular massages as well when I was competing. There is always something that you can do instead of a movement that's causing pain.
🍎 How is your diet and what supplements do you use?
My diet is usually balanced and healthy. I just keep it pretty clean but on the weekends I allow myself some treats. I take protein in my oats, and sometimes I drink preworkout. I like the FoodSpring stuff, and also from Leanbody. But that's about it.
I also just take some vitamins, Omega-3 and D-vitamin. I don´t track my meals really. I´m not a bodybuilder so I´m just in a balanced healthy diet in general. I drink wine occasionally as well.
👍 What has inspired and motivated you?
I guess, I just motivate myself. I also want to be a good role model for my children, teach them to be healthy and that sports are super important. I don't think that I have a specific role model myself, I just try to be the best version of myself possible.
✏️ Advice for other people who want to improve themselves?
People who are new to any kind of fitness, please just get a coach to help you start. Get a good coach that knows how to move and teaches you to do it right. Functional movements are important to prevent injuries.
Don't try to lift weights that are too heavy for you, keep a proper form of the body always. Get a plan, keep a routine, eat well and sleep well.
🤝 Are you taking on clients right now?
I have been adding to my clients list lately but now everything is closed. When the gyms reopen, I have my clients waiting to start again! In the meantime, I have a bit of online clients and I'm hoping more will join me. I have great Home Programs that are challenging and fun.
📝 Where can we learn more about you?
My instagram accounts are @helgagud and @helgafit.is, Facebook is @helgafit.is, and I have a webpage as well: fitbyhelga.com where I post all kinds of stuff there, training-related as well as family stuff.