Interview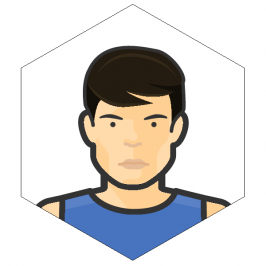 We talked with Rashid Zirak in February, 2020.
Stats
👋 Hi! Tell us about yourself and your training
Hi this is Rashid Zirak, I am from Gujarat, Surat, India, and I am 38 yrs old. I am a strength and conditioning coach of BCCI – Arunachal Cricket Association Mens Senior Cricket Team I have completed my B.com B.P,Ed Post Graduate Diploma in Sports Management NISc and in fitness, strength and conditioning course from Australian Strength & Conditioning Association. I am with the Arunachal Cricket Association since the last two years.
Career Highlights:
14 years in Ryan International Group of School (from Activity Coach to P.E Teacher to 1 branch Sports Incharge to Gujarat Region Head of the Sports Department schools including 2 Magdalla Branch 1 Adajan 1 Bardoli 1 Masma 1Vapi)
Four years in Surat District Cricket Association as a Strength & Conditioning Coach
From two years BCCI, Arunachal Cricket Association as a Head Strength & Conditioning Specialist for Mens Senior Cricket Team
My Sports:
Basketball: I have played at state level as well as national level for several times being as a captain
Cricket: I have played in Zahvery Leauge Tournament with all Indian baroda star i.e Nayan Mongia, Atul Bedade, Pathan, Satyajeet Parab, etc. as a vice captain and also a member of T-20 national champion team
Volleyball: I have participated in inter collegiate V.N.S.G.Uni as a lifter
Table Tennis: I had participated in inter collegiate V.N.S.G.Uni. I had completed my NISc with 'A' Grade from LNCPE
Athletics: I was senior surat first in 1500 mts running event
Additional Sports: I am a good sportsman rather than above mentioned game. I am good at Handball as well as Lawn Tennis.
One thing I love about my sport is when somebody follows my training programme or follows my social media channels, which make themselves confident and better. I felt happy in helping them. I find a kick to the fact that I can help someone.
Growing up in Suraj, Gujarat; I have never imagined what I could achieve one day. Like every other kids, I also enjoyed sports but never took it seriously.
I started enjoying sports since I was in grade VIII. I played tennis, cricket and basketball. My school encouraged students to participate in State Level Championships. Shukla Sir, my P.E teacher who always pushed me to participate in all sports & might be he is the main reason why today I am in the field of sports & this is how his interest grew more.
Sozhasingarayer Robinson, a renowned basketball player, turned out to be an alumni of my school Sarfaraz Zirak Basketball Federation of India, Kevin Desai (rest of India Cricket) and many other national & international player were become my inspirations.
By grade 12, I played seven games: Cricket as a Captain of Champion Team, Athletics, Basketball, T. T and hand ball to name a few. Soon after I entered college, I got an offer from Divine Child High School to be their the coach. I worked their for two years as an activity coach and then I applied for International School during these days, Ryan International held Mini Marathons. There were a special recruitment going for coaches as it became difficult to handle things.
Lucky for me, I was recruited immediately in Ryan International School. Principal Mrs Balasaraswathy, she was also a basketball player during her school time and the most dynamic principal I have ever worked with. I have learnt many things from her experience during my tenure.
Little by little, my experience grew in the field of coach. After completing the required education, suggested by the principal herself, i became a P.E teacher on a permanent basis.
I was earning and I got a habitual to the amount by job paid. I was still not sure what I wanted until I joined a fitness club. I found a 'kick' in training people in this club.
During this period, there was a parent of one of the students who was watching me daily. He approached me after a few days asking to train his son. It was Bhargav Merai, the youngest Ranji Trophy Player of my district. It was unbelievable. I was quite unsure whether I can pull this off but I trained him and that year he got the Best Batsman of the Year Award from BCCI. My efforts did wonders.
Then his father encouraged me a lot and my District Association Secratry Dr. Naimesh Desai sent my name for BCCI Training for further education and my interest grew towards cricket training.
Soon, I completed all the required BCCI courses and I got appointed in 2018 by BCCI as an Strength & Conditioning Coach of Arunachal Cricket Association Mens Senior Cricket Team for BCCI Domestic Seasons.
In Between I got married to Sahista and without her support this journey would have never been so happy and successful. Today, I am a father of two kids Mariya (daughter) and Yahya (son).
My life mantra is if you cannot do good things to other then don't hurt them at least. My fitness Mantra is simple, "Keep yourself always fit and enjoy this beautiful life." Don't just join fitness to be fit but join to remain fit so that you can enjoy this beautiful life.
My biggest sport challenge is of course, I want to become a trainer of Dream Cricket Team India.
⏱ Describe a typical day of training
Simple philosophy, I don't have anything like to build super model body, but I just want to keep myself fit and active as working with the cricket team, the season is long. It's about six months where you have three tournaments.
We have lots of traveling to different venues. Players do change in format according to game demand so it's a bit challenging work to keep players fit for the game. So generally, the workout also depends on the format of the play.
When we play One Days and T– 20, we focus more on speed agility strength and power. On the other hand, during multi days game, we focus more on strength and endurance and recovery part.
Like other games, we also follow periodization, which consists of pre-season, on-season and off-season. So we have to play on field, we have field training as well as in gym also on field training.
I train with full team where in gym, it's a two to four maximum at a time. Players really enjoy warm-up session as well as warm down session and recovery session as there is lot of fun, recreation games and activity.
Wherever we are travelling or at home practice, I carry loop bands, theretube power band, foam rollers, medicine, ball, flexible hurdles, ladders, markers, cone, agility pole, Swiss ball.
Regarding training logs players were taught to maintain their load monitoring file and ever week end it has to be submitted and analyzed.
👊 How do you keep going and push harder?
We are professionals so we don't have to be low. We have to give our 100% to the players and have to bring out 100% from the players but ya of course we too are human beings and sometimes I miss my family and friends when staying away with them for so long.
Like missing kids' functions in their schools, making me a little bit sentimental. Generally, after my session with players, I would go for running alone or go to the gym.
Sometimes it is challenging where my team needs to travel, there are some hotels, which do not have a gym or a swimming pool or other means of recovery. When that happens, we have to make a schedule in such a way using our travelling kit to make our session fruitful.
Sometimes it is very difficult to take out time for our own workout and to balance between personal life and professional life but somehow we manage to balance.
🏆 How are you doing today and what does the future look like?
Currently, I am working with a state team in a professional league. Hopefully for the next five years, my goal is to work with the national team. To achieve this, I don't have to plan as I believe I just have to keep up with a good work and keep myself updated with new researches until the day comes when people will appreciate my work, and the door of opportunity will open — I just have to wait and grab the opportunity.
🤕 How do you recover, rest and handle injuries?
To avoid injuries there are many things I need to take care like:
Take time off
Wear the right gear
Strengthen muscles
Increase flexibility
Use the proper technique
Take breaks
Play safe
Do not play when in pain.
Where there is sports there is injury so during injury follow proper rest and guideline prescribe by your physiotherapist and do a proper rehab to recover faster and follow all the instruction prescribed by physio and trainer.
I sleep for eight hours minimum. Three hours and 31 minutes average for a deep sleep, four hours and 28 minutes average for light sleep, and four minutes average for awake time. During travelling time for a day, it gets disturbed but then we plan our session in such a way that we as well as players get full time of recovery and sound sleep.
We use many techniques for recovery. Sometimes I'd get a massage, pool session, progressive muscle relaxation, ice bath, and stretching.
🍎 How is your diet and what supplements do you use?
---
Eat properly and only what is required.
---
Have you ever seen a car with mixed petrol or mixed fuel, it will always make lot of pollution and it will spoil engine too, which results in high maintenance and short life of car. Our body is the same. Eat properly and only what is required. The best thing to do is to consult Food Nutrition and get going
During my coaching period, i came across Fast&Up as the association trusts the brand for sports nutritional needs.
Fast&Up has a varied range of products for pre-work out, during workout and post workout supplements that provide your body with the right amount of vitamins and other essential minerals.
My fitness essentials:
Gears: Nike, Asics , Garmin Adidas
Shoe: Asics, Nike & Adidas
Supplements: Fast&Up BCAA, Fast&Up Energy Gel and Fast&Up Reload
As for my cheat days, I don't restrict my self to eat anything, which I felt to eat or with outing with my family but I make sure that I will do the workout accordingly for the next full wekk to balance the routine.
I never drink alcohol or smoke and my caffeine sensitivity is high so I stay away from alcohol smoke and coffee.
Regarding fasting during the Holy Month of Ramadan, from the Age of 10 I have never missed the single fasting and during Ramadan, we fast for the whole month. I make changes in timing of my training during the day.
We generally avoid having physical training with fasting. I train my self after tarawih namaz at night but nor missing fasting nor training.
👍 What has inspired and motivated you?
I would say Sanjeev Sharma, former Indian cricket Test Player and coach of my current Arunachal Cricket Association Mens Senior Team is one of my great inspirations.
And the people I follow on Instagram like Steffan Jones, barrunning , nooch_13, 3dathletic, joeybergles , science for sports, etc.
✏️ Advice for other people who want to improve themselves?
---
Like I always tell to my athletes, if you want to be hydrated then drink before you are thirsty.
---
Like I always tell to my athletes, if you want to be hydrated then drink before you are thirsty. In fact, when you're thirsty, you could already be dehydrated, having lost as much as one to two percent of your body's water content. And with that kind of water loss, you may start to experience cognitive impairments — like stress, agitation and forgetfulness, to name a few.
Likewise, don't start your journey with rehab or other injuries. Start your journey today and avoid injuries.
When you know that there are so many people doing wrong or do show off in the gym, why would you give your attention to them? Instead concentrate on ourselves. If we do it ourselves properly, that is more then enough for us because one day people will admire you. And someday we can also become inspiration to others.
🤝 Are you taking on clients right now?
I generally travel with the pro leagues team so almost all the time, I am busy with team players but at the same time I give an online training schedule to my clients and also take regular follow up every weekend through mail, video call , videos, etc.
I sign up my clients for at least six months in advance, and the most common question everybody is asking: "When are you coming back to the city and for how many days?"
📝 Where can we learn more about you?
Please check my Instagram @rashidzirak and YouTube.