Interview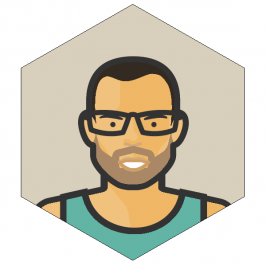 We talked with Hatem Aly in November, 2019.
Stats
Hatem Alys Stats When We Talked with Him 💪

👋 Hi! Tell us about yourself and your training
I am a 32-year-old orthopedic surgeon living in Egypt. I have always been very well known between my friends as a person who loves food like hell.
Since I joined the medical school, I have not been working out and kept putting on weight continuously, until one day I was zipping up my pants going to my brother's wedding, I decided that I had enough and it's time to take control of my health and change my life.
The next day I decided to give a plant-based diet a chance after reading some researches on its positive impact on general health.
A few months later, I decided to start working out. I started just by running in the street, then joining some circuit training classes, until I found my passion in CrossFit.
⏱ Describe a typical day of training
I do CrossFit five days a week, including two days of Olympic weight lifting, one day of gymnastics skills, and one day of swimming. Despite my super busy schedule but waking up at 5:30 am to start working out while everyone is sleeping is worth it. It is hard for sure, but worth it.
Sometimes it is hectic to finish your training at 8 am and you have to be at work at 9 am. But as I told you, this single hour of training enlighten my day; it is definitely the best hour of my day.
👊 How do you keep going and push harder?
Having a great and supportive team of fellow Crossfit-ers and coaches is really important to keep pushing you forward when you feel down.
Sometimes it is a bad lifting day, but I always keep telling myself without disappointments I won't work on myself and won't go further.
🏆 How are you doing today and what does the future look like?
I am aspiring to become an elite master athlete in the next three years. And I won't achieve this alone without the support of my family, friends and coaches. And of course without a proper nutrition plan and meal preparation.
In the mean time I am trying to balance between my work, study, and training. As I still need to finish my orthopedic surgery fellowship in the meantime.
🤕 How do you recover, rest and handle injuries?
---
Being on a plant based diet gives me a fast recovery.
---
I do not get easily tempted to lift more unless I master the technique. And whenever you feel there is something wrong you have to stop, listen to your body.
In my case being an orthopedic surgeon makes things much easier to detect any problem early and start handling it. I have also realized a drastic improvement with using GOWOD application.
Being on a plant based diet gives me a fast recovery; eating leafy greens and drinking beets juice regularly has proven to improve your recovery. I try to sleep seven to eight hours daily despite my super busy schedule as a surgeon.
🍎 How is your diet and what supplements do you use?
As I told you I am on a plant based diet for two years now; I eat 40% protein, 40% carbs and 20% fats. My caloric intake usually ranges between 2300 to 2700 calories, depending on my target whether bulking to cutting.
I do use Vegan Freak as a protein powder supplement, creatine monohydrate and vitamin B12 on regular basis.
My main meals are based on Tofu, hummus and seitan as a main protein sources. I am talented in doing a lot of recipes with seitan, from burgers to steak to shawarma.
Cheating or eating refined sugar is something that happens in very rare occasions and is not in my usual routine. I admit being a vegan athlete is sometimes challenging if you want to eat all your macros. But once you know how to play it right, it will not be a problem anymore.
👍 What has inspired and motivated you?
---
Motivation is temporary, but discipline in everlasting.
---
I do not believe in motivation as much I believe in discipline. Motivation is temporary, but discipline in everlasting.
Discipline is my way to get fit, make it the best hour of my day, stay safe, turn up the music, high five some people and blow off some chalk. Relax, workout, have fun.
✏️ Advice for other people who want to improve themselves?
My advice is for everyone who has ever struggled being overweight, cause I have been there, stop procrastinating, start today.
I know it is not easy but the results will be your life and health, is really valuable.
I suggest you start by downloading MyFitnessPal on your phone. Start counting your calories, and enroll in any kind of sport, get a community that pushes you forward.
🤝 Are you taking on clients right now?
Unfortunately, I have no time for that right now.
📝 Where can we learn more about you?
My Instagram handle is @hatemaly87. I always spread my positive vibes there, follow me.