Interview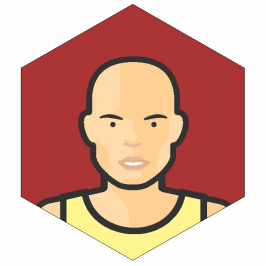 We talked with Gustavo White in February, 2020.
Stats
👋 Hi! Tell us about yourself and your training
My name is Gustavo White and I'm 59 years old. I'm an Argentine living in Mexico City since 2002.
I have a bachelor's degree in Administration, Faculty of Economic Sciences, University of Buenos Aires (UBA), Buenos Aires, Argentina and a postgraduate in Advanced in Planning and Strategic Marketing, Graduate School of Economic Sciences, Buenos Aires, Argentina.
I'm happily married and have two daughters, aged 22 and 16 years old.
I'm a Marketing Manager for a Tourist company in Mexico and it takes most of my time from Monday to Friday.
Fitness for me is not a hobby, it is a way of life.
I was born and raised in Argentina and since I was a child and teenager, the athletic bodies of the movies, comics and wrestling heroes caught my attention. Whenever I drew a man, I made him with a V-shaped back, magnificent set of biceps, ripped abs and wide shoulders.
Since leaving my teens, Sylvester Stallone struck and strongly motivated me in his roles of Rocky and Rambo and I began to become fascinated by boxing as a sport: Muhammad Ali, Sugar Ray Leonard, Sugar Ray Robinson and Tommy Hearns were and still are my idols in this sport.
I've always been very fond of practice of several sports: gymnastics, rugby, hockey, football, handball, tennis among others, but it was when I was 24 years old that I started training methodically in weight training to develop my body, along with boxing (I was trained by Sergio Victor Palma, a former argentine Super Bantamweight Champion) and running to improve my athletic ability.
From that moment on I was fascinated with fitness and I took it as a way of life.
Stallone, my greatest inspiration and my fitness icon, is in an impressive physical condition already past his 73 years of age.
Living in Mexico since 2002 and after some time training moderately, in 2006, passed my 40 years old, I fell in love with intense training after watching the film Rocky Balboa and returned to training heavily with weights, boxing and cardio: running and rowing mainly and fitness became a healthy obsession.
In 2012, I met and I was fascinated by a complex discipline, such as the UFC – Mixed Martial Arts (MMA).
In 2018 I met CrossFit. I was very excited about the concept and variety of CrossFit, I felt in love with this activity, I began to apply it and now is a fundamental part of my training and in the way, I train my trainees.
My main success story of fitness is myself. I went from weighing 73 kg in 2007 to 74 kg that I have in 2020 but my body fat went from 9% to 25% that I currently have with a high volume of muscle mass.
For a couple of years since I started my web page in 2012 Cleto Reyes, one of the most famous brands in the sport of Boxing, and they sponsored me until 2017, mainly due to my Boxing activities that I included in my training as a personal trainer and for myself and I also produced a boxing basics video that is already still in my YouTube channel with their sponsorship.
I am a real freak considering the age that I am, the way I look, how I train, the way I motivate myself and the intuitive way I have to design and apply my workouts.
I eat, live and breathe fitness as a fulltime activity. When I don't train my trainees or train myself, I'm studying, reading about it, watching workouts videos, CrossFit assembling videos, writing a post or blog, researching how to design and apply what I study and read in training.
Besides, fitness I love the good life, my family, food, and sports.
As a Personal Trainer, my case is that of a Bachelor in Administration who at 50 years old took his hobby gradually as his profession and who made his way in that industry at an age when one is already comforted both in his profession and in his finances.
From a debacle in my personal economy, fitness became a real way of life and how I quickly walked steps and experiences to see what niche I had to go to practice my new profession.
⏱ Describe a typical day of training
Weight training used to be my basic way of training and I complemented it with cardio, abs work, and boxing. Now I train as much or hardest than several years ago, more focused and smartly and therefore after 50 years of youth, I'm in the best shape of my life.
The basis of my training today is CrossFit and I also train frequently on weight training with my bodyweight, weights, High-Impact Interval Training (HIIT), abs & core exercises, Mixed Martial Arts (MMA) inspired training and flexibility, stretching and mobility exercises.
My goal is to reach my best shape, a high level of athletic ability, body fat of less than 7%, ripped, cut and shredded.
My passion for fitness has led me to be constantly studying and experimenting with different ways to improve the type of training.
I strongly believe in muscle confusion and not by chance that is another fact on CrossFit on an everyday basis. In variety you'll find success: you must renew the workouts that you do, the order in which you make them, the speed of your exercises, the duration and the frequency of rest that you do in your training and the type of workouts you do to cause muscle confusion and improve results.
That personal experience and acquired knowledge are what I have tried and what I want to share with all those who ask for my advice on how to improve fitness and be better with themselves.
Since I restarted fitness seriously again I mainly train at home and at my condo. Sometimes I train my trainees in a Gym, but nowadays I'm more used to online training, so I train at home. The training, I apply for my trainees is the ones I used for myself and according to their Fitness skills, I have to adapt them.
On June 2018, I discovered and have been in training on CrossFit which is a physical conditioning system based on constantly varied exercises, with functional movements, executed at high intensity, based on 10 physical skills: cardiovascular and respiratory endurance, stamina, flexibility, strength, power, speed, coordination, agility, balance and accuracy, all of them with excellent results that matched perfect with my way of training.
All these exercises are 50-minute sessions working in my medium and maximum cardio intensity that allow me to maximize my athleticism.
I love Rock and Heavy/Hard Rock music, that is my preferred music and what I mainly use for training. For my Training, I like to use Nike apparel (shoes and cloth) and rogue accessories for the CrossFit workouts, that pro stuff also motivates me.
I train at least 6 days a week, along the working days I mainly train at night and on weekends I love to do 2 training sessions.
On Wednesday, 22nd January 2020, I achieved a new milestone in my training: 233 consecutive days of training with no rest. This is something I've never tried before.
I did it at this stage where CrossFit is the basis of my training, taking care of my nutrition, consuming the right dietary supplements, respecting as much as possible the rest times and doing the warmup and cooldown exercises to what I added the Go Wod Mobily's mobility exercises that have come vital.
The important thing is that during this more than a half-year period I continued to improve my marks in training.
On Thursday, 23rd January 2020, I finally took my day off that I was needing and ended this streak to avoid falling on plateaus in my performance and avoid injuries as a result of tiredness.
I'm passionate about bodyweight training. The great advantage is that you don't need a gym and that you can train efficiently in the convenience of their own home.
All you need is your own physical being, you'll never be without equipment or a facility. In other words, if you learn to use your body as a barbell, then you'll always have the ability to obtain a great workout. You can gain tremendous functional fitness in terms of strength, power, balance, endurance and even flexibility from progressive bodyweight training.
There are also multiple and excellent exercises to work each and every one of the muscle groups with your bodyweight; your own weight provides the resistance for the movement: chin-ups, pullups, pushups, squats, lunges, planks, and dips among others.
For many years I was more concerned on aesthetics and weight training was my standard, but since I started CrossFit as my basic training, I don't train the bodybuilding way and I'm more athletic focus and as a result of that more complete way of training, I built more muscle, feel better and develop a stronger as well as good looking body.
👊 How do you keep going and push harder?
---
---
I have always said and I really believe that age is just a number. I am 59 years old and still have a long way to go in life and in fitness. Another thing I'm convinced of is that the best is yet to come and in a sport such as CrossFit, there are so many things that I have to learn, to master and develop that, feeling healthy and strong like I do, I'm eager to work out and improve.
I love my job, I love fitness, love life and love my family, so the key point is to balance my life in every sense. Fortunately, my family understand my passion and give me space for that well.
The biggest challenge I had to face was not so long time ago, almost 4 to 7 years ago. I was running a marketing agency and my family and I had to suffer a very difficult economic situation, my financial status was really hard and fitness became not only something I grab to keep me healthy and focused but also something I embraced as a way of living. It became my first source of income.
We had to change the place where we live, our way of living, our habits and the way we eat. We went through it and could reach a balanced life but will never forget that tough moment that made my family and me better human beings.
🏆 How are you doing today and what does the future look like?
---
Even though my age, I still say that I wouldn't change anything, it is what it is and we can still get better at everything.
---
I love the way I train nowadays. As I said CrossFit is my basic way of training today for my trainees and for myself. It's very funny, challenging and demanding at the same time.
My goal is to be a well rounded CrossFit athlete for the coming next 5 years and more. My dream is to compete in the Master class in the CrossFit Games.
I desire to have my own Gym/Box as Gus White Fitness offering my style of training and integrating it with others. My wife and I are passionate about Cuisine – our brand Fatto In Casa Mexico with good nutrition offers and adding good brands of supplements and sports apparel.
At the same time, I'm doing well as a marketing guy – like in fitness and life learning from every experience and getting better and I will reach my goals in that area.
I am on the path of prosperity in every sense: physical, mental, spiritual, intellectual, financial and material. My goal is to live an absolutely happy and fulfilling life. I'm working each and every day in every sense to reach that Goal.
Even though my age, I still say that I wouldn't change anything, it is what it is and we can still get better at everything.
🤕 How do you recover, rest and handle injuries?
I give an important space to resting in my daily life. I try to sleep at least 7 hours at night.
Fortunately, I have never suffered any serious injury or illness.
Stretching, flexibility, and mobility exercises are vital in my everyday training. Now more than ever is a very important way to keep my joints and muscles healthy. As I'm used to training hard I take some active recovery days to come back stronger.
For my recovery I consume some supplements such as Muscle Pharm: Z-PM, Glucosamine and Glutamine daily.
🍎 How is your diet and what supplements do you use?
As a fitness fan, I track my training, my performance, my sleeping time, what I eat, everything! As I train and try to live like an athlete, I consider a fitness watch essential to use and have done so for years. Now I own a Polar Vantage M watch.
As a CrossFit athlete, I track my CrossFit sessions with the Beyond The Whiteboard app and my mobility with Go WOD Mobility First app.
I also have a constant record of my weight through the Tanita scale that monitors the body composition: body fat percentage, body water, muscle mass, visceral fat, daily caloric intake, metabolic age, and bone mass level.
I don't really do diet nor fasting, good and balanced nutrition is something basic in my daily life. I've basically eaten the same foods for most of my life: European and Argentine food and felt in love with Mexican food too.
I keep the same nutrition almost during the whole year.
I don't count calories as I found it difficult but know what kind of food better suits me. I try to avoid unhealthy food but once a week, I break all my rules of food. It is my day off. It is important to do it without guilt.
Regarding social occasions, the fact is simple if I like the food or suit me well, I have it, but try to avoid those that are not of my taste.
I have coffee daily as I love the espresso machine, but do it with no sugar.
I sometimes have some alcohol, mainly on weekends, but have them with care. Like many other things, I like to enjoy them but don't like to have it frequently and don't want it to affect my performance.
Due to my Fitness activity I daily consume supplements, being Muscle Pharm my preferred brand:
Muscle Pharm Combat Whey Protein
Muscle Pharm Fish Oil
Muscle Pharm Multivitamin
Muscle Pharm BCAA 3.1.2
Muscle Pharm Z-PM
Muscle Pharm Creatine
Muscle Pharm Glutamine
Mv-GTC Glucosamine
👍 What has inspired and motivated you?
Sylvester Stallone has always been my inspiration for fitness.
Living in Mexico since 2002 and after some time training moderately, in 2006, passed my 40 years old, I fell in love with intense training after watching the film Rocky Balboa and returned to training heavily with weights, boxing and cardio: running and rowing mainly and fitness became a healthy obsession.
In UFC – Mixed Martial Arts (MMA), Georges St-Pierre as one of the greatest fighters in history, who has been UFC welterweight and middleweight champion.
Georges was a true role model and who has been one of my main inspirations for the practice of martial arts and high-intensity conditioning (HIIT) that definitely changed from there by way of training.
In CrossFit, both amateur level and the huge super-athletes of the CrossFit Games such as Rich Fronning, Mat Fraser, Josh Bridges, Ben Smith, Cole Sager, Jacob Heppner, Dan Bailey, Sara Sigmundsdottir, Annie Torisdottir, Tia-Clair Toomey, Katrin Davidsdottir, Kara Webb Saunders, Sam Briggs, and Camile Leblanc-Bazinet among others.
I love all those guys and also admired Steve Reeves – another natural fitness model, Jason Statham, Mike Walhberg, Will Smith, Vin Diesel, Dwayne The Rock Johnson, Chris Hemsworth, Henry Cavill, many of this actors are in their fifties, that work hard on their bodies for their roles and embraced that also as a way of life to keep fit and healthy.
✏️ Advice for other people who want to improve themselves?
Fitness is a way of life for me. Whether you seek to lose weight, improve your appearance or your physical condition, fitness is the best choice you can make for your body, your mind, and your life.
Training yourself to its extent generates endorphin, serotonin, and dopamine that allow you to enjoy and be more effective in every sense, prolong and improve your life quality.
In this site, my main desire is to share with you a passion and how Fitness can positively affect all aspects of your life from setting goals and succeed.
Take note of the ingredients to achieve the body you deserve: Time, Effort, Discipline, and Dedication. All of them are not magic words and are inside of you.
As a personal trainer and marketing guy, I found that regarding fitness people are always expecting the magic pill that can make them fittest the easy way. The truth is that the magic pill doesn't exist and the proper way to be fittest resides within you.
My 12 Recommendations:
The best exercise machine to improve your physical condition is in your mind and its base is perseverance.
To optimize your physical activity you must have a balanced diet (it means more than 60% of your fitness program), drink plenty of water, have an adequate rest (sleep from 7 to 8 hours) and healthy life, not only to look good on the beach in the summer but to improve your quality of life from now on.
If you are going to start a fitness program is mandatory that you first take a medical checkup and a stress test to meet your physical scope and avoid further inconveniences.
You must always start your workouts with a warm-up/stretch exercises and close your session with stretch/cool-down exercises, it helps you to reduce the risk of injury, to improve your athletic performance, provide more flexibility to your body and will help counter the tightening of the body that comes with age.
You can't achieve the body of your dreams in a few weeks(that doesn't exist), but you can improve your appearance and improve your athletic level gradually, day by day with a plan, setting your short, medium and long term goals and evaluate them, adjust your training program and really feel and look better.
The best Training to keep you young, maintain a great body and absolutely healthy is one that combines weight training, cardio (HIIT and Low Intensity) and stretching with good nutrition and rest.
Your training session is a space as it is work, food or rest and you must give it all its importance.
Train smart, focus more on quality than on quantity (either the time, the intensity, the number of repetitions or the load). More is not better.
Muscles have memory and the best way to speed up your metabolism and optimize your effort is keeping them guessing, changing the types of exercises you do, the order in which you make them, the pace, tempo, the days and hours that you train. Varying and combining different workout methods makes our body more effective and efficient, and will help us reach our goals avoiding stalling out our progress and maximizing our training.
Control your weight, your measurements, and your body fat level to monitor your body evolution along with your training.
Dress up properly in the gym, on the street or at home to exercise, since the idea is that you look and feel better.
Play that music in your training that motivates you the most, that makes you move: enjoy it!
Finally, a very special comment: Life is wonderful if you drink alcohol do it moderately, avoid smoking and drugs. The best stimulant is inside you: let it go and enjoy it!
🤝 Are you taking on clients right now?
Since I was 25 years old when I started training myself more strongly, people have always asked me to prepare them a workout or even to train them, which I've done for free but from 2012, I have formally worked as a personal trainer, primarily at individual level and has trained a variety of trainees' profiles from kids, young people, adults, middle age and overweight people to advanced martial artists.
I have specialized in adult training and I really know the way to train them properly and keep their motivation.
As a personal trainer and health coach, I offer comprehensive advice on nutrition and fitness services.
I offer one on one partner training) and small group (from 3 to 5 people) training sessions to have personalized supervision of each client according to their health, to meet their fitness needs and monitor their evolution and group training sessions. I make these classes in your home, at your gym and the last two years mainly online training.
The type of training that I propose is to train one at least 3 times a week, where each day you do a different workout in Strength conditioning with your own body weight and/or with weights, high-intensity cardio training, abdominals and core training, CrossFit-based training, functional training, mixed Martial Arts-based conditioning, and flexibility and mobility training, which makes it fun and varied and where the aim is to improve your fitness and activate your metabolism.
In addition to being your personal trainer, I am your Health Coach carrying a record of your body evolution, where I give you advice in your Nutrition and guide you towards a healthier life.
My saying: Train with passion and persistence, enjoy and reach your goals!
Take note of the ingredients to achieve the body you deserve: Time, Effort, Discipline, and Dedication. All of them are not magic words and are inside of you.
I'm really convinced that fitness is a true fountain of youth. But to do this you must inevitably respect the 3 fundamentals of fitness: healthy and balanced nutrition, adequate rest and intelligent training based on weight training, cardio and flexibility and mobility exercises. If some of these fundamentals are not met you will not achieve the objective set.
Remember that to reach your goal you must first climb step by step.
"Being your personal trainer and health coach, I can guide you in a training program that will help you feel healthier, look better, more alive and exceed your goals."
My trainees see the results very quickly, the first sign is within the first month is the muscle tone, then the increase of their cardiovascular capacity and a reduction in their body fat, as long as they follow my recommendations regarding smart training, rest and nutrition.
The most common question I'm asked is the way people can reduce their body fat and show the six-pack if doing abs work they can reach that goal. My response is always: the six-pack is already there but to reduce fat the key is to reduce that fat that is covering them and that should be done fundamentally with proper nutrition, with adequate rest and a un full training comprising: cardio, weight training, and flexibility.
📝 Where can we learn more about you?
Visit: guswhitefitness.com
Social Media:
Facebook: Gus White Fitness
YouTube: Gus White Fitness
Instagram: @guswhitefitness
Pinterest: Gus White Fitness