Interview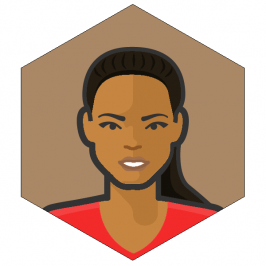 We talked with Haniyyah Tahirah in April, 2020.
Stats
Hi Tell us about yourself and your training
Hello! My name is Haniyyah Tahirah. I'm 30 years old. I was born in Torrance, CA and raised most of my life in Los Angeles. I'm currently residing in Rancho Cucamonga, CA.
I'm a dancer, choreographer, model and Cre8ive Fitness instructor. I started dancing at age 5 however I began to train seriously between the ages of 8 and 15.
I'm trained in Classical Ballet, Jazz, Modern and Contemporary. My professional career started when I began to tour & perform with a dance theatre company at 16 (Lula Washington Dance Theatre).
I've been blessed to be able to share my love for dance and theatre in many places throughout the world. I've performed in theatres and opera houses throughout Russia, China, Brazil and Tel Aviv, Israel as well as throughout the United States.
I was also a part of the making of the 2009 blockbuster film 'Avatar' directed by James Cameron. Myself and several members of the Lula Washington Dance Theatre, our movements, image and likeness were used in the film and duplicated creating the lifelikeness and community of the Na'vi people.
I have 5 brothers all of which are in the performance and visual arts.
Being a dancer and training as long and extensive as I have, early on I had to come to the realization that I myself am an athlete.
Therefore how I manage and care for my body on and off season has become a habit which in turn has become a lifestyle that I practice and share with others.
Although the average person may or may not immediately equate dance with fitness, dancers are some of the most agile and athletic people I know!
Having to be physically adaptable and maintain stamina through the extensive hours of training, rehearsals, and high energy performances it's truly remarkable how our bodies can be used as instruments that we use to express our art and creativity.
⏱ Describe a typical day of training
A typical day of training when preparing for a tour or performance consists of company class normally ballet or combination of cardio and technique ranging from an hour to an hour and a half.
Afterwards we go into rehearsal which usually is between 5-6 hours a day 5 days a week.
My rehearsals, depending on the work that I'll be performing, is usually very high energy that requires much stamina, technique and athleticism.
During off season I like to incorporate my ballet barre fitness, along with low-impact cardio and strengthening exercises that help me maintain my strength & technique.
I incorporate these fundamentals in my Cre8ive Fitness class both in person & soon online training.
👊 How do you keep going and push harder?
---
Stay ready so you don't have to get ready!
---
What keeps me going is that I truly enjoy what I do and I understand that in order for me to maintain my body, strength and technique I have to train myself just like I would train my clients if not harder.
Having self discipline is key towards achieving any goal whether it be in dance, fitness or business.
I acquired this mindset early on in my training from my mentors, there is a saying that goes like this: "Stay ready so you don't have to get ready!".
Being in my profession sometimes you do have slow seasons when work may not be picking up as you'd expect so it's important for me as a dancer, instructor and model to maintain my physicality even when things are slow.
🏆 How are you doing today and what does the future look like?
Today I am doing well, currently investing my time & focus into Cre8ive Fitness, a dance brand I created in 2019 that offers in person and online interactive classes in ballet fitness, floor barre fitness, heels and creative movement.
I'm very excited to be moving in the direction of providing Cre8ive Fitness online as it will give my clients the option to train with me within the comforts of their home.
Our mission is to empower women and all through dance, fitness and body awareness.
My goals for Cre8ive Fitness within the next few years is to grow and expand our brand, open our own studio and eventually have several operating locations.
In addition to creating content for my clients my time and focus is also spent preparing to launch Cre8ive Apparel, an online clothing store that offers yoga & fitness attire, t-shirts, hoodies, sweatpants, leggings and more, there is something for everyone!
🤕 How do you recover, rest and handle injuries?
Rest and recovery is very important, having suffered several injuries throughout my dance career, I've learned to be very proactive when it comes to caring for my body.
Warming up thoroughly, stretching and strengthening exercises along with understanding proper body alignment I feel are great tools that can help prevent injuries from happening.
Most of my injuries have occured in the lower half of my legs so it's important for me to take the extra time to strengthen my ankles, calfs, and anterior tibialis (muscle located on the front part of your shin bone).
I like to use a thera-band (latex resistance band) for resistance exercises on my foot while making inward and outward circles with my ankle.
Pointing and flexing the foot with the thera band is very helpful for me as well.
Another tool that I love to use is a trigger point foam roller. Foam rolling is a self-myofascial release that can help relieve muscle tightness, soreness, inflammation, and increase your joint range of motion.
Rest is how our bodies regenerate and heal therefore I like to get at least 7 hours of sleep per day on average and make sure I drink plenty of water throughout the day and first thing in the morning especially to start my day in addition to enjoying my green tea!
🍎 How is your diet and what supplements do you use?
My diet is mainly vegetarian, plant based. I love black beans, lentils, and small white navy beans for my protein and salmon occasionally.
I also incorporate liquid chlorophyll in my diet which has tremendous health benefits in addition to helping with blood detoxification, odor control, wound healing, gut health, energy, immune system support and cancer prevention.
Keeping inflammation down is imperative so I limit my sugar intake especially white sugar this is a huge NO.
Some herbs that help lower inflammation are turmeric and moringa. I usually get turmeric powder at my local grocery store, however it is also available in capsule form online.
Turmeric has very powerful anti-inflammatory effects and is a very strong antioxidant which is why I cook with it often.
Moringa powder, another one of my health favorites, has many important vitamins and minerals including vitamin C, potassium, calcium, protein, iron, and amino acids, which help your body heal and build muscle.
Moringa also has powerful antioxidants that can protect cells from damage and can help boost your immune system.
👍 What has inspired and motivated you?
Throughout my career and dance training I've had many teachers and mentors including ballet masters Stefan Wenta (Warsaw's National Opera & Ballet), the late Lowell Smith (Dance Theatre of Harlem) and Marat Daukayev School of Ballet.
I've also studied at the Alvin Ailey American Dance Theatre & Dance Theatre of Harlem in New York.
In addition to working with dance legends & choreographers including the late Donald Mckayle, Tony award winner & choreographer George Faison and Lula Washington.
All of these amazing teachers and mentors have truly shaped me into the artist that I am.
However, my ultimate inspiration is my mother the late Sandra Lynn Muhammad. She was and is the reason for my drive and focus.
My mother invested so much time, love, and energy into me. She made sure I trained with the best from driving me as a child to ballet classes and auditions to being my therapist at times when life got tough and discouraging.
She truly was my number one supporter and cheerleader. Losing my mother to cancer was by far the hardest experience of my life. She is why my love and passion for dance, health & fitness is so strong.
I am standing on the principle that my mother truly cultivated & provided me and my brothers with the necessary tools to create a legacy for ourselves.
She would often take us to see ballets and orchestra performances as children in addition to being an artist herself so naturally we all had an inclination towards the arts.
I'm forever grateful for her being my mother and the time I was blessed to have with her, she is my ultimate inspiration.
Advice for people wanting to improve themselves?
---
Keep going, aim for progress not perfection.
---
Understand that fitness and health is a lifestyle and not a sprint.
It's helpful to make healthy choices that become our habits rather than getting burnt out and discouraged by expecting to get results quickly.
Keep going, aim for progress not perfection. Pace yourself & be patient with yourself and your journey.
Please don't compare yourself & your progress to others, learn to love you as you are now, while working towards the vision you have for yourself in the future.
🤝 Are you taking on clients right now?
Yes! I'm taking clients who are interested in training with me in ballet fitness, floor barre fitness, heels and creative movement.
I'm currently offering personalized, online interactive training sessions. Prospective clients will be able to book a consultation through our website starting April 14, 2020.
📝 Where can we learn more about you?
You can learn more about me through my websites and social media:
Instagram: @niatm and @cre8ivefitness.
Facebook: Haniyyah Tahirah.