Interview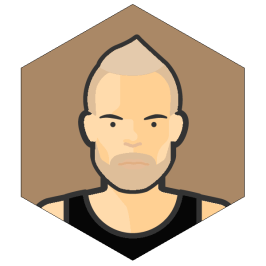 We talked with Chad Havunen in November, 2019.
Stats
👋 Hi! Tell us about yourself and your training
My name is Chad Havunen, 40 years old. Born in Hampton, CT, I currently reside in Virginia Beach, VA with my wife, Kimberly, and our three sons: Calvin, Benjamin and Adam.
I am a certified personal trainer and nutritionist with ISSA. I am also the CEO of Natural Bodyz Fitness 24/7 (NBF 24/7).
I have an associate degree and have founded two other companies and a non-profit, the Fitness for All Foundation.
I am a professional bodybuilder and have competed in 27 bodybuilding contests, I have 3 different pro cards with natural federations.
I am a professional powerlifter with a career squat of 680, bench press of 435, and a deadlift of 685.
I played baseball and football in high school. However, once I discovered bodybuilding, it became my only hobby.
I started weight training in 2001 because I absolutely loved working out. When I first started training, I lead my workouts with my workout partners.
After a while, my bodybuilding hobby began to perpetuate my career both in personal training and bodybuilding.
They both began to go hand and hand; over time, I was fortunate that I was able to turn my hobby into my career. My life gradually began to center around just three things: business, bodybuilding, and family.
I love bodybuilding because it is all about personal accomplishment.
My only competition is me. I don't worry about what other bodybuilders are doing or what other businesses are doing. It is me versus me.
I don't chase others, I believe in what I am doing, I fulfill my own workload and know that as long as I perform within ethical confines, then I will accelerate my growth.
When I look at a picture of another bodybuilder, I don't train differently to keep up with him. I do what is best for my body and build on that.
Whether coaching my kids' football team, being around other business owners, or working with other professional athletes – my bodybuilding philosophy of continuous improvement, maintenance, and structure help me with every facet of my life and business.
⏱ Describe a typical day of training
---
If you are not growing, you are shrinking.
---
My primary training philosophy is that if you are not growing, you are shrinking. Training must be consistent with changes for both rep ranges and organization of each workout.
You really have to enjoy lifting; I like to go 'hard and heavy.' That always gives you quality results.
My typical day starts at 5 am with morning cardio. Afterwards, I eat my first meal on my drive to NBF 24/7. I will either train a few clients or handle business matters, eat a few meals and then weight train at 12:30pm.
I then repeat the process, so to speak, training a few more clients or handling business matters, eat a few meals and then head home to spend time with my family by 6-7pm.
My training splits really don't vary that often because I lift for an everyday concept, and I train a body part a day. Sometimes, I'll train a major or a minor body part, but typically I may have a 'chest' day or a 'leg' day.
I weight train for about an hour and a half a day, 6 days a week. As a personal trainer and professional bodybuilder, I have tried a lot of different programs, both those that I have created and those created by others.
I found that I like my own programs the most because they provide the most added value. I want strategic volume.
If I follow a weight training program for a month, then I want to see specific results at the end of that month. If I am training for power, I want to see power. If I am training for repetition, I want to see conditioning.
I train at NBF 24/7. I opened these gyms because of the love that I have for bodybuilding. Our gyms are open 24 hours 7 days per week. We have every piece of equipment and every attachment needed so that we can all work out and never miss anything.
I have had work out partners in the past. However, outside of training with my wife, Kim, I really enjoy training by myself.
Training alone does limit me sometimes when I need a spot. I enjoy the peace and tranquility of training alone, and I also like interacting with gym members one-on-one.
I spend about 20 minutes prepping for training; drink ⅔ of my pre-workout which varies between a multitude of brands, Core Fury X, Dust, Pre-LFT or Gym Flow pre workout drinks; change into shorts and a t-shirt with the sleeves cut off – a must!
Finally, I listen to music to get hyped up a bit and to get into the mental zone for training. I take Vitamin C and Core ABCs for branch chain amino. I also add in Core Nutritionals creatine and glutamine.
I eat food, I do not drink many protein shakes, within 20 minutes after training, followed by plenty of fluids.
My cardio regimen is program dependent. I find that cardio's purpose is to burn body fat. I like to do that on an empty stomach first thing in the morning.
My favorite exercises are squats.
I don't use a lot of gadgets to track my workouts. As a professional, I believe it is essential to know your body. Because of this, I track data on paper and on the computer.
I keep a training log, process maps, and follow whatever 4-month program regimen I am on.
👊 How do you keep going and push harder?
I love working out, and I love self-improvement. When I need motivation, I remind myself that I always feel better after working out.
I have been training for 18 years, in season and off season and rarely miss a workout. Working out is a part of my identity.
To stay motivated, I buy new gloves, pick-up a new gym outfit or download music. Attaching myself to a goal every 4 months also helps me stay focused.
If you feel good about you and what you are doing, then you will enjoy your life and your family more.
The biggest challenges that I face are injuries. At 40, I cannot lift like I was 25. I have found that the stronger you get and the harder you train, the more critical proper warmups become.
You have to have a systematic approach to warming up.
🏆 How are you doing today and what does the future look like?
Currently, I am training for PNBA Mr. Olympia, PNBA Mr. Universe, and the OCB Battle of the Godz.
My goal was to compete in 6 competitions this season after taking 5 years off and win as many pro contests as I can.
Winning two this season, OCB Cajun Classic and OCB Cape Cod was truly amazing!
During my 5 year hiatus, I took my competition approach to the business world. I opened 2 businesses, lifted in a couple of powerlifting meets, and did Dancing with the Stars.
I also had time to work with more clients, of which 16 have turned pro. Those five years off the contest stage helped me tremendously form and create the business side of my career as I have been:
Former President of Circle of Excellence BNI Chapter
BNI Ambassador SEVA Region
Honored as a new business in 2014, 2016 by Hampton Road Chamber of Commerce
Natural Bodyz Fitness 24/7 awarded best of the beach
This success helped our business grow and also our commitment to the natural drug free sport.
During the next 5 years, I look forward to competing professionally every season as well as helping my clients become more competitive.
We will continue to promote our "OCB Battle for Tidewater" here in Tidewater Virginia Beach as we have done since 2012. We offer contestants who win overall OCB PRO rings which as unique prize you can wear!
Rarely do I look back with regrets.
However, if I could start my bodybuilding career over again, I would focus more on 'range of motion.' Because, you formulate the range of motion for a muscle at the beginning of your career, that same range will stay with you throughout your career.
🤕 How do you recover, rest and handle injuries?
The best way to recover from injuries is to avoid them in the first place. This requires a painstaking process built on consistency.
First, I do very consistent and diverse warm-ups. I warm up the muscle group that I am about to train, starting lighter, and doing multiple warmup sets. If training is not handled correctly, injuries will set you back.
If I injure a muscle, I will take two weeks off of that muscle and level up on an opposing muscle so that I don't miss any training.
Sleep is important. I go to bed and get up at the same time every day. I typically get at least 8 hours of sleep.
I don't schedule off days, I use travel days or meeting days as off days. This strategy helps me keep my training schedule flexible.
When injured, I take the required time off of those exercises for about two weeks and will then gradually add those movements back in. I also see a chiropractor and get cupped.
🍎 How is your diet and what supplements do you use?
---
I stay leaner year round now as I have gotten older.
---
I follow specific diets based on three goal-specific training styles: off-season, competition, and maintenance.
The maintenance style can sustain off-season and competition styles. I usually follow each regimen for 4 months to maximize value.
I don't count calories but track proteins, carbs, and fats. I focus on macronutrients so that I know what I eat all of the time.
This helps when I go out for special occasions. I can save macronutrients to have a cheat meal.
I don't schedule cheat days or cheat meals. I do them whenever I want or feel I need to. I don't eat a lot of junk or drink alcohol. My commitment to my goals helps me not to overeat.
I stay leaner year round now as I have gotten older. When I am cutting, my last two meals of the day are just meat and a vegetable were I eliminate starch carbohydrates. This approach is a very standard year round practice to keep the body fat low.
I also don't have many starch based carbs late at night. I do believe in the value of a high protein and less fat nutritional program. Gum and energy drinks help me handle hunger cravings.
👍 What has inspired and motivated you?
---
Was it really a mistake or just a life lesson?
---
I was always motivated by a desire to be bigger, to be the best 'me' that I could be, to do what others thought I could not do.
I remain motivated that way now as well. I want to prove myself to myself and to others.
When lifting I find the mental energy by listening to hardcore hip-hop and heavy metal. I also find mental motivation from watching videos that focus on 'motivational You vs. You.'
The best advice that I ever received was that you can't avoid mistakes. So, when they happen, be sure to learn from them, then it is a worthwhile mistake. Was it really a mistake or just a life lesson?
You just hope that the error wasn't so catastrophic that it costs you something you cannot repair.
✏️ Advice for other people who want to improve themselves?
Bodybuilding is way different now than it used to be.
First, don't rely on apps and gimmick programs. Remember, you have to train, just lift weights.
One of the most influential books that I ever read was Arnold's Bodybuilding Encyclopedia. It covered the basics: you cannot get away from a bench press or squat or deadlift.
Basic's work and in a sport where you are judged on the "total package" you want to have a strong, well rounded base on every body part.
Second, remember that everything is a trend that branches from bodybuilding – CrossFit, powerlifting, and others. Bodybuilding is the improvement of the entire body – having a well-sculpted physique.
Third, you are not always going to be the strongest or most athletic or the biggest. Bodybuilding is about you, not others. As long as you are in shape that is all that you can control. You can control you.
Fourth, you can't do anything 'wrong' in a gym. What you are doing depends on your goals. There may be a more proficient way to do an exercise, however as long as you are not misusing equipment, you can't do 'anything wrong.'
Fifth, structure and consistency are the keys to success! This goes along with a specific style of training with a goal purpose at the end, create muscle memory for the desired look.
Sixth, enjoy your life. No matter where you are or what you do, living life to its fullest requires a commitment. You don't just brush your teeth and say, "Hey, I'm good for the week!"
Finally, seventh, take care of yourself first. This sounds self-centric, but you can't take care of others if you are not doing well, and how are you going to lead people if you are not leading yourself.
🤝 Are you taking on clients right now?
As a personal trainer, I am always looking for clients. No matter who, no matter the goal, we have the plan for them.
We create plans for clients to help them meet specific goals. I often train myself out of a job by teaching people how to understand their bodies and then how to plan and obtain goals! Once they learn, they become independent.
Experience matters, expertise gets passed along in one-on-one or in group settings. As iron sharpens iron so one person sharpens another.
📝 Where can we learn more about you?
naturalbodyzfitness.com and naturalbodyz.com
Facebook: @Chadhavunen
Instagram: @Chadhavunen
Twitter: @Chadhavunen
LinkedIn: @Chadhavunen
YouTube: Natural Bodyz Fitness 24/7 and Natural Bodyz