Interview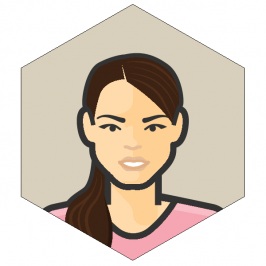 We talked with Alice Grandi in June, 2020.
Stats
👋 Hi! Tell us about yourself and your training
My name is Alice and I'm 33, I live in San Marino, a little quiet country inside Italy, among hills and the sea.
My days are always quite busy between my jobs as a Computer Engineer and a healthy food and lifestyle blogger; despite this I never give up on my workouts, I need them to feel good and face everyday life with the right energy!
I am married to Simone, who is sporty like me (or even more): in fact he is very good at cycling and often takes part in competitions, while I just do it for wellness and fun. Other than cycling we like trekking and pilates.
⏱ Describe a typical day of training
---
I often add extra sessions in my free time
---
As I told before, my days are always quite busy but training is a must do for the healthy lifestyle I want to live, so I train at least three or four times a week for an hour alternating between pilates, cycling or aerobics.
I often add extra sessions in my free time especially during the weekend, because training for me is fun and good not only for my body, but also for my brain!
I usually train alone at home or outdoors, but sometimes I go cycling with my husband, who is my trainer, and we sometimes join pilates classes in a studio with a very good teacher that guides us through challenging workouts, so that we improve our health and fitness day after day.
We also like trekking among the country and hills around where we live, or when we go for holidays on mountains, in these occasions (and also when we go out cycling) we use a Garmin watch to measure our trainings and the Strava app to watch our progress and share the tracks with our friends.
I sometimes do cardio exercises, especially during winter when I am more likely to train indoor. I usually run using a step.
👊 How do you keep going and push harder?
The benefits I have from training are what keep me going on and push harder, even those days when motivation is low I know that after training I'll feel better, that's why I never miss my dates with the sports I like!
For the same reason I organize my days using a timetable (Google Calendar) so that time for training has always a space among my various tasks.
The biggest challenge I have faced is a hard trekking track in Trentino Alto Adige I joined with my husband, thinking it was easier than it really is.
We had to climb a high mountain then go down the same way, at the beginning I was scared because I had never done something like that before, but fortunately I managed to keep calm and believe in my body strength, and use it to go back home safe.
At the end I was so happy and excited! Now I would definitely do it again with no fear.
🏆 How are you doing today and what does the future look like?
---
I would tell that young girl to eat healthier and train more
---
In the future I hope to be able to keep going with training as I do now, at least 4 times and about 4-6 hours a week alternating between pilates, cycling, aerobics and trekking.
If I could start over again I would like to practice more pilates that is newest for me than other sports (I started in 2017), but is the one that gives me more health than any other.
My advice to my younger self, I would tell that young girl to eat healthier and train more 🙂
🤕 How do you recover, rest and handle injuries?
I always train in a responsible way, avoiding doing too much for my strength. That's how I avoid injuries and I never had one.
I follow a healthy lifestyle that includes sleeping for 7 to 8 hours every day, drinking enough water and eating well: these are the only things that I rely on for staying healthy and fit.
🍎 How is your diet and what supplements do you use?
I chose to follow a vegetarian diet about ten years ago for health, animal respect and environmental reasons.
I don't count calories, I just try to assume the right amount of protein, carbohydrates and healthy fats each day, in particular I pay attention to the protein amount that is very important to stay healthy and look nice, with fed muscles.
Like most people from Italy, I also really like (and I am very good) at cooking, so I have cheat days of course, where I am more focused on taste rather than proteins and carbohydrates.
These days are not more than once a week and the others I choose to eat healthy, handling junk food cravings with eating yummy healthy food (I can assure that everyone can do it)!
I really like coffee and tea, but drink them no more than twice a day as a healthy habit.
Regarding attending social gatherings, if I can, I always ask to have something compliant with my eating habits (vegetarian and healthy). Otherwise, I try to select what is suitable among what is served.
👍 What has inspired and motivated you?
As I have already told, the wellness that comes from training is what inspires and motivates me most. During my workouts I like to listen to music, from calm classic tracks while making pilates, to strong dance djs while climbing hills with my bike!
I have no mentors in particular, what I can say is that I am the mentor for many people, my relatives for first but also followers I gained with my blog and Instagram profile.
I usually listen to pop music and also dance, when I feel in need to boost my mind a little more!
✏️ Advice for other people who want to improve themselves?
I think that everyone should have a healthy relationship with training, by being focused on health and wellness rather than physical appearance.
If you focus on doing well for your health, then you will have the results that will keep you going training in your life and you can also become a good example for other people.
🤝 Are you taking on clients right now?
I am not taking clients because I am not a certified trainer, but many friends that follow my healthy lifestyle blog and social media asked me to learn more about pilates.
That's why I started a brand new section on my YouTube channel with pilates workout that everyone can do (and take benefits) at home.
People usually ask me about sharing some of my workouts, and I am really happy to do it!
📝 Where can we learn more about you?
You can follow my advice and recipes for a healthy lifestyle on my blog (english available too), where I publish new posts about twice a week. For daily contents I invite you to follow me on my social media.
I'm on Instagram, Facebook, Twitter, YouTube and TikTok.
I have not a main channel, but I use each one to share advices for a healthy lifestyle (e.g. I share pilates workouts on YouTube, single exercises on Instagram, quick recipes and most of my yummy healthy breakfast ideas on Instagram stories and TikTok, and so on).