Interview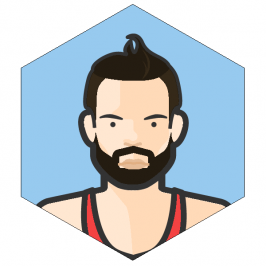 We talked with Alessandro Ciorlano in December, 2020.
Stats
Alessandro Ciorlanos Stats When We Talked with Him 💪

Hi! Tell us about yourself and your training
Hi everyone, my name is Alessandro Ciorlano and I am 31 years old. I am Italian and I live in a small town where tranquility is the background. I am a personal trainer, specifically concerning calisthenics.
I studied five years of university, acquiring a Bachelor's Degree in Motor Sciences, a Master's Degree in Management of Sport and Exercise Activities and a Master's in Management of sports companies and services for sports.
For eight years now, I have been working as a personal trainer always on my own, but in my free time, I dedicate myself to high school days, my hobbies are writing, I have published two books, and playing Call of Duty.
Since I was five years old, I have been playing football and I have also played professionally with the under 23 selection of Freiburg, Germany, best division (Ein Bundesliga). Sport has characterized my life. Oh I forgot to mention that I'm single ????.
Describe a typical day of training
I must say that over the years I have developed a philosophy of sport that today is a belief, because I tell you that sport is first and foremost physical well-being, therefore being in good health and as a sportsman and as a coach I do not agree with the use of doping substances and also of substances such as pre or post workout supplements.
For me, breakfast is also taboo as I eat a lot of protein. I have my own diet of four meals a day. I train in the morning before starting to work and I follow a training program of my own made of six months of cards to train every week with a training that is always different.
After six months, I usually rest for a week, now I haven't rested for a year and a half, and I really should do it ????. I don't follow rituals before training or before competitions, I know that you have to work and in your head you have to keep the goal in mind and work hard to achieve it.
After training I eat my usual: 400ml lactose-free milk, 5 whole meal rusks, 50g of oat flakes and 30g of peanuts. And what can I say besides, I don't have a favorite exercise, I love doing everything because I like to train, of course I must say that I love the muscle up probably because it is said that to perform one it takes a year of training, the first time I tried the movement I made seven ????.
During training, I use fitness tracker to monitor the parameters that help me work better for sure. Generally I don't write down the performance because remember that it is not necessary, what we need is to always push the limit as Arnold Schwarzenegger said.
How do you keep going and push harder?
Just think that sometimes I don't want to train, but I do it because in some way you have to discipline yourself, have character, because you never give up. I have been training for many years now and have always managed to balance the time available to train well, whether it is in the morning at 6:00 or in the evening at 22:00.
The biggest challenge that I always face is not that of competitions, but is that against the laziness of the human being, I too am lazy at times, but we must be active because only in this way we will be active in every aspect of life, if we relax. on something, we will relax on everything, and that destroys remember these words, always be assertive.
How are you doing today and what does the future look like?
Training in this period is experiencing a moment of splendor, I can push a lot even when I do a thousand and 80 pull-ups, or 900 push-ups. I train because I am motivated, soon I will open a bigger sports center and this gives me the boost. Here I give you some advice, set yourself goals and work on it, the first is to improve yourself.
How do you recover, rest and handle injuries?
I was very lucky, I never had any serious injuries except when I was playing football, only once, he broke his quadriceps. For the rest I have always trained in the right way possible to avoid these headaches. I had an elbow problem (epithrocleitis) out of my exaggeration, I learned and I will never repeat the mistake, I solved it with a lot of rest but without stopping training,
I continued doing what I could without causing further damage to the affected area. However, I did magneto therapy for about a month, I couldn't do tractions but training on pushups, abdomen and legs I could, so I trained.
How is your diet and what supplements do you use?
I don't follow a diet but I eat well and don't use supplements. Do not be strictly linked to food, but eat well and above all natural foods without man having altered with chemical processes, the sugar must be eliminated, not the fructose contained in fruit for example.
Every day I get sponsorship offers for products and supplements due to my body being pulled to the max, but I categorically reject them all because I only sponsor healthy eating, this is one of my philosophies regarding sport. Eat healthy without looking after 6/7 meals a day, no need, 4 are enough.
What has inspired and motivated you?
What has always motivated me were the words of my father Antonio: "you work hard to improve yourself" something to be extended to every area of life. In calisthenics (street workout) I love to follow @ hannibalforking1 the legend of this sport. Obviously loving sports in general, I love all sports and I love the Olympics.
Advice for other people who want to improve themselves?
---
Shortcuts are useless, and they do not exist.
---
The advice I give to the boys is not to be duped by those who offer you shortcuts. Shortcuts are useless, and they do not exist, remember that hard work pays off the efforts we make today, we work hard today for the results of tomorrow, without ever giving up because there is no failure, what we want we must do with the utmost commitment knowing that there will always be someone who can teach us something and in turn we must teach the generations to come, but this is true in every aspect of life.
So roll up your sleeves because it's time to change your life. For those who follow courses in the gym I can give only one piece of advice, let them follow you because if you make a mistake it is not your fault but of those who do not do their job in the best way, I can blame you for the lack of will, but if at your side you have competent people will work because pushed to do so, obviously with pleasure.
Are you taking on clients right now?
Actually I have clients everywhere, live on the internet in video chat, especially in this period of pandemic triggered by covid-19 I work a lot online with old clients who continue to follow me from home and train with me, both with new clients. they add to my workouts. I always warn everyone, you don't really mess with me ????, you work hard ???? so for those who don't want to suffer, go to the gym and waste time ????.
Where can we learn more about you?
I only have my Instagram profile @snake_d_ashby to advertise me and for those who want to follow me can do it from there, for those who want to contact me find the contacts in the bio of the profile. See you soon guys, it was a pleasure.