Interview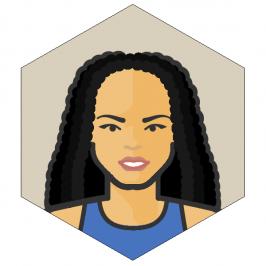 We talked with Victoria Brady in February, 2020.
Stats
👋 Hi! Tell us about yourself and your training
Hi, my name is Victoria and I am a Marketing & Design Consultant and ACE Certified Personal Trainer from Atlanta, GA. I'm a mom of two boys, ages three and four (11 months apart in age) and I have lost 130lbs strictly through diet and exercise.
My weight has always been a battle for me, starting from the time I was born (I came into the world weighing 10lbs 11oz). Being overweight my entire life, I used to hear all the time that I'll never be "small" or "skinny" and for a while, I truly believed it.
As a result, I continued to gain weight throughout the years, reaching my highest weight of 275lbs after the birth of my second son in 2016.
At the beginning of 2017, I decided I would lose the weight, however, like many times before, I kept falling off the wagon. Ultimately, I lacked focus due to the stress of planning a wedding, working a full-time job and caring for two kids under the age of two.
For several months, every week was a "new week to start over." However, it hit me that a change had to be made when my eldest son's weight became a concern for his pediatrician.
I started to see the cycle repeating itself all over again and knew I had to make a change if I wanted my kids to pick up healthier habits so they wouldn't have to endure what I did growing up as an overweight kid.
Through trial and error, I eventually found a regimen that worked for me. I began drinking green smoothies as meal replacements after reading about the 10-day Green Smoothie Cleanse by JJ Smith.
I cut out white refined carbs (sugar, bread, pasta, rice), fried foods, alcohol, beef and pork from my diet. I began working out five days a week, doing a combination of strength training and cardio. I got so motivated in my journey that I went into a challenge with myself — to transform my body and ultimately, my life!
As a result, I lost over 100lbs in a year and my weight loss story has been featured across several media outlets, including a feature in People Magazine's 2019 "How We Lost 100lbs" Issue and Good Morning America.
My personal weight loss journey revealed a new passion for something that I NEVER thought I would fall in love with and that is fitness. After discovering my passion for fitness (not to mention a newfound self-confidence in myself), I decided to marry it with my current passion of helping others, and launched my fitness company, Glow & Grow Fitness in 2019.
As a fitness professional, I strive to educate, motivate, and empower those seeking to live a healthier & happier life!
⏱ Describe a typical day of training
My training regimen is a combination of cardio and strength training + weightlifting. Not only do I get my best results with both cross training and circuit training, but it also keeps the workouts fun and exciting for me!
While I prefer to lift weights, some of my favorite cardio routines include boxing and kickboxing, as well as, high intensity interval training (HIIT). When I'm looking to burn more fat and release stress, I rely on doing intervals with a jump rope or running sprints on the treadmill.
I lift heavy weights and perform more compound exercises to build muscle, sculpt my body and feel empowered. Lastly, when I want to have fun and socialize a little, I will attend a group class, such as a bootcamp or step aerobics class.
Typically, I focus two days on cardio and three to four days on strength training/weightlifting per week when I am in maintenance and body sculpting mode.
However, when my focus is on shedding a few pounds, I increase the amount of cardio I do per week to three to four days and drop my strength training days to two full-body days instead of doing splits. Some of my favorite routines are below:
Cardio HIIT (30 seconds on; 15 second rest; 3 rounds):
Jumping Jacks
Bodyweight Squats
High Knees
Burpees
Jumping Lunges
Mountain Climbers
Plank
Lower Body Circuit (10-15 reps; more weight=less reps):
Goblet Squat
Alternating Forward Lunges
Straight-Leg Deadlift
Standing Glute Kickbacks
Hip Abductors or Leg Raises
Weighted Glute Bridges
Fire Hydrants
👊 How do you keep going and push harder?
---
My biggest challenge was overcoming the insecurities and mental roadblocks I created for myself.
---
People say I make losing weight and being in shape look easy, but I honestly have struggled A LOT and sometimes, I still do. There were many days where I was discouraged and depressed because of the process, but I refuse to be defeated and that makes me want to push harder every day.
My biggest challenge was overcoming the insecurities and mental roadblocks I created for myself. Once I changed my mindset from negative self-talk to positive, I started to see the physical results manifest. Every day, I remind myself that this is a lifelong journey that requires continued patience and perseverance to keep going and growing.
Three things that really help me when my motivation or drive is low:
I set my focus on reaching shorter term goals instead of focusing on the larger goal. This makes the goals feel more attainable.
Do activities that are fun but also allows me to be active at the same time. This is necessary for me on the days I don't feel like working out. Instead of it feeling like a chore, it feels like something fun to do. Some activities include taking my kids to the park where we can race, dancing, or attending a group fitness class.
I continue to set new challenges and goals to keep progressing in my fitness journey.
🏆 How are you doing today and what does the future look like?
The future looks bright for me! I have begun setting new goals as it relates to both fitness and business. Currently, as it relates to my personal fitness, I am working on rebuilding my body by dropping 10-15lbs of fat and building more muscle, while also improving on my overall muscular endurance.
I am working to grow my fitness brand by developing additional online training programs, participating in more public speaking events, and hosting local group training classes/bootcamps in the Metro Atlanta area.
In addition to my fitness venture, I just launched my marketing & design consultation company, Glow & Grow Marketing. My consulting company provides end-to-end marketing services tailored to grow brand awareness and help businesses and entrepreneurs capture a larger audience.
My service offering includes marketing & brand strategy, social media marketing & management, and graphic design.
🤕 How do you recover, rest and handle injuries?
I believe that rest and recovery is an integral part of any successful training program. As a result, I aim to have at least one to two rest days a week.
On my rest days, I focus on stretching and massaging my muscles to alleviate any soreness and to minimize the chances of injuries (or overtraining).
I use a foam roller and soak in Epsom salt baths as a part of the process. Additionally, I strive to get no less than 7 hours of sleep every night to make sure I am rested for the next day.
🍎 How is your diet and what supplements do you use?
---
When I am building muscle, I will increase my intake of healthy fats and/or carbs.
---
As I progressed through my fitness journey, I have adjusted my diet to meet current goals. When I first started losing weight, I decided the best approach for me at the time was to follow a low-moderate carb, high protein diet.
I gradually cut down on refined carbs and removed processed foods from my diet and started replacing meals with green smoothies to help with getting more vegetables into my diet.
I also eliminated sodas, juice and alcohol from my diet (I do enjoy wine from time to time) and began drinking half my bodyweight in ounces everyday (for example, at 250lbs I was drinking 125 ounces of water).
Furthermore, it was important that I had a cheat meal once (sometimes twice) a week to give myself something to look forward to enjoying as well as to keep my body from hitting a stall in my weight loss.
Since I am such a carb fanatic, cutting back on carbs versus eliminating them completely from my diet (such as with the Ketogenic diet) has been the most sustainable approach for me, which is why I do carb cycling and keep my caloric intake to 1600-1800 calories per day to maintain my weight loss and body composition.
However, when I am building muscle, I will increase my intake of healthy fats and/or carbs. Additionally, the supplements I take consist of B12, BCAAs, and collagen protein powder. These not only aid in giving me energy & muscle recovery post-workout but the collagen powder has helped to minimize the amount of loose skin I have after losing such a substantial amount of weight.
Favorite brand for collagen protein powder is NeoCell and Naked Nutrition's Naked Collagen, which serves as my BCAAs sometimes as well. I also like XTEND's Original BCAA powder.
I always keep some kind of healthy snacks with me (I keep it in my handbag or car) in the case I am in a setting that does not serve food to match my diet. This helps prevent me from making poor choices in what I eat when I'm out.
In some cases, I will also wait to have my cheat meal during the social event so that I can enjoy myself without guilt or messing up my diet.
👍 What has inspired and motivated you?
---
My biggest inspiration for getting started in fitness has been my kids.
---
My biggest inspiration for getting started in fitness has been my kids. I had to first be the example for them if I wanted them to have a healthy upbringing. The fact that they look up to me and enjoy working out with me now has really kept me motivated (and holds me accountable) as well!
Some of my favorite places to go for information and tracking are Fitbit, Fitonomy, MyFitnessPal, and YouTube. I also follow PopSugar Fitness and Women's Health Magazine for motivation and inspiration.
Some of my favorite fitness professionals I follow to stay motivated include Jeanette Jenkins, Massy Arias, and Brittne Babe. I also enjoy blog articles and watching webinars through the American Council of Exercise (ACE) to learn more about effective coaching and training techniques.
✏️ Advice for other people who want to improve themselves?
After losing over 100lbs, I have discovered that nothing is impossible unless you make it impossible. I wasted so many years allowing the doubts of others to cripple me into believing I could not lose the weight. However, once I let go of what others thought, I began to feel more confident and capable in myself.
Fitness is honestly more about your mental strength versus your physical. Whatever you believe you can do you will do (I believe in the law of manifestation). The only limit is the one that you set for yourself and if you go for it without thinking about it, you'll be amazed at the results you can produce.
As I tell my clients all the time, where there's a will, there's always a way! Once you change your mindset, the rest will follow — the body achieves what the mind believes.
🤝 Are you taking on clients right now?
Yes, I am taking on clients right now, both online and in-person. I conduct in-person sessions at local parks and gyms.
For my online service, I provide weekly check-ins via phone/video chat and manage my client's workout and nutrition programming through a training app (I currently use Trainerize).
I have also created several training guides as a more affordable option for those who need help getting started.
With the research I have conducted while going through my own weight loss journey, along with the knowledge I have obtained through my studies to become an ACE Certified Personal Trainer, I equip my clients with the proper tools to set them up for long-term success.
I believe in the philosophy – Give a man a fish, he'll eat for a day. However, if you TEACH a man how to fish, he'll eat for life. My goal is for my clients to reap the benefits of their hard work for life, no matter the obstacles standing in their way.
What sets me apart from other fitness professionals is my level of transparency (this is why I go by @Vickinosecrets on my social media platforms). This makes me different because what you see is what you get with me, which makes me more relatable with my clients!
Additionally, because I know firsthand what it's like to be obese, I utilize my personal experiences to inspire my clients to keep pushing and most importantly, keep believing that they can achieve their goals too.
📝 Where can we learn more about you?
For more information about my services and to follow my blog, people can visit my website at glowandgrowfitness.com.
For workout videos, tips and to follow my own fitness journey, I can be followed on Instagram, Facebook and YouTube.