Interview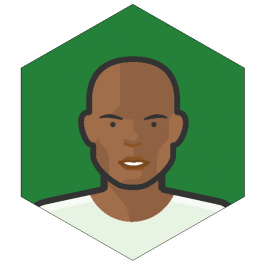 We talked with Tebogo Mashalane in February, 2020.
Stats
👋 Hi! Tell us about yourself and your training
Hi, I am Tebogo Mashalane, a 31-year-old fitness trainer from a small village up in the north of the province of Limpopo call Bochum (senwabarwana) but currently living in Pretoria, South Africa. I am a full-time fitness trainer and a property investor; I have a partner and am a father of two.
My major accomplishments I would say is conditioning professional soccer players namely George Lebese (Colorado Switchbucks fc USA), George Maluleka (kaizer chiefs SA), mahlatse makudubela (fc gagra) in Georgia, and Tshepo masilela (AmaZulu fc) in SA to name few.
In terms of specific fitness and weight training, I have been doing this for 17 years, my father (53 yrs. old) introduced me to road running when I was 14 years old and that was to improve my fitness for soccer. Fast forward to 2012, I started working for Virgin Active as a fitness instructor conducting cycling (spinning), functional and yoga classes.
I love listening to music, reading books mainly about fitness and property and taking some time with my family. What I like most about fitness is the fact that it keeps me focused, healthy and since is what I do for a living, it helps me to educate my clients about healthy living while they reach their fitness goals. My clients are my fitness friends because we share almost everything fitness-related and not.
⏱ Describe a typical day of training
---
My favourite exercises are squats and any back-focused exercise.
---
Typically, I train for three to four times per week mostly focusing on improving my overall fitness and targeting major muscle groups and of course functional training as well, but my training schedule depends on the event I will be preparing for because I cycle, mountain hike and play soccer.
I normally train for an hour max when I do functional training and weights but two to three hours when I am preparing for my cycling races.
My typical day(s) of training will look something like the following:
Weight training day
Warm up day 1
12 min on the elliptical machine- moderate pace
3-4 min of upper body mobility stretches
Main workout- upper body
2* push exercises (bench press, inclined & flat, DB fly) 4 sets
2* pull exercises (biceps curls, preacher curls) 4 sets
2* push exercises (DB triceps kickbacks, dips) 4 sets
NB core variations in between each set.
Cool down
Light crank cycle- 5min and upper body stretch
Warm up day 2
Rowing – 10min
3-4 min torso and back stretches.
Main workout – back
1* pull exercise (Olympic bar deadlifts) 4 sets
1* pull exercise (DB single arm bend over rows) 4 sets
1* pull exercise (pull ups) 4 sets
1* pull exercise (straight bar upright rows) 4 sets
NB core variations in between the sets
Cool down
Light walk -5min and stretches
Warm up – day 3
Cycle – 10min
Lower body mobility stretches 3-4 min
Main workout- lower body
Olympic bar squats -4 sets
DB Reverse, frontal and front lunges- 4 sets
Adductor and abductor work 4 sets
Calf raises (seated and standing) 4 sets
Hamstring curls 4 sets
Leg extensions 4 sets
Cool down
Light treadmill walk – 5min and stretches
My 4th day is usually for cardio and functional training. I normally train at my work since there are so many people I help with technique and exercise variations and is just a familiar space.
I usually train alone and I use YouTube videos as motivation and what I normally have in my fitness bag depends on what I will be working on that day but water bottle, towel and my wrist guards are always in my bag.
My favourite exercises are squats and any back-focused exercise. I use nothing to measure my training during weight training but a heart rate belt and sport watch when I prepare for my cycling races.
👊 How do you keep going and push harder?
The kind of job I do just requires me to always be in good shape so that automatically pushed me to always push harder. I use YouTube videos as motivation and social media i.e. Instagram, Facebook and fitness pages too.
I am a very active person by nature so setting fitness goals has enabled me to push for this long and also the cycling races that are always happening. The fear of just being inactive, feeling tired and heavy is what comes to mind when I think of not keeping on.
I am always in gym since I am a personal trainer so I do squeeze in my workouts in between my work breaks and weekends are normally a time out with family. In all honesty keeping up with a healthy diet is the biggest challenge I have and still facing.
🏆 How are you doing today and what does the future look like?
---
I would not really change much if I could start over but just wish I knew all that I know now about fitness a bit earlier.
---
My plans for 2020 are to get fitter, drop my fat percentage and look leaner, improve my functional training strengthen my upper body in general and beat my previous cycling times.
The short-term goals I have for myself are: Staying fit and relevant in this fitness industry by always looking for better ways of doing the norm, enrolling for courses to better my knowledge about the fitness industry and to increase my network so that I can be internationally recognized.
I have a good relationship with the Fitpro Institute so doing online courses should not be too much of a hassle.
Social media is the best tool for exposure and reaching out to the masses so I will use it accordingly for marketing purposes. I would not really change much if I could start over but just wish I knew all that I know now about fitness a bit earlier.
🤕 How do you recover, rest and handle injuries?
Like I said before, I wish I knew what I know now a bit earlier because things could be well polished by now but it's ok because I am still open to learning new things. I normally rest two to three days by literally doing nothing and on my recovery day(s), I'd do yoga class, stretching, foam roller and mobility work.
My work requires a lot from me so in terms of sleeping hours and patterns I do a maximum of five hours weekly, and that would be five hours per day. I really don't get enough sleep during the week but Saturdays and Sundays are much better as I can sleep for six to seven hours.
My travelling schedule is normally planned well ahead and I always make sure that I stay in touch with my clients via social media and emails regarding anything they would need relating to their workout programmes.
🍎 How is your diet and what supplements do you use?
I am not really a fan of supplements, I do water and coffee! And as for my diet haha! I wish I could have that discipline of following a well-structured diet plan, I literally eat anything!
At 31 years of age, I can say I am blessed with the genes I have because the rate of my metabolism has not slowed down but I also think is because of the long hours I do at work with my clients and eating small portions of food.
👍 What has inspired and motivated you?
---
My father is my biggest fitness inspiration.
---
In all honesty, my father is my biggest fitness inspiration, he is the person that paved a way for me into this fitness journey but apart from that I read fitness books, I am currently on the Muscle and Fitness by David L. Freeman and The Beyond Bigger Leaner Stronger Challenge by Michael Matthews.
I also follow fitness fanatics on Instagram like: @OBI Vincent, @frank madrano, @theROCK to mention few. As for the kind of music I listen to in the gym, that all depends on my mood but I am mostly listening to hip hop.
The best advice I ever received was "stay true and genuine to yourself at all times, a lot is changing and you don't have to change with everything."
✏️ Advice for other people who want to improve themselves?
Focus on improving yourself every day, read a lot, listen to motivational videos and most importantly do what you love, follow your passion as most get lost trying to live other people's dreams.
🤝 Are you taking on clients right now?
I am always taking on clients as a fitness trainer. You always have to have space for new clients because they come with new different goals that challenge you to grow.
I have no doubts on my abilities to deliver results and I am currently taking on real life clients but working on the Internet platform as I want to go international.
The most common training question I get is "What do you do to remain this lean and energetic?" and my answer to that is: My functional style of working out and the activities I do i.e. soccer, cycling and mountain hiking.
📝 Where can we learn more about you?
I am mostly active on Instagram @tebogo_mashalane_88 which is connected to my Facebook page @mokone88thecatalyst, still working on the YouTube thing haha! I have to catch up to this technology pace.