Interview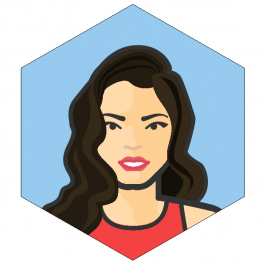 We talked with Sidra Sadiq in April, 2020.
Stats
Sidra Sadiqs Stats When We Talked with Her 💪

👋 Hi! Tell us about yourself and your training
My name is Sidra Sadiq, I am a Pakistani who has called Dubai my home for the past 6 years. At 34, I am happily married and have a daughter who will turn 3 next month.
I am an HR Professional and a UAE based Licensed Influencer and a part time model, but most importantly I am a fitness enthusiast.
I equally enjoy travelling and trying new cuisines but I believe what you eat you have got to burn it as well.
I have grown up in a family where everyone loves outdoor activities and sports. We are 4 sisters and all of us have played sports competitively.
I swam till the junior nationals. We love the beach and the sea. If I could I would live by the beach and just relax with a good swim; that is how much I love the water!
⏱ Describe a typical day of training
---
I do HIIT about 3 times a week in the gym.
---
Despite being an active teenager, I was still quite chubby. I started consciously working towards a healthier routine when I was 19.
I had hemorrhoids due to my careless diet and lack of exercise. Perhaps it was the fear of it leading to a surgery, or the motivation to look good in my favorite dress for my sister's wedding; I was sworn to a health and fitter lifestyle.
There was no turning back!
I formally started training with my husband when we got married 6 years ago. I initially started with running outdoors to cycling in the gym.
Today, I am disciplined enough to train 6 days a week. Friday, is usually a rest day and sometimes it involves physical activities like going for a swim as a family.
I do HIIT about 3 times a week in the gym. I follow Fitness Blender and Live Strong workouts on Youtube. I do weight training 3 times a week. A day each for upper body and lower body training.
Recently, I have become a fan of pilates. I am a fan of Yasmin Karachiwala and her fitness studio THE PAD. However, since my schedule doesn't allow for regular classes, I do pilates at home using Fitness Blender videos.
One of the most effective interval training exercise for me has been set of 5 over 20 minutes. 1 minute stroll, 3 minutes brisk walk and 1 minute sprint. This set I repeat over 20 minutes, followed by inclined walk on the treadmill.
I do abs exercises on all 6 days of training.
Except for multivitamins and a chocolate protein shake once in a while from Forever Living, I am not having any supplements. I do take Gatorade on days where I do HIIT.
Given the current situation where we were in lockdown in Dubai, one piece of equipment that came super handy was resistance bands ordered from Amazon.
Otherwise honestly I would use household items and grocery items with labels such as flour and rice bags and milk cans for weight training.
👊 How do you keep going and push harder?
---
I don't feel complete or good about myself I don't train.
---
It always have to be MIND OVER BODY. I work with fashion brands and model and being in a good shape and looking good really matters.
Most of all it has become part of my life. Unconsciously, I focus on energy in, energy out over a week. I don't feel complete or good about myself I don't train.
I get bored easily and I need to keep on looking for new workouts or creative ways to stay fit. I have made significant lifestyle changes; I try to take the stairs, take public transport and walk an extra mile rather than drive or take a cab.
I want to do the trek on Kilimanjaro or do mountain climbing with my husband and I want to be fit enough to do that. Working towards and pushing myself closer to that goal every day keeps me going.
My husband and I also talked about being fun and active parents to our daughter and inculcating an active lifestyle for her in seeing us as her role models is perhaps the biggest motivator.
If nothing else..who doesn't like looking good, fitting in their favorite dresses and most all feel energetic.
I do 100 percent and that is good enough for me to stay motivated to keep working harder and pushing myself harder.
🏆 How are you doing today and what does the future look like?
Fast forward to present day, despite being a mom to a 3 years old at 34, often people confuse me to be much younger. It is a bit flattering I must admit.
I am more disciplined now in my workouts at home. I have been quite creative in getting exercise during the lockdown.
Having a fitness tracker really helped me. I use an Apple Watch, that syncs with the fitness progress of my friends. It is fun to keep the healthy competition going virtually.
Despite being in good shape, I still have trouble areas where fat comes uninvited every now and then. I want to work on building more strength in my shoulders so I can do my dream climb.
Most importantly I want to try new forms of workouts that I haven't explored yet.
I have been considering a course in Nutrition and Physical Training. Perhaps, the future could be more in line with becoming a life coach/fitness coach, since I write on self-help, positive mental health and motivation.
🤕 How do you recover, rest and handle injuries?
One of the biggest lessons in my fitness journey has been that it is important to do recovery workouts, proper warm up and cool down and don't work on the same muscles every day except Abs.
HIIT should not be on more than 3 times a week.
Cushion tough workouts between low impact workouts such as pilates or going for a relaxing swim.
Friday is a day of complete rest and also a cheat day. It is like rewarding my body for the hard work!
🍎 How is your diet and what supplements do you use?
I love diversity in food I eat and workouts I do. I try to eat 6 meals a day. Balance the food groups and watch my meal timings and portions like a hawk. I eat everything! I have cut out processed sugar and sodas from my life completely.
My meals are protein intensive and high in fiber. Most meals are home made. Dining out or ordering in is only to be enjoyed on the weekends.
I know it sounds too simple but it is sustainable. Monitoring my total calories over 1 week helps me keep it in balance with the energy I am burning. I do not advocate any miracle diet plans.
I have consciously started observing food groups that are bothersome to my body. I never used to feel sick with milk or whole wheat but a few years ago I started noticing that it causes bloating.
I started cutting down the consumption of all such foods and it has helped me maintain my weight well.
👍 What has inspired and motivated you?
My biggest mentor and inspiration is my husband. I have seen him work towards a healthier lifestyle and take me along the journey.
I follow Fitness Blender on Youtube and they have really helped transform my body over a few years.
Yasim Karachiwala's pilates workouts are unique and recently caught my attention.
I have also started getting my A GAME ON with Live Strong on Youtube. Some of their workouts are quite intense and helped me challenge myself even more.
✏️ Advice for other people who want to improve themselves?
---
Tortoise steps lead to big leaps
---
Some pearls of wisdom for those who want to take the plunge in a healthier lifestyle. Don't look for weight loss, aspire fitness!
Your world will change, your relationship with food will change. Nothing comes without commitment so when you start look at what works for you.
Tortoise steps lead to big leaps, drastic changes and seeking short term results leave you waiting for the miracle that will never happen.
If I could go back in time, I would start with yoga and working on a good form, flexibility and posture. I feel it gives you far greater results with less effort.
I see so many people in the gym working hard but with a horrible form. Some are abusing the machines and hurting their bodies.
Invest in a trainer or have a fitness partner who can guide you. Once you get your basics right you are ready to take off.
Lastly, you are unique and so is your body. Keep on checking yourself, evaluate your own progress. It take a bit of trial and error to find out what works for you and what doesn't.
You will have to keep working harder, changing your routine and moving on with the journey.
Have your goals outside of the gym, like fitting in to your favorite dress or doing an activity with your partner or family that requires you to be fit. Reward yourself periodically and you will be amazed with the results.
🤝 Are you taking on clients right now?
I have an Instagram account; Dubai Connoisseur Confessions and I do post extensively on fitness and healthy recipes.
I do want to grow the community there for now and help as many people I can through that platform.
📝 Where can we learn more about you?
Just go to my Instagram. Dubai Connoisseur Confessions