Interview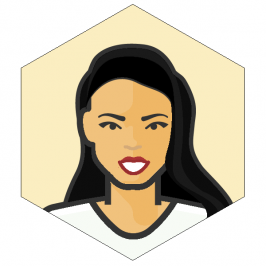 We talked with Shivani Mistry in May, 2020.
Stats
👋 Hi! Tell us about yourself and your training
Hello, my name is Shivani Mistry and I'm 26 years old. I'm from Mumbai-India. I graduate in Biotechnology, topping the university exams but followed my dance passion instead, as a career.
I've cleared all my Ballet Grade from the Royal Academy of Dance, London up to and including Advanced Foundation. I've also cleared all my Imperial Society of Teachers of Dancing, London Modern Theatre grades up to and including Advanced 1.
I'm a Silver Medalist in Latin American of the ISTD. I've Acquired my Teaching Qualifications from the ISTD in Modern Theatre- Associate and Associate Diploma and in Latin American – Student Teacher.
Impressed by my achievements in so many dance forms the ISTD wrote an article about me in the ISTD Dance International Magazine. I was also featured in the Vogue Magazine for Women Empowerment as an Influencer for Physical and Mental fitness.
I started my training when I was 5 years old at The School of Classical Ballet and Western Dance under the tutelage of Tushna Dallas and Khushcheher Dallas.
I've trained in Ballet, Modern Theatre, Jazz, Latin American and Contemporary. I trained in Australia at Jason Coleman's Ministry of Dance. Recently, I trained in Israel at The Kibbutz Contemporary Dance Company.
I teach at the School of Classical Ballet and Western Dance where I trained and also, Shiamak Davar's Institute of Performing Arts and a couple of other studios.
I've been to numerous workshops all over, UK, Sri Lanka, Australia, Israel etc. I've performed and choreographed numerous shows.
I'm a certified PADI Diver and a trekker, I absolutely love Adventure Sports. I'm also a model and love photoshoots.
---
Fitness helps me become better and be in control of my body
---
Fitness helps me become better and be in control of my body, dancing is quite a challenging physical activity and endurance and strength is a must.
My hobbies include, embroidery work, listening to music, reading about treks and adventure sports, watching movie or series (Netflix is so damn good), having lively conversations with friends, chilling with them, creating some choreographic work, etc.
⏱ Describe a typical day of training
Since I'm a dancer, my day is pretty physical anyway. I teach most of the time and kid you not, it's way more tiring than dancing.
Whilst I am teaching, I have to keep up my energy levels, physical strength and absolute delightful spirit. I usually dance or teach for 4/5 hours a day and keep the rest of my day gentle.
I believe, if dancers used the correct technique and muscles in dance they won't need to worry about their fitness, bulk, etc.
But now a days if become way more challenging and some techniques in fitness surely help the dancer get there faster and hence, recommended.
After training, I make sure I hydrated myself well. I enjoy my green tea with some lemon and honey. For me stretching and a ballet class in itself does it for cardio.
👊 How do you keep going and push harder?
---
My work pushes me to do more.
---
I make sure I have a goal every year. I make it happen. To be honest, I do have days when I'm highly unmotivated but just looking at the goal and a couple of external factors, I make my way up again.
When it comes to my dance training, I teach 6 days a week so I have to put my best. My work pushes me to do more. You need to do it for YOURSELF and for your satisfaction and happiness.
🏆 How are you doing today and what does the future look like?
I am doing pretty well today, I worked out and relaxed well, my body feels great.
My goals in the near future are still not very concrete as I'm an artist and not a single day is the same nor the work is the same. I am just going to concentrate on my training and doing my job with 100% efficiency.
Since I'm also a Biotechnologist, I'd love to get into teaching at academic schools or NGOs. I believe practicality is way to go of course with having good theoretical knowledge.
Since I love Adventure sports, I'd like to become a rescue diver and a paraglider. I love to trek and camp as well. Now that requires a good level of physical strength and endurance.
If I could change something in my fitness journey it would be my starting time and my mental state and thought. By starting it earlier and knowing it's benefits and a good state of mind that pushed me well.
Having a positive and self-loving attitude or thought is a major influence and the push that you need in your physical journey.
🤕 How do you recover, rest and handle injuries?
---
You body is a precious instrument and you must listen to it.
---
A good warm up, stretch and hydration before getting into a full action course be it gym, exercises, cardio, dancing, teaching, etc.
If injured, I rest it out completely. Yes, it does take a toll on my thoughts, my mood, my urge to get up and dance, I'm so restless but that's when you must be strong and do what is right.
You body is a precious instrument and you must listen to it. If it's showing signs of discomfort, listen to it and give it sometime to recover. REST IT OUT and do not do anything which will take you back a couple of steps to the road of recovery.
I sleep a good 8/9 hours which is super essential for every activity in your body.
I foam roll my muscles after a workout so that my muscles feel easy and tender.
🍎 How is your diet and what supplements do you use?
Everything in moderation is the key. My teacher used to say avoid everything white (White sugar, White bread, etc).
I generally enjoy everything. I relish everything in moderation. I do not count calories. Sometimes the thought with which you consume something also affects your system. Had something heavy, no worries, just work it out the next day.
During performances, I generally eat more proteins and fruits. I love trying different cuisines and dishes, when I go out for a social occasion, I eat a good wholesome meal.
I generally have a good breakfast, a heavy lunch and a light dinner.
If I've had something naughty but super yum, I make sure for the 3 days or up to a week I don't cheat. And I keep hydrating myself.
👍 What has inspired and motivated you?
My field of work requires me to maintain myself physically and mentally. Just watching performances and dancer doing some brilliant is enough to get one motivated.
I love listening to pop music when I workout as it's upbeat and gets you going.
✏️ Advice for other people who want to improve themselves?
---
You can choose your pace but just be determined. Be consistent.
---
To start off, I would firstly get into it because I want to and I want to do it for myself.
Do not race or compare yourself to people in the gyms or any of your fitness inspirations. You can choose your pace but just be determined. Be consistent.
Everyone blossoms at a different time, your time will come too, just keep at it. And if you can't manage to do a particular thing, dig deep as to why you can't, you'll probably find a solution.
Just live simple and healthy. Basic requirements are all you need to live a sustained life along with being healthy. Just a wholesome diet and some time looking after your body is all you need to do.
Other than that, a positive attitude towards everything is going to result into amazing things, it took me a while too, to see things that way but it's absolutely amazing when it works out.
🤝 Are you taking on clients right now?
Clients for me would be students. Yes, I'm teaching students online and offline. I conduct sessions on Zoom for Ballet, Jazz, Pointe work, Strength and flexibility and have offline classes for the same.
I am a certified teacher in these dance forms. I've technically studied them and taught for 9 years.
I also know the mechanics, the safe way to practice, the anthropology, the terminology, the anatomy, the science behind the movements in these dance forms and hence hiring me would be to a lot of advantage.
📝 Where can we learn more about you?
I'm currently working on my own website. But I have an Instagram account called @shivanimystery. I also, have a YouTube channel. Here's a link to one of my videos.