Interview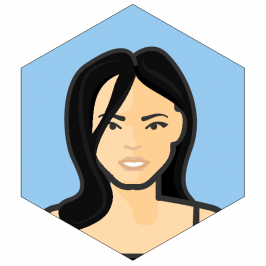 We talked with Sharlyn Ooi in January, 2020.
Stats
👋 Hi! Tell us about yourself and your training
Hi! My name is Sharlynn and I'm turning 26 years old this year. I'm from a small little country called, Singapore and this sunny island's been pretty much my home for the last 26 years!
I have been a freelance personal trainer for four to five years, and have recently graduated with a Bachelor of Arts (Honours) in Sports Studies and Marketing degree. Last year, I've also launched my own sportswear line for women, called, LXIX Athletica.
When I first started lifting, all I wanted to do was get stronger and lose some weight. Life took a surprising turn and I ended up competing in two bodybuilding competitions and three powerlifting competitions while building up my career as a personal trainer.
My most rewarding accomplishment over the last eight years of weightlifting was breaking a national junior record in my weight class for a Powerlifting meet, with a chance to represent my country at a later international competition.
The thing I love most about weightlifting is its ability to make me feel so much more empowered and strong, and it makes me feel like I can take on anything in the world after a good session.
⏱ Describe a typical day of training
---
I really love training my legs and especially during my heavy glutes day.
---
Nowadays I don't train competitively anymore but rather, train for optimal health and function (maybe some aesthetic goals haha).
My typical split still includes most of my powerlifting/bodybuilding programs. I usually start my first exercise with heavy compounds followed by lighter, higher reps accessories work with the occasional cardio or yoga.
I do all kinds of yoga but usually flow/stretch variations. Cardio usually range from steady state incline walking or sprints on the treadmill/bike.
I train up to four times a week, each session lasting about 1.5-2h and typically split them into lower/upper body days.
This is what a typical week looks like for my training regime:
Monday: Legs + Abs
Tuesday: Shoulders
Wed:
Thurs: Legs + Abs
Fri: Back
Sat:
Sun: Legs (Glute-focused)
I really love training my legs and especially during my heavy glutes day. After a good intense workout, I like to re-fuel with some good food (Singapore is known to have really awesome local cuisines) such as a big plate of good ol' chicken rice. ????
👊 How do you keep going and push harder?
For me, it's really hard to stick to a regime without a schedule. Consistency is very important to me so I try my best to stick to the same schedule each week so that I don't lose the momentum to keep going and have time for my friends and family.
To be honest, I really do enjoy lifting weights and hitting the gym a lot, but there are days where I just feel sluggish and lazy and dread doing anything at all.
However, the trick for me is to just drag my ass to the gym and get started with anything, and usually after the first exercise or two, I'll feel motivated again to train.
Sometimes it does help to have a training buddy or other friends who can train with you, just to make the training sessions more fun and to give each other a little bit of moral support when it gets tiring.
The biggest challenge is probably on every last few weeks out from my bodybuilding competition preps. All the cardio and dieting really makes you feel like crap and sucks all the energy out of you. I'm so glad I made it out alive though.
🏆 How are you doing today and what does the future look like?
I like how my training routine is like at the moment. My routine is a good mix of strength and hypertrophy but still challenges me.
My goals for the next five years is to continue building up my sportswear brand, LXIX Athletica, and also work on some self-improvement goals with regards to my career. I do have thoughts on setting up my own gym or something along that line but we'll see!
Oh yes, I also do have plans to get married and start a family so I do need to start saving up a lot more haha!
If I could start over in my fitness journey, I don't think I would change a single thing. I think I was very fortunate to be able to pick it up at a young age, and what an honour it is now to be able to make this a full-time career where I can help other people improve their lives and still have a steady income.
🤕 How do you recover, rest and handle injuries?
---
I make sure that I nail down each movement correctly first before loading up on more weights.
---
I'm very strict when it comes to form and techniques with regards to weight-training in the gym, not just for myself but for all my clients as well. I make sure that I nail down each movement correctly first before loading up on more weights.
On top of that, I do yoga quite often to stretch out my muscles because after many lifting sessions in the gym over the week, my muscles get really sore and tight and it's always nice to give them a good stretch.
Foam rollers are also a necessity in my life and I use that before/after I lift weights or whenever I feel like my muscles are tight/sore.
However, injuries are inevitable sometimes and when I need to rest, I do rest up until I'm fully healed and ready to go before smashing it in the gym again.
I also try to have six to eights hours of sleep every night, and take my daily dose of multi-vitamins and fish oil.
🍎 How is your diet and what supplements do you use?
After years of counting my macros and logging every single food I eat, I've become familiar with my food portions and macros and the types of food my body do well with.
Nowadays, I don't count my macros anymore but I try to eat as clean as I can when I eat out, and stick to the same macro % as when I was prepping for all my competitions. My daily intake would be an estimate of 30-40% protein, 40-50% carbs and fats for the remaining macros %.
If I do have cravings I would just each them but maintain a portion control size. I would say that my diet is about 80% and 20% junk so that leaves a good amount of sanity on a daily basis!
Occasionally, on days where I feel that my protein intake is too low, I'll down a protein shake at the end of the day. I really like the Myprotein Milktea Protein Powder because it tastes soooo good it's almost like a treat!
Of course, when it's time to cut, I'll watch my junk food intake and will probably limit treats to a few times a week or less, depending on the reason for my cutting phase.
I usually only drink coffee/tea as a pre-workout and occasionally drink whey protein from Myprotein.
👍 What has inspired and motivated you?
My biggest inspiration draws from my long-term obsession with women superheroes since I was young. Over the years, I get more motivated when I see other strong women lifting heavy weights and killing it in the gym. I feel inspired by them and I hope that one day, other girls will be inspired by me too!
I love listening to rock music while training because it gives me a good energy to train with. It's super motivating! My biggest inspiration and girl crush on Instagram is Linn Lowes (@linnlowes)!
✏️ Advice for other people who want to improve themselves?
---
The best and simplest advice is simply to get started.
---
The best and simplest advice is simply to get started. It doesn't matter what you do or how you start, once you get the momentum going and see results, you'll only want to keep achieving more and keep putting your best foot forward ????
For individuals wanting to work on strength goals, it would be better to either hire a coach or gain insightful video instructions from platforms like YouTube or Instagram and slowly work up to their goals after making sure their form and technique is right.
Once you own your time and body in the gym, you own your life and anything else outside of the gym when it's time to work!
🤝 Are you taking on clients right now?
I am taking clients right now on a freelance basis. I have a long track record of eight years in the sport of bodybuilding and powerlifting.
I deal with international clients both offline and online who's had to train for competitions, personal goals such as summitting a mountain, ranging from experienced athletes with injuries to those who are completely new to exercising and made their choice to turn their whole life around just by simply getting started.
I provide the best for my clients like how I would plan my routine out for myself, and I only want them to be able to push themselves to be the best they can be and reach their fullest potential.
📝 Where can we learn more about you?
I'm on Instagram: @sharlynnooi (Personal) and @lxixathletica (Sportswear brand) and YouTube.
My PT website is Get Lynn; Stay Lean and the LXIX Athletica website is lxixathletica.com