Interview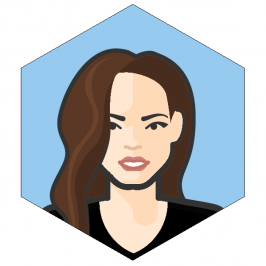 We talked with Sara Bigatti in December, 2019.
Stats
👋 Hi! Tell us about yourself and your training
My name is Sara and I am a Netherlands-based fitness professional. I originally come from Italy but I have lived abroad for the past five years.
I left Italy when I was 22 years old and traveled all the way to Australia to start a process of self-discovering; I lived there for two years between temporary jobs and road trips and then decided to move back to Europe.
After two years of office job as a sales consultant, I have decided to follow my true passion and try to make a difference; I quit my job and focused all my attention in starting my own activity and open my own fitness studio together with Stephanie, my business partner and friend: S&S Fitness Wolves (located in Utrecht).
The name took inspiration from an incredible book entitled, Women who run with the wolves by Clarissa Pinkola Estes that I absolutely highly recommend!
All my energy is here now. As a personal trainer and fitness instructor, I support people in developing awareness in the way they look at physical activity. It's a way of being, it's not a temporary choice. It's important to be in the moment, listen to our body and respect it.
The real change happens when you go out of your comfort zone, in the state of fatigue – you need to be conscious here and push your limits.
I have always been very active and practiced all sort of sports. I did play volleyball at a good level for about eight years, did some swimming and athletic races when I was younger. I have been focusing more on my training for the last two years but I have to say..I am an endurance kind of person. 🙂
I love running, biking and swimming – I enjoy training for hours. I like to define myself as a hybrid athlete since I also really feel energized by a good strength training, mostly body weight – I have figured that works better with me (but I still lift weights in order to work on my power and strength).
I am currently training for a Triathlon with the help of a coach – it's a specific kind of training so I want to learn as much as I can (also, a coach can push your boundaries and help you to see the big picture!).
My biggest passion is anything that can be done outdoors. I love sports, any kind of but I am not strictly a gym kind of person.
My second big passion is travelling, I do it alone most of the time with a backpack. My most recent was to Nicaragua, absolutely loved it!
There is a third passion, maybe also a fourth…I love painting and drawing but I don't do it enough and I love wine.
⏱ Describe a typical day of training
---
I train six days per week or less depending on the week.
---
I believe in training for long-term goals. I want to feel strong (not only to look strong).
Right now, I am getting my body in shape for a Triathlon.
I train six days per week or less depending on the week (and sometimes twice a day). I do two to three swimming sessions – two to three running sessions – one or two bike sessions (my most recent purchase is a 'smart trainer'; here in the Netherlands the winter is pretty cold!).
Running is a bit off-limits recently due to an injury but I am focusing on rehab so hopefully I am back at it very soon! Sessions can take from one to two hours (normally bike sessions are the longest).
On top of this, I get my strength workouts and mobility sessions (sometimes I am not too disciplined with those but I do my best!).
About a month ago I decided to get a coach, I want to learn as much as I can!
Now, we are getting my body strong enough to be able to support the load – 2020 will be more intense. Now, I am focusing more on my strength training.
I train alone most of the time, due to my own schedule, which is different from most of the people!
At the pool, I always see the same faces so it feels you are sharing. I ride with others too, when the weather is good!
I always prepare my training bag the evening before so that in the morning I am ready to go! I almost always train in the morning – I am more efficient.
Depending on the training, I have a small snack and breakfast after! If I have a long bike ride planned, I do take some vitamins with my water but rather than that, I don't take supplement.
However, the only 'supplement' I take is an Isotonic Drink from Aptonia but not on a regular basis; only if I feel tired and I have an "important" session ahead. Rather than that, I try to be aligned with my nutrition.
I have an overall healthy diet but I don't follow a specific regimen; I eat meat in very small quantities but I try to incorporate fish. The biggest part of my diet is plant-based, no dairy.
In my gym bag…well, it really depends on which activity I am doing! I cannot leave the house without my Garmin Smart Watch in Forerunner 735XT.
👊 How do you keep going and push harder?
---
You will get much better results if you are in the moment.
---
I always remind myself of where I want to go. I write down my goals, create rituals and routines, take time for myself if I need to.
I embrace the feelings I have when I workout and try to remind myself of how good it makes me feel. I make it a priority, I see it as an appointment with myself and I absolutely wouldn't cancel on me – that wouldn't be respectful. 😉
It gets hard sometimes, many things can happen that do not allow you to follow what you had in plan..it's important to be flexible and adapt.
What if I skip a training because I need to rest? What if I skip a training because a friend asked me for help? It's important not to forget that we train to feel better in the long-term, our mind is as important as our body and we need to understand and accept that.
This has been the most difficult challenge for me: Learn to listen to what my body really needs, learn to understand signals and learn to sit a do 'nothing', just be.
Focus, breath and train. You will get much better results if you are in the moment.
🏆 How are you doing today and what does the future look like?
Right now, I feel great.
I have never been a 'one-sport-kind of person', I have always been attracted to many things and options. I hate doing the same workout everyday, eating the same food every week so that's also how I approach my training.
I know what to focus on, the 'how' changes every time – I also strongly believe that to progress you need variety, stress your body in different ways so that it can adapt and become stronger.
One year ago, when someone asked me: 'Where do you see yourself in five years?' – I answered: 'I'd like to have my own fitness studio and share my passion with others'. Here I am, already after one year where I thought I would have been in much longer.
We are towards the end of 2019, time for goals-setting and the yearly overview and again that important question: "Where do you see yourself in five years?".
I honestly do not see so far ahead!
Sport-wise: I want to do a Triathlon probably by June 2020. I want to learn more about mindfulness. Business-wise: I want to see S&S Fitness Wolves community expanding, even more. I'd also like to develop my online blog/website. I will keep studying and specializing, focusing on areas that attract me more: body-alignment, animal flow, strength and conditioning, mindful training.
There are many more goals but… I want to keep some of those for myself. ;P
🤕 How do you recover, rest and handle injuries?
Rest is essential but I have to admit, I have never been great at that.
I always have long 'to do lists', always plan to do more than I should and always feel 'I could do more'. I have learnt that this is not the way to succeed.
My recovery involves extra-sleep, nice meals, company of nice friends. I listen to my body, maybe get a massage, drink plenty of water. Foam rolling is my best friend in this moments!
Rest is for me, no planning.
Injuries? I used to get overwhelmed and I honestly still do it a bit but.. I try to focus on what is good for me and change my training accordingly. It is frustrating sometimes, therefore I look for experts and I trust them.
🍎 How is your diet and what supplements do you use?
---
I don't track calories, I listen to my body.
---
My diet has a lot of variety but I mostly follow a Mediterranean diet.
I make sure I eat a lot of colourful vegetables (half of my plate) – proteins (¼ of my plate) and carbs (¼ of my plate). Some healthy fat (avocado, extra virgin olive oil..) and extra fruit throughout the day. I drink water, teas and…coffee (as a real Italian, I love it!).
I do not meal-prep. I have tried, it is just not for me. I write a grocery list, separating by macro-nutrients and I combine them throughout the week making sure to have always an extra portion for the day after!
I don't track calories, I listen to my body; It's important to develop awareness to do so.
I don't believe in 'cheat-days'. Why shall I cheat? I respect myself ;P Jokes apart – I believe in long-term well-being, I think we do not have to feel guilty if we eat a slice of cake or if we drink an extra glass of wine but I believe we should take time to cook a nice and healthy cake and buy a good-quality bottle of wine.
If you live without restrictions, you won't have the need to cheat.
👍 What has inspired and motivated you?
People. I surround myself with inspiring people, I choose who I spend time with.
Travels. Every time I visit a new country or city, I have new ideas – new inspiration – I meet people I would never cross path with otherwise.
There is a special book that keeps inspiring me: 'Women who run with the wolves' (Clarissa Pinkola Estes): "To be strong does not mean to sprout muscles and flex. It means meeting one's own numinosity without fleeing, actively living with the wild nature in one's own way. It means to be able to learn, to be able to stand what we know. It means to stand and live."
I believe in courage.
Once someone told me: 'You will never be completely ready, just do it!" and I wouldn't be where I am without this piece of advice.
✏️ Advice for other people who want to improve themselves?
Look for a support, choose wisely and develop trust with your coach.
Write down your top priorities and stick them above your bed!
Keep a diary, write down your 'tomorrow plan' – get your sport-bag ready the night before!
Choose the activity that makes you feel good, not what others choose.
You do not have to follow a certain kind of training, you can choose what suits you best and remember that the gym is not the only option! Body-weight training is amazing!
There are many ways of training.
I recommend that you do at least one outdoor/indoor activity that involves your body fully (running, swimming, biking, hiking, climbing, obstacle run..) and incorporate gym-work as functional fitness.
Do a bit of yoga, meditation and relaxation exercises. Book-in your stretching and lengthening and mobility time!
🤝 Are you taking on clients right now?
Yes!
I have a few spots open for 2020 for individual clients (real-life) in the Netherlands, Utrecht or Amsterdam and some availabilities for online programs too.
The best is if you could email me at [email protected], we could have a chat and see if we are compatible! I'd love to help you reaching your goals!
📝 Where can we learn more about you?
Please follow me on Instagram @sara.flowing.wolf and visit my website Sara Biggati | Movement Coach.