Interview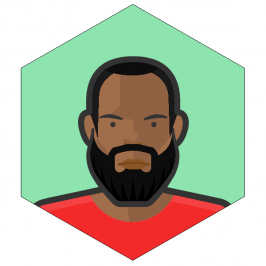 We talked with Ofentse Boloko in May, 2020.
Stats
👋 Hi! Tell us about yourself and your training
I'm Ofentse Boloko from South Africa. Based in Johannesburg, I'm in the 28th chapter of my life.
I am self diagnosed fitness addict and I still can't curb the idea of not being able to exercise.
I work for Lexus South Africa as Marketing and brand specialist with a sales background, I am also currently studying towards my personal training qualification in fitness and sports psychology.
I come from a rich sporting background from being a 100m sprinter, boxer, and professional rugby player having represented teams like the Shark and EP Kings.
My current prospect of bodybuilding is more on the muscle modeling side and I do fitness and men's wear modeling having done tv commercials, billboard campaigns, etc.
I am the South African Muscle Model champion which is one of my major accomplishments in the sport to date and I will be representing my country in the UK at the PCA World Championships.
Sport has not only kept me healthy, but has help me endure my life's challenges especially the passing of my late queen mother (RIP).
I have been fortunate to have been approached by various brand to collaborate either through monetary value or sponsorships of products, including major brands like Lexus, NutriTech, Recovery Milk First Choice, Birch's Man, etc.
I have done numerous photoshoots and public appearances, and have been fortunate to know that there has been massive financial gains for the various brands.
⏱ Describe a typical day of training
---
I do not believe in spending hours in the gym
---
My typical day of training comprises of two sessions in a day. Early morning 4:30am before work and after working hours, especially when I am getting ready to compete in a show.
I usually train 5 days a week primarily focusing on my diet and I usually train alone or maybe with a friend.
I do not believe in spending hours in the gym, however I strive to achieve maximum quality from a session and that is usually 1-3 hours max.
I literally know my training regime off the top of my head as I have come to understand how my body functions and responds to certain exercises.
I focus on a high intensity quality session, which is continuous pressure on my body which promotes rapid muscle growth and weight loss.
I usually pack my headphones, lifting straps, and waist belt in my backpack together with my supplements such as amino acids and whey protein.
Training legs and shoulders is by far my favorite exercises (weird I know haha). These muscle groups have definitely set me apart from my other competitors on stage as I focus on proportions, symmetry and size.
👊 How do you keep going and push harder?
---
My partner has been my source of victory.
---
I am quite a goal oriented person and when it comes to my health and fitness goals, I don't compromise unless it's my day off.
My partner has been my source of victory. She helps prep my meals and she never complains about my monotonous routine when I am dieting.
My mother's passing was the worst challenge I have faced because it happens 3 weeks after my South African championship victory.
🏆 How are you doing today and what does the future look like?
I am working on my qualification and would like to travel abroad for a few years. I would also like to open the very first Golds Gym in South Africa for elite athletes.
I wouldn't want to change anything as I not only devoted myself to this craft, but I humbled myself to ask questions and learn.
My advice to my younger self: You are never too old or too inexperienced to learn something valuable in this game.
🤕 How do you recover, rest and handle injuries?
I usually try to do a sports massage one evening every month to prevent any unforeseen stress on the body which could lead to injury.
Through this sport, I have grown to understand the importance of mental stress. If the mind can't conceive it, then the body won't follow the vision.
I usually try and get at least 7 hours however I usually get in 5-6 hours.
🍎 How is your diet and what supplements do you use?
---
Discipline is always key.
---
My diet consists of four meals a day (small portions). High protein, low carb meals.
Off season I just eat whatever my hearts desire and usually cut down a lot during prep.
Discipline is always key. Especially when getting invited to events where there is an abundance of delicious food and beverages.
It's important to balance food and supplements because the quicker your body recovers the more visible your results will be, so do not skip meals.
As for coffee/tea or alcohol, yes, I believe life is all about balance and self control.
Regarding social gatherings, I am a firm believer in having fun but being responsible on how you conduct yourself.
For cheat days and cravings, I usually have half of what I'm craving.
👍 What has inspired and motivated you?
---
I don't second guess myself and if I want something I work for it.
---
It's important to always fill your mind with positive things because life can be challenge.
So read books, meet people and share your knowledge. That's how I got to where I am today. I don't second guess myself and if I want something I work for it.
I listen to a lot of rap and Hip Hop because their music is so relatable in so many ways.
Best advice I've received: Trust myself more because I will always know what's best for me.
My childhood of being raised by a single mother is all the motivation I need in this life!
✏️ Advice for other people who want to improve themselves?
Trust yourself. You will always know what's best for you, sometimes people will talk down of you because of their own insecurities and failures in life.
They will try to detour you from your own vision, so watch out because not everyone is going to be happy for you.
Too much bro science in the gym is detrimental at times. People listen to way too much bro science instead of doing their own research.
🤝 Are you taking on clients right now?
Yes, I am taking on clients, including new collaborative opportunities from anywhere around the world, so please send me a DM or simply check out my social media handles below.
I specialize in weight loss, muscle building, strength, and mental health.
The most common question I get is: 'If I take this supplement will it make me big', but muscles doesn't grow on trees.
📝 Where can we learn more about you?
I'm on Instagram @ofentse_boloko and Facebook.