Interview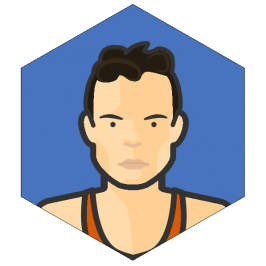 We talked with Michael Fatboyslim in January, 2020.
Stats
👋 Hi! Tell us about yourself and your training
My name is Michael Fatboyslim. I am 26 years old. I was born in London, United Kingdom and moved to Kenmare, County Kerry in Ireland when I was 5 years old. I am currently living in New York in the US.
My day job is a leading online fitness transformation coach and I help people from all around the world reach their fitness goals through my personalized meal plans & workout programs. I adjust their diet plan every week to keep their bodies guessing, it's the best way to consistently lose weight and keep it off.
I am the head coach of celebrity trainer, Anthony Lolli who set a life-changing goal and lost 125lbs in under a year and transformed his entire physique. Anthony won first place on stage in the year 2019.
I am also an athlete for 'Myprotein' which is a British online retailer that manufactures sports in nutrition products and gym clothing, including supplements, protein powders, vitamins, and high protein foods and snacks. It is a subsidiary of the Hut Group.
I started to get into fitness when I was 19 years old. I was so physically unfit and morbidly obese at 17 stone before this. I lost a drastic 7 stone in six months through questionable techniques such as starvation and not supplying my body with the proper nutrients needed.
I then decided to get in shape the right way and began eating well, using a well-balanced and nutritionally beneficial diet to fuel my weightlifting and exercising. This allowed me to bulk up to 14.5 stone – gaining weight again but this time it was muscle.
⏱ Describe a typical day of training
---
Remember what works for one person definitely doesn't work for everyone!
---
I am a huge advocate of heavy lifting with high volume which is the complete opposite in regards to todays trends! Remember what works for one person definitely doesn't work for everyone!
I aim for 30 -35 sets each session with minimal short rest periods as intensity is key in any training to cause an adaption! I train 6 days a week – each session is between 1hr-15mins-1hr 40mins depending on muscle group.
👊 How do you keep going and push harder?
Fitness is a mental game of getting over ruts and reaching your goals. If you thought all it took to get in a good workout was participation from your physical body, you're wrong. Your mind has more power than most people think. It tells the body what to do and what not to do. Often your brain pulls you back when your body can do and take on more. By learning to incrementally push past your perceived maximal level in training, I can teach my brain to give the body the chance to go harder.
I determine a specific goal that I'm trying to accomplish in a week. For example, reaching a certain body percentage. I visualize myself attaining the goal and think about how I'll feel when I finally achieve it. Whenever I want to quit or cheat in a workout I bring myself back to this goal and keep going.
I find making a monster workout more digestible by mentally breaking it down into smaller chunks. I'll often focus on one thought for each rep I do and suddenly I've breezed through over half the workout. I also have an upbeat gym playlist to keep me motivated. Listening to loud music can enhance exercise performance.
I try focusing on reasons for exercising that genuinely make me feel good about myself, like testing my own limits. That's the kind of stuff that will help you power through when your abs are shaking and you're pretty sure you can feel your heart in your esophagus.
I also try to focus on being grateful that I can work-out. It's easy to forget when you are exhausted and in pain, that working out is a privilege. Some people have physical limitations that keep them from being able to lift weights or run.
🏆 How are you doing today and what does the future look like?
I am currently working full time in New York training Anthony Lolli, my client to compete in the Bahamas in august 2020 for the world title.
Meanwhile, I am also taking on as many clients as I possibly can and devoting time to each client and giving specific meal plans and exercise routines for each client.
The year 2020 will be the busiest year in my career yet, I will be the head coach in a reality show called Radical Body Transformation. The premise of the show is change – overcome obstacles and reaching the goals people set for themselves. I will be meeting people from all walks of life yearning to transform their bodies. Participants embark on motivational journeys, facing both physical and emotional challenges, yet still, achieve life-changing results!
🤕 How do you recover, rest and handle injuries?
---
Sleep is important in helping your body to recover as much as possible.
---
I try to get my 8-hour sleep, sleep is the main factor when it comes to recovery. A good quality deep restful sleep gives it the time and environment in which to repair. Sleep is important in helping your body to recover as much as possible.
Protein is another important factor. Growth hormone helps your muscles to repair after training so when combined with adequate protein and carbohydrate intake, it keeps protein synthesis raised, allowing your body to repair the muscle tissue.
I normally aim to be in bed by 10 pm and be waking up at 6 am each day.
Stretching, or more specifically mobility work, light foam rolling or massage can also help in 'flushing' the muscles, removing waste products and encouraging blood flow to the muscles, which in turn brings in nutrients gained from good nutrition and improves recovery.
I try to reduce stress as much as possible in my life by reading a book or taking a hot bath which also improves blood flow.
In the off season just Neat activity 10k steps per day when prepping my cardio peaked at 1hr 30mins daily!
🍎 How is your diet and what supplements do you use?
My diet is very old school bodybuilding with low/moderate fat intake and extremely high carb and protein intake, my go-to staple supplements are fish oils, whey isolate, digestive enzyme, EAAS, Creatine & Glutamine!
I do both track macros and count calories!
I drink alcohol 3 or 4 times a year for special occasions, and green tea daily and coffee I couldn't survive without!
I am sponsored by MyProtein.
👍 What has inspired and motivated you?
Helping people aspire to be the best version of themselves and transforming their life brings me so much happiness.
I feel my purpose in life is to help others.
The feedback that I get from my clients inspires me to become a bigger and better version of me and be a role model to show people no matter what their background is you can still be in charge of your future and change your life.
My motivation is results. When I see results it motivates me to do better and better and become the best possible version of myself.
✏️ Advice for other people who want to improve themselves?
---
Acknowledge your set back and grow from the experience.
---
Do your correct research and make sure that you are reading the correct information. There is so much false leading information about diet and exercise, make sure what you are reading is scientifically backed up.
Set out achievable weekly goals rather than a yearly goal. This ensures that you are guided and on track week by week.
If you have a set-back, do not give up completely. Failure is the key to success. Acknowledge your set back and grow from the experience.
Make sure you are dedicated rather than motivated. As motivation can come and go but if you are deeply dedicated to something you will always get things done.
Do not compare yourself to others. The only person you should be competing with is yourself.
Follow accounts that make you motivated and gives you the correct advice. Unfollow any accounts that make you feel negative about yourself.
🤝 Are you taking on clients right now?
Yes, I am still offering online coaching. I coach people of all fitness levels and people that are targeting different goals. I personalize each meal plan to specifically cater to their body type.
I am straightforward with my clients and give them a realistic view of how they can achieve their goals at a certain time frame.
I consider it important to know the client and get an idea about their lifestyle in terms of work hours, family hours, previous injuries and their well-being and health so I can make sure I am giving them the correct meal and exercise plan.
From my current experience, the ethic has been very successful and I have transformed lives not only physically but mentally.
If you are interested in working with me you can drop me an email at [email protected]
📝 Where can we learn more about you?
My Instagram page is @mike_fatboyslim where you can see many of my previous clients and their transformations.
I also have a YouTube channel called Michael Fatboyslim.
If you want more information about online coaching you can send me an email to [email protected]