Interview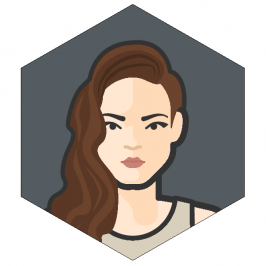 We talked with Eleni Quartana in May, 2020.
Stats
👋 Hi! Tell us about yourself and your training
Hi, my name is Eleni Quartana and I am 26 years old. I was born in Mazara del Vallo and moved to Milan eight years ago, where I live with my boyfriend and my crazy dog.
I have been an artist member of the Liberi Di physical theater company since 2016.
Besides being an artist, I am a contortion, aerial and dance teacher. I started dancing when I was six years old because my mother was a ballet dancer.
I attended the ballet school for 12 years, increasing my artistic knowledge, studying different styles, from classical ballet to acrobatic dance.
I got a diploma c/o from MAS academy.
Since I was a little girl, I have always spent my free time in the gym because my super sporty parents have two gyms.
I think physical activity is the best way to collaborate with other people and feel good about yourself.
⏱ Describe a typical day of training
My typical training routine starts at 11 o'clock with 10 minutes of running. Afterwards I spend 20 minutes of workout and 30 minutes for stretching.
When I'm ready I choose which tool (aerial hoop, aerial silk, harness') I will work for about two hours.
I train every day except Saturday, Sunday and show days.
After my training, I start to teach flexibility and aerial acrobatic from 17 to 21 o'clock, in numerous classes with different age groups and levels.
I usually prefer working with my back and my favorite exercise is the chest hand. This position is too hard!
Every day I spend my time running for 10 minutes because I love running and funtional training, but I hate to ride a bike.
In my bag should I'll never be missing water with mineral salts, dried fruit, a change of dress and my telephone.
👊 How do you keep going and push harder?
Some days are hard and I have trouble to get out of the bed, but the important thing is never to be discouraged.
When I feel tired and unmotivated I think about the improvements of my students and that we can all always improve. When I feel like this I prefer to work in a group and take energy from the others.
Five years ago, I ripped the abductor making it impossible to make any kind of movement. I thought it would never pass, even walking was painful for years, but after many massages and physiotherapy I am cured.
Even now when the weather change I feel bad, but with a session of fibrolysis it can be fixed.
🏆 How are you doing today and what does the future look like?
---
If I could start over I would spend much more time for the stretching.
---
Currently, I am forced to train at home in two square meters without tools and mats and this demoralizes me a bit.
It is not easy to stay at home all day, but daily training and online lessons help me. I hope I can soon return to my usual workouts. Lately I've been training in contortion and I hope I can achieve my goals there too.
If I could start over I would spend much more time for the stretching. Unfortunately when I was in the academy of dance I did hours and hours of training without stretching.
I often hurt myself for this reason.
🤕 How do you recover, rest and handle injuries?
I love to go to bed late, but I aways sleep at least six or eight hours a night.
When you train every day something could happen, injuries could happen.
I tore the abductor six years ago and even today it hurts me. Especially when it is very cold. In these cases, the thing that makes me feel better is to get a massage.
TO BE TREATED IS IMPORTANT!
🍎 How is your diet and what supplements do you use?
I honestly don't follow any diet and I never been on a diet.
I eat many vegetables and many proteins and never misses the chocolate. I take dietary supplements every day:
Protocol10
MSM & Glucosamine
Fish oil
Power B
I like to eat well but I never miss the sweets. I don't like to drink coffee and I rarely drink alcohol.
I often have to eat out for shows, always try to keep myself light but I eat more or less everything. I avoid carbohydrates because they weigh me down before the shows.
👍 What has inspired and motivated you?
---
We all have to believe in our dreams
---
Since I was a child, I have always admired the elegance and strength of my mother. She was a mom, a dancer and also the owner of a gym. All her students followed her as a guide. I wanted to become like her, become someone and be a guide for others.
Today, I have my students and I am source of inspiration for many of them, and this is my greatest achievement.
When I train I like listening to commercial music, very energetic songs, because they charge me with energy.
The best advice I have received was 'believe in your dreams'.
We all have to believe in our dreams, if you believe it, you can do it. This is my philosophy of life.
✏️ Advice for other people who want to improve themselves?
Working alone often seems the best way to improve, but relying on a qualified instructor is better. He will tell you what is the best solution for you.
I sometimes happen to see people training themselves and they try out new exercises, but this is dangerous.. when you try a new exercise you always have to be supported by a couch.
It is easy to get hurt if you don't know anything.
🤝 Are you taking on clients right now?
Currently I take online clients for group or private classes of stretching, contortion and aerial hoop.
Many students ask me if it is possible to do the split as an adult, or if it is possible to touch your own feet with your hands: This is possible!!
If we dedicate 15 minutes to stretching every day, in a short time we would see some improvement. I always say that anything is possible if we have patience and work hard.
📝 Where can we learn more about you?
I'm on Instagram @eleni_quartana, Facebook and my website is liberidi.net.