Interview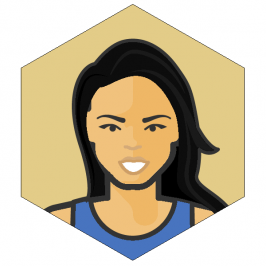 We talked with Maricris Lapaix in June, 2020.
Stats
Maricris Lapaixs Stats When We Talked with Her 💪

👋 Hi! Tell us about yourself and your training
Hello fit fam! My name is Maricris Lapaix and I live in Los Angeles, California. My full-time career is working as a certified personal trainer. I've been a NASM Certified Personal Trainer for almost five years now, and absolutely love what I do!
My love for fitness stemmed from a young age when I started playing sports. I've played basketball, ran track and field, and also continued to play volleyball collegiately.
My success with athletics made it an easy transition into the entertainment world as a fitness model. I've been fortunate to have been hired for brands like Nike, Adidas, Reebok, and FitBit to name a few.
My experience as a model made me fall in love with the fitness world and its opportunities even more. At the time of wrapping up my collegiate career, while transitioning to a modeling career people had begun to approach me for fitness tips.
I wanted to be more qualified, so I was inspired to look into becoming a personal trainer. After my first mock session as a trainer at a gym, I knew it was the direction I wanted to take.
⏱ Describe a typical day of training
In regards to my current fitness routine, I typically train between four to five times per week depending on how demanding my schedule is.
When I have a specific goal in mind, I will write out a program for myself. Other than that, I schedule the days I want to workout, and split my programs.
The type of workout I complete depends on how my body is feeling that day. Some of my favorite exercises that I include in my weekly routine are plank variations, back rows, as well as deadlifts and hip thrusts.
I do enjoy group workout events from time to time, but I typically enjoy training alone. I don't have a set time I like to workout, it varies with my work schedule. And it allows me to stick to training for my specific goals.
In my gym bag, the most valuable item I carry is my Hyperice Hypervolt. My recovery is important to me. I also love to carry loop bands to add resistance to some of my workouts.
👊 How do you keep going and push harder?
---
I believe in following how your body feels if you're fatigued
---
There are a couple of ways I keep myself motivated to push harder. Sometimes I give myself an accountability challenge and choose someone to check in with.
I'll create a specific goal and set myself up for success by planning my meals and exercise program. And other days, when it's hard to motivate myself, I compromise to do some form of movement.
For example, I may have planned a weight lifting day, but if I'm feeling fatigued, I may opt for something like a jog, or a walk on the beach.
I believe in following how your body feels if you're fatigued, and figuring out ways to best serve yourself mentally and physically.
The biggest challenge I've faced so far with my fitness journey is when I had to make a full recovery from overdoing it.
I was having so much fun mingling with friends at fitness events, and attending them non-stop in addition to my own personal workouts, and teaching group fitness classes that I got burnt out.
I didn't recover for what I was putting my body though. As a result, I was constantly feeling fatigued. So it was hard to really be disciplined and slow down.
Friends seemed confused because they know I'm capable of more in the gym, but it looked like I was slacking off. They didn't understand the pain my body was in.
🏆 How are you doing today and what does the future look like?
In regards to my current training, I'm working to maintain my current muscle mass. I continue to work on developing and progressing my training program.
In addition, I have one to two cardio days to make sure I get outside of the house. It's a nice and easy break for me – mentally and physically.
My goal in the next five years is to be a successful online transformation coach, and teach for the masses at events to inspire them on their journey. I want to empower millions to recognize their potential and enjoy a full life.
I wouldn't change anything in my fitness journey. It's an ever evolving journey that you learn from and continue to adjust and experience.
The advice I'd give my younger self is to speak up more, and ask more questions. There's so much to learn, so don't be afraid to ask.
🤕 How do you recover, rest and handle injuries?
The cardio I've added to my routine is part of my recovery. I run for leisure rather than for a specific time goal, for example. In addition, I also make sure that I fuel my body properly and have consistent sleep times.
I would say I average 6-7 hours of sleep. I'm working up to 8 hours more frequently, but I've gotten to the point where I have a consistent bed time that helps me feel energized. That consistency is key for me not feeling groggy in the day.
🍎 How is your diet and what supplements do you use?
---
I meal prep for three to four days at a time.
---
In regards to my diet and nutrition, I meal prep for three to four days at a time. My schedule varies daily, so it's helpful to have my meals and snacks ready.
Also, by planning a few days at a time, it allows me the flexibility to eat out with friends and family without the worry of wasting food.
When I have specific goals, I will log my food into MyFitnessPal to make sure I have the proper intake.
Water is the main thing I drink, and my protein shakes, and Koia stocked in my fridge.
If I do ever order something out or if I feel like working at a coffee shop, it's a matcha latte. However, most of these items I very rarely have.
When it comes to cravings, I will typically just honor them. I meal prep regularly so satisfying my cravings isn't an issue. It's a nice treat between my normal routine.
If I do have goals in mind, then yes I will be stricter with myself.
👍 What has inspired and motivated you?
My biggest motivator to stay healthy and strong are my experiences, whether it's activities with friends or traveling. I've recognized how being in shape allows me to move as I please.
If I want to skydive, I'm healthy enough to do so. If I want to take steep hike down to the beach in Bali, I'm able to. I love to be active and play, and wouldn't want that to change.
I've recognized the importance of not only being strong in the gym, but strong in life.
✏️ Advice for other people who want to improve themselves?
My recommendation for those starting their fitness journey is to find something easy that they enjoy, and can commit to with small goals.
For example, if they love to hike, schedule a hike once a week for a month. Write it in your calendar like a scheduled meeting you can't miss.
Once they successfully do that for a month, then add a second day, or a second day of a 30-min walk.
Smart and attainable goals that aren't so far outside of their norm is key. It can take time to build up to.
🤝 Are you taking on clients right now?
My specialty is transformation coaching. I am currently accepting clients for my online transformation program.
Regarding results, there's no set answer for this with personal training. It varies with each individual. It depends on their commitment and mindset.
Each journey deserves its own pace to adjust and learn. Some people can see it as soon as a month, some take three or more. I coach for lifestyle, and learning so it varies with each person.
Most clients ask me what's the best exercise for targeting certain areas. And I have to remind them that it's about overall health.
It varies per individual on how your body will transform. If their overall health is a concern, that should be their priority versus just the aesthetic.
They need to learn a proper routine, and have a nutrition plan to back it up. When they focus on that the results will come.
📝 Where can we learn more about you?
You can learn more about me and what I do on my website and also check me out on Instagram @maricrislapaix.