Interview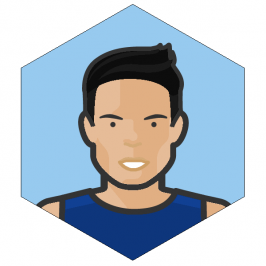 We talked with Kenny Cheung in June, 2020.
Stats
Hi! Tell us about yourself and your training
My name is Kenny Cheung and I'm 25 years old. I'm from Sydney, Australia and have lived here all my life – it's a great city to live in. I work as a freelance circus performer and instructor, specialising in juggling, unicycling, hula hooping, plate spinning and balloon twisting.
I also work side jobs in marketing and hospitality – I love the hustle. Some of my biggest accomplishments as a professional juggler is winning a gold medal at the World Juggling Federation championships in 2016 and breaking numerous world records over the years.
I've been training juggling since 2008 and other circus skills like unicycling and hula hooping for about six years now. I was initially motivated from watching videos on YouTube followed by training with local community groups who also practise circus skills.
The thing I love most about training is the ability to see myself improve and it always keeps me going.
Describe a typical day of training
---
I train juggling for at least 10-20 hours per week to improve/maintain my skill level and at least a few hours per week for the other circus skills.
---
I train juggling for at least 10-20 hours per week to improve/maintain my skill level and at least a few hours per week for the other circus skills. I like to train at least a couple of hours in a session of juggling because this allows me to spend enough time on each prop – mainly balls, rings and clubs.
I often train inside a gymnasium or a circus school facility (shout out to Sydney Trapeze School!) to avoid wind or rain. But on a nice warm day, it's relaxing to have a casual juggle outside.
With unicycling, I like to train in my local park and nearby roads. The rest of my circus skills, I can conveniently train inside my room.
In my first five years or so of juggling, I preferred training alone as I valued technique a lot and had the best results without a single distraction in my practice sessions. Nowadays, I prefer training with company as I find it fun and motivating to share our progress amongst my friends.
I also value creativity and creating sequences in my training more than technique now as I've already developed a somewhat high level of it over the years.
Aside from my juggling training, I like cardio exercises including running and swimming. My body feels great after a solid run around my neighbourhood.
How do you keep going and push harder?
I enjoy watching videos of other people making progress on juggling tricks or seeing a new balloon twisting design that I want to try. Both videos and training with friends help motivate myself to see what tricks and skills I want to aim for.
I kept a diary for a really long time on all my PRs on several juggling tricks, and that helped me push the boundaries over the years. I always allocate a few hours block each day for training so I can still fit work and family in my schedule.
The biggest challenge I've faced in terms of training was preparing physically and mentally for the international juggling competition in Las Vegas back in 2016. I really wanted to do well, and flying all the way from Australia to America was a big deal to me then.
I treated every training session very seriously the months before the competition, listened to random motivational videos on YouTube as well as some rap music by Eminem until the day of my competition.. I knew I had "one shot.. one opportunity.." and I'm gonna capture it, I ain't gonna let it slip 😉 haha. In the end, I came 3rd in the Advanced Overall Championship and 1st in two other categories.
How are you doing today and what does the future look like?
My training is going well at the moment. I want to focus on other circus skills including hula hooping and balloon twisting for the next five years to develop more material in my acts that I perform for gigs in Australia. My main skill set is always juggling though so that will never stop. I still love it even after doing it for over 10 years.
I plan on creating an entertainment company that provides balloon twisting/décor services and circus shows for kids' parties and corporate events. This dream of mine will definitely inspire me to train existing skills as well as develop new ones.
If I could give advice to my younger self, it would be to not worry as much on the future, focus on yourself, believe in yourself more and reach out to friends and mentors who have excelled in the field you also want to pursue.
How do you recover, rest and handle injuries?
I make sure I get at least seven hours of sleep per night. I always stretch a bit before, during and after my training sessions whether that is juggling or unicycling. There are many jugglers I know who have had injuries including RSI or tendonitis. I've never had an injury and I firmly believe it is because I am always cautious on stretching, warming up and having breaks throughout my training sessions.
Whenever I feel quite tired or something doesn't feel right in my arms, I stop. I only continue when the soreness/pain goes away and that may mean to completely stop and try another day. Forcing yourself to over-train is never worth the risk of an injury that may prevent you from training for months or years!
How is your diet and what supplements do you use?
I drink plenty of water throughout the day and I eat fruit daily after lunch or dinner. Most of my meals consist of rice or noodles with vegetables and meat particularly chicken and beef. I don't take supplements. I don't drink coffee. I seldom drink alcohol.
There are the occasional days I have junk food cravings but I try to eat a salad instead of chips. I always make sure I have three solid meals every day including a healthy breakfast (toast and cereal) – it energises me throughout the day whether I am training or working.
What has inspired and motivated you?
Some heroes of mine in the business world include Tony Robbins, Gary Vaynerchuk, Elon Musk and countless YouTubers. Their advice is always gold to me in how I perceive myself, setting goals, dreaming big and acting upon it, in all areas of my life. Then there are of course, friends and mentors locally who I see from time to time which always motivate me when we talk about each other's training progress or business goals.
Advice for other people who want to improve themselves?
---
My best piece of advice for anyone who wants to improve in any aspect of life is to always invest in yourself.
---
Setting goals and keeping track of your progress in a training log are great habits to build to improve in any fitness/exercise-related activities.
My best piece of advice for anyone who wants to improve in any aspect of life is to always invest in yourself. What I mean by that is to constantly research/learn new things by reading books, watching YouTube videos and finding mentors to learn from.
The more work and dedication you put in, the more ideas/skills you get out of, to propel you in whatever path you desire. I have lots of friends who complain about their mundane jobs and tell me that they wish they were able to achieve world records, or have the confidence that I have, to perform in big crowds, etc.
What I have today is not from wishful thinking. It has been years upon years of hard work and never giving up from being a shy little boy shaking every time to give a speech in front of my class to a world-class circus performer who has now gone on nationwide tours and performed in sold-out stadiums and casinos. I believe anyone can improve on themselves – it's all about the mindset. 😉
Are you taking on clients right now?
Yes, I teach circus skills to corporate team building classes for adults, as well as schools PE/after-school-care type of classes for children.
The main skills I teach are juggling and plate spinning and I currently have it advertised through a teaching platform for those who live in Sydney. It is a beginners class so everybody is welcome.
You can also email me at [email protected] for intermediate to advanced or private classes in juggling. I can do Zoom, Skype or Google Hangouts for online classes.
I guarantee for you to see results within an hour from never having tried juggling to grasping the correct techniques in successfully making a few throws and catches.
My goal as an instructor is to correct any bad habits and see my students improve and feel the satisfaction of setting a new PR.
Where can we learn more about you?
You can check me out on my website at kennyjuggling.com to learn more about my work as a performer and instructor. You can watch some cool juggling videos on my Instagram at @kennyjuggling
Feel free to also connect with me on these platforms:
YouTube: kennyjuggling
Facebook: kennyjuggling
LinkedIn: cheungkenny