Interview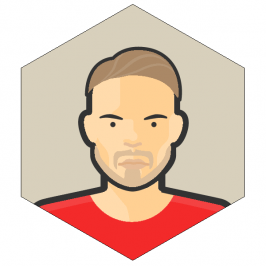 We talked with Connan Murray in May, 2020.
Stats
👋 Hi! Tell us about yourself and your training
Hi my name is Connan Murray, I'm 28 and I'm from Doncaster.
I run my own gym and I am a personal trainer. I spend most of my time either training myself or training other people as it is my job and my passion.
When I am not working, I am usually doing other forms of physical activity like boxing and rugby!
I got into bodybuilding through boxing and rugby. I enjoyed the weightlifting side of preparing for the rugby season and the explosive training on the boxing side of things! I caught the bug and never looked back!
I do a lot of training with my girlfriend who is currently training to be a personal trainer and is helping me run my gym.
⏱ Describe a typical day of training
---
I love doing it once I get going!
---
My typical day of training is pretty regimented.
I never really train in a morning due to clients and not having the energy levels without many meals down! My first training session will be around 3pm where I will do 30 mins of cardio usually running or a boxing circuit.
My second session of the day is around 45 mins around 4:30pm which will be weight training split between chest and triceps or legs, shoulders and back which will be with my partner.
My favourite exercise is the deadlift. It's a great full body exercise and it's very rewarding stacking more weight onto it!
I do 30 mins cardio everyday in the form of running or boxing! I love doing it once I get going!
👊 How do you keep going and push harder?
I always keep myself motivated in a few different ways!
Obviously it's my career and it's important to stay in shape to show my clients it can be done. Would you want your personal trainer to be out of shape? I certainly wouldn't!
I also stay motivated by setting myself things to work towards. Playing rugby and boxing matches keep me training hard!
🏆 How are you doing today and what does the future look like?
---
Opening my own gym has been most challenging.
---
The future is always bright. I have lots of things I would like to do!
Covid 19 has put a halt to a lot of plans but I can't wait to get back to it all! Reopening my gym will be my first priority and getting back to my first clients!
My plan will be to get back into boxing and seeing where that goes. I've been focused so much on business, so it will be nice to put some time back into other hobbies! Opening my own gym has been most challenging. It's no walk in the park!
🤕 How do you recover, rest and handle injuries?
My recovery time is non existent. I never have a rest day, I just train different parts of my body to give them a rest.
I do light cardio everyday, so I never feel I need any rest as long as calories stay high and I keep a good protein ratio in my diet for muscle repair!
Injured tend to be a nightmare and I do try my best to rehabilitate myself and train through injuries the best I can.
Unless broken bones, etc. I will go through the necessary rehab program before getting back on track.
I try to go for seven hours sleep a night, but I sometimes struggle due to my long days of working at the gym and personal training.
🍎 How is your diet and what supplements do you use?
---
I aim to eat around 3000 calories per day to maintain my body!
---
Supplements are relatively limited. I have the standard cod liver oils, vitamins and minerals and a protein supplement mainly for practicality.
My diet is pretty good most of the time. I aim to eat around 3000 calories per day to maintain my body!
If I want to trim up I'll drop my calories and if I'm bulking I will increase based on a neutral 3000 cals for stabilisation.
I love coffee, but I try and limit myself and always make sure I'm drinking plenty of water to stay hydrated.
I don't drink alcohol much at all, but I will schedule time to go out with my friends and I'll plan my calories around junk food and social drinking.
👍 What has inspired and motivated you?
I am inspired by people in general! I love seeing people succeed on a large or small scale! Seeing my friends and family do well motivates me to work hard regardless of differences in career!
I also gain inspiration from professional athletes, seeing their work ethic and tenacity can really get the motivational juices flowing.
Great platforms like Instagram and Facebook where you can see people do some crazy things can also give you the drive to try new things and experiment with your training!
I listen to everything. My music taste is very diverse!
The best advice I've ever received is: It's not how much you lift but how you lift it!
✏️ Advice for other people who want to improve themselves?
---
Don't measure your progress to other people.
---
Advice for people who want to improve is to trust the process! Enjoy it and believe in it.
If you do things the right way and put maximum effort you will improve!
Don't measure your progress to other people. You are on your own journey, focus on that!
Surround yourself with positive, like minded people regardless of it being in the same craft. These people will motivate you and drive you and not to mention you may motivate them!
I think what people do wrong at the gym most of all is try and lift too much weight instead of getting the movements right.. This leads to injuries and not working the target muscles.
🤝 Are you taking on clients right now?
I'm always trying to take on new clients and help them on their fitness journey! Hit me up if you need a coach!
My most asked question is how do you grow your calves muscles like that haha… my reply is that I train every muscle group just as hard, but some people are genetically lucky in terms of muscle development in areas!
📝 Where can we learn more about you?
Follow me on Instagram: @connan1991 or add me on Facebook Connan Murray if you want to know more about me!