Interview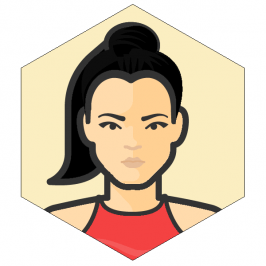 We talked with Juliana Chin in September, 2020.
Stats
Juliana Chins Stats When We Talked with Her 💪

Hi! Tell us about yourself and your training
Hello! My name is Juliana Chin, 27, born and raised in Malaysia with Chinese and Sri Lankan background and I currently reside in New York. I am an interior designer by profession and also a part-time athlete for martial arts competitions like Taekwondo and Boxing.
I have always been a huge enthusiast in sports and martial arts since I could even remember! When I was a kid, I started off with track and field up until college. I was such an active kid, I needed some place where I could channel my energy into. I never had professional training when I was doing track due to certain circumstances so oftentimes, I do my own research to train myself.
Luckily enough, I was given the opportunity to train in Taekwondo at the age of 14, I was knee deep into it. I love training and going through the process of perfecting my techniques so I got myself involved in competitions.
One of my biggest achievements for Taekwondo was representing my state for national competition for a couple of years and also competing in international competitions.
Doing sports also helped me so much in my line work. It helps me to see and think in a different perspective and keep my creativity and inspiration going.
Because of my enthusiasm in Taekwondo, it pushes me out of my comfort zone. I learned to be more self reliant, independent and confident in myself. Because of all that, it challenges me to go out of my way to seek knowledge.
Thus, that brings me to enjoy traveling. I lived and worked in Bangkok, Thailand for two years by myself working as an interior designer in the day and training taekwondo in the evening. I moved to New York after that, where I was scouted for boxing due to my background in Taekwondo.
Describe a typical day of training
---
Discipline and respect is the root of the core for me. I learned that those qualities can bring me very far in life regardless where I am.
---
My training philosophy is that I have to give it my 110% every time I step into the dojang and fitness gym. Do it with full passion, or none at all.
Of course, we all have my good days and bad days but to me both are equally as important as it will teach me how I can learn to handle myself regardless. Discipline and respect is the root of the core for me. I learned that those qualities can bring me very far in life regardless where I am.
Before the COVID-19 hit, I was training almost five to six days a week, two to three hours each session depending on the intensity. In those six days of training, I would spend four days working on my techniques and sparring in the boxing gym and the other two days in the fitness gym to work on my core, stamina and endurance.
I mostly enjoy training by myself because it helps me to focus on the area I needed to work on, plus because of my work, my schedule is always tight and busy too.
If I ever need someone to spar with, I have my coach and my friends in the gym that I could work with. When I'm in my sparring practice, it's usually the men I sparred with because there aren't many ladies in my gym. I feel like that also gave me an edge. Besides, I also sometimes work with kids because it teaches me to work differently.
I don't have a specific program that I follow, I love mixing my training up to keep it interesting but I always start with the basics, like a good warming up stretching session followed by step techniques and ending it with a good cooling down as if it's a religion.
When I am in the fitness gym, I do the same thing too. I mostly do full body workouts but I have to say I would put a little extra focus on my abs and shoulder because I enjoy working on these two areas. What I usually have in my fitness bag is my two pounds "egg-weight", skipping rope, and resistant fitness bands.
How do you keep going and push harder?
As I have mentioned earlier, discipline and respect is the root of the core for me and I stand by that because when my motivation is low, that pushes me out of my house and into the gym and the people in the gym makes me enjoy being there so I would stay for hours in the gym.
As much as I'm always training alone, I'm not alone because we are all working hard together, each to their own reason behind it. I have been training for more than 10 years now, people would have thought that I must have given up on training by now due to my career but for some reason, it just pushes me to want it more.
I love learning and I believe there is always room for improvement even in all the years I've been training. I believe the best hack for improving the gym is always to maintain its cleanliness and make sure it's always good, positive energy.
How are you doing today and what does the future look like?
Right now with the Covid-19, things have been crazy. I've been relocating so my training has been down to the bare minimum. I am not used to it but during this time, it pushes me to do more studying, researching on the best kind of training that better fits for me and setting new goals for myself.
One of the latest fitness trends that I have been seeing on social media is training with a virtual screen like HomeCourt. Although not all the training there fits to my sport, it definitely will keep you going and sweating!
For me, since I'm not so much into bulking, I focus a lot on getting lean and core strengthening and the resistance bands have been a great help for that.
In the next five years, I'm looking forward to getting even stronger for my Taekwondo and boxing competitions because I just love challenging myself. I am much wiser than I was before and I am eager to see where that can bring me and I'm going to do that by staying focused, committed but enjoying and having fun with the process.
Meanwhile for my career, I hope by then I will have my own business. I'd love to tell my younger self to be more patient and believe in my hard work that will path the way.
How do you recover, rest and handle injuries?
The best way to avoid injuries is by spending enough time on the warm-ups and stretching then make sure to do a proper cool down after. But sometimes, injuries and muscle soreness are unavoidable so I would apply either cold or hot compression on it depending on the injuries.
I mostly get six to seven hours of sleep on my usual days but when I'm not busy, I give myself another hour to rest. Training hard is important but getting enough rest for your body to recover each session is equally as important. Ice bath, warm baths are really effective too.
Never neglect taking some time for mental health too. When your mental health is good and stable, it will help in your overall performance.
Traveling certainly does have some effect on my training schedule so I would compensate that by planning ahead and get creative with home body workout.
When I was training intensively, I would go for deep tissue sports massage to release all the tensions and knots in my muscles.
How is your diet and what supplements do you use?
---
My diet usually consists of a balance of protein and carbs. I avoid saturated fats.
---
I don't follow any specific diet but I do watch out for my food intake and proportions depending on my training and workout. My diet usually consists of a balance of protein and carbs. I avoid saturated fats.
When I'm not in camp for my competitions, I would give myself cheat day once a week but when I'm in camp, I would avoid sugar until my fight is over so that I can really treat myself after all the hard work.
Being a Malaysian, every part of us revolves around food so it's hard when we have social gatherings. The food is just too good to resist! But if I know I'll be eating a little extra that day, I would balance that out with my training.
I avoid taking any supplements. For me, I prefer to work it out with natural food ingredients. I also do 36 hours power fast twice a month so that I can clean up my guts as it is really important for my overall health especially during this unprecedented time.
I also refrain from drinking any sports drink. No Gatorade, no Red Bull, none of that. All I need is water and after a long day training, a glass of cold soybean drink.
What has inspired and motivated you?
The drive to be a good martial artist and to have my own Taekwondo training center, dojang is my main motivation to succeed. Being able to teach and pass on the knowledge that has been instilled in me by my Taekwondo master and coaches is a way for me to show my gratitude for the blessing I received in my years of training. It's the circle of life.
I listen to all kinds of things when I'm in the gym depending on my mood. Fighting can be emotional sometimes and I try not to let my emotions get in the way so music really helps to keep on on the line. It helps me to focus and keep my motivation high. But I would say Eminem is one of my favorite artists on my workout playlist.
I follow a lot of fitness trainers and professional athletes on social media mainly because of their attitude towards their sports. How they can stay motivated, deal with injuries, their diet and different ways of training.
Advice for other people who want to improve themselves?
Be patient. Take baby steps and never rush into the process. You can only go so far before it backfired on when you rush into something. Put your 100 into it and trust yourself with it.
Never let your ego get ahead of you and always be open to receive criticism. Be real to yourself if you want to succeed. That's the only way.
One of the things that really annoys me is when people don't come with the appropriate attire such as slippers, jeans and shirts. Some even spend too much time on their phone, hogging onto the machines, slamming weight on the ground and mishandling the equipment. I think that's just a really wrong etiquette to have in the gym.
It's definitely okay to not know how to use the machine because we are all learning but make sure to ask someone who knows before breaking it. We don't use the machine just to ourselves, we share it with others so please always be considerate and respectful in the gym. It can go a long way.
Are you taking on clients right now?
Right now, I'm not taking any clients but just working on myself for this couple of months until I settle back into my normal training schedule. I specialize in sparring and perfecting the techniques.
In my opinion, in order to get a good result and really know how to work on your own later on, it has to be at least a year or two of consistent training depending on your focus.
People often ask me how I am able to adapt into different fighting sports so quickly and be looking like seasoned fighter during sparring even when I've never compete in that particular sport before, and that's because my foundation in Taekwondo is strong and as I've mentioned earlier, it can really go a long way. I speak based on experience. With that being said, that credit goes to my Taekwondo Master John Henry.
Where can we learn more about you?
For more information, you can find me on my Instagram: @julianachin! I am also working on creating a YouTube channel soon for my workouts and training too!