Interview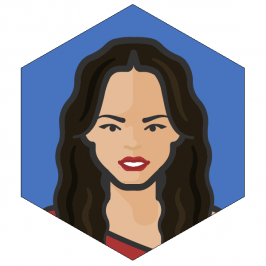 We talked with Magda Xantopol in November, 2019.
Stats
👋 Hi! Tell us about yourself and your training
Hi, folks. My name is Magda Xantopol and I am a Romanian born Australian living in Brisbane, Australia.
I have been into fitness and health all my life and started training professionally in 2014, when I became a Personal Trainer, Gym Instructor, Kangoo Jumps Mentor and Trainer (allowing me to organise workshops to teach KJ instructors and license them too).
I am also the official Kangoo Jumps Distributor in all Australia!
I love body weight exercise where I can be creative with compound (multi joint) exercise that you haven't thought possible, challenging the whole body and engaging muscles you didn't think you had, all while having lots of fun.
My PB was Bridge2Brisbane race in 2015 where I came 2nd out of 410 female racers in my age category (40 to 44 year old).
⏱ Describe a typical day of training
---
Keep it smart and keep it going.
---
At the moment I do two to four 10k runs a week and strength training, on top of training with my clients on a daily basis and running regular Kangoo Jumps Group Fitness Classes through Mix Fit.
My training philosophy is 'use it or lose it' which means you don't have to go extreme but wise, efficient, and consistent.
Never give up. Keep your fitness at a healthy functional level that sees you able to enjoy your daily activities, look sexy and confident, having a good posture and a toned body.
Unless you want to train for a different performance specific goal which is acceptable too, then looking into a different approach and exercise regime might obviously be an idea.
My balanced workout consists of cardiovascular training, strength, and stretching for an overall harmonious and healthy body and mind.
Average exercise session is 1.5 hour including warm-up and cool-down. No excesses. Stay away from injuries. No skipping sessions, either. Keep it smart and keep it going.
My motto is 'Live wiser, train smarter, eat healthier – with Mix Fit Kangoo Club Australia!'.
My favourite cardio exercise is Kangoo Jumps 'have fun getting fit'. A very intriguing and exciting interval training that can see you exert at higher and higher intensity based on your own previously acquired fitness level, allowing endorphin release in your body for a feel good post workout mood.
Great low-impact exercise on the joints and lower spine, recommended for improving balance and obviously for your overall cardiovascular fitness. Heaps of fun at every age! Priceless!
👊 How do you keep going and push harder?
After years of fitness routine I got to the point where if I am not exercising for a couple of days, being busy with my office work, I feel a strong need to move. This is probably the endorphin release in the body post workout that pushes me outdoors for a training session.
I prefer outdoors training as it provides minimal equipment needed plus fresh air when oxygen producing vegetation is around.
I do appreciate gym equipment workout as well, but that comes second in my preference list.
🏆 How are you doing today and what does the future look like?
Today I am working 9 to 5 as Financial Controller and exercise after hours and on weekends, as this is when most clients are available.
I do one on one Personal Training and Kangoo Jumps Group Fitness Classes, with the perspective of opening my fitness studio in the coming year and switching completely to training for fitness and health, as well as providing nutrition advice, plus a few other exciting surprise elements that you will get to know shortly.
A sneak peek – brain gym. So keep an eye on this space. It will be the ultimate fitness experience in Australia.
🤕 How do you recover, rest and handle injuries?
Well, that is an interesting question as my training routine and programming is specifically client-tailored to avoid injuries and let time to recover in between training sessions, according to each individual's fitness level, any medical condition, rest, hydration, age and overall lifestyle.
So I'd rather prevent injuries than having to handle them.
🍎 How is your diet and what supplements do you use?
---
My supplements are mostly and exclusively fresh plant based produce.
---
5 years ago I have been diagnosed as Coeliac, that same moment I went Gluten Free for my health's sake, becoming also plant based – vegan – the next year.
Haven't felt any better, healthier and younger since. My body thrives in this 'environment', so in my gym bag you will always find, apart from the compulsory water bottle and towel, some nuts & seeds, some fresh fruit – apple, banana, berries, and suitable vegetables; plus my iPod for music or ebook listening while running.
My supplements are mostly and exclusively fresh plant based produce.
👍 What has inspired and motivated you?
I have always been passionate about neuroscience.
Early in 2015 I discovered Neuroscience Seminar series at Queensland Brain Institute at The UQ St Lucia campus. Couldn't be happier and started attending every Wednesday from 11am to 12pm one hour seminars for over 4 years now.
I have learned so much about the body and brain in the perspective of the overall healthy body and mind approach when training my clients and myself.
✏️ Advice for other people who want to improve themselves?
---
It is you that can make it happen!
---
Just get started. This way you are half way there.
It has never been a better time than now. And with the right professional guidance you can't go wrong.
It is about moderation, not excesses. It is about safety and good health. It is about good nutritious foods, not starvation. It is about great looks that can be obtained once you follow these basic steps above.
You can do it! It is within yourself. It is you that can make it happen! Get started now!
🤝 Are you taking on clients right now?
Yes, definitely! I am available for one on one tailored on specific needs Personal Training sessions (specialised in weight loss, core strengthening, older adults training, as well as pre and post natal training, running coach, and Kangoo Jumps Group Fitness Mentor & Trainer).
Clients can book a session, a pre-exercise assessment consultation to discuss personal goals and individual needs for training, or join my group classes here or call my mobile 0411 032 347 (Australia).
Like I said before, it was never a better time to start than now!
📝 Where can we learn more about you?
Website: mix-fit.net.au
E-commerce: shop.mix-fit.net.au
Facebook – Mix Fit Kangoo Club Australia: @MixFitKangooClubAustralia
Facebook – Personal Trainer Magda Xantopol: @PersonalTrainerMagdaXantopol
Instagram: @mixfitkangooclubaustralia