Interview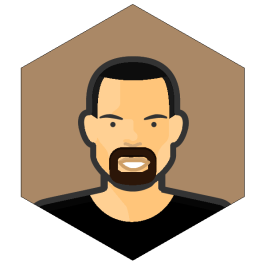 We talked with Fábio Broco in January, 2020.
Stats
👋 Hi! Tell us about yourself and your training
Hi, there! I'm Fábio Broco, 35 years old, from Rio de Janeiro, Brazil. I'm a lawyer and my story behind fitness is widely connected to my profession.
In order to be a lawyer in Brazil, you have to go to college for at least 5 years and then take a very difficult test in order to get your license. No need to say it's very stressful and time-consuming.
As I've always been dedicated to my career, I didn't use to have much time left to do any kind of physical activity. I used to go to the gym, but it was not my priority so I had no results.
One day, in 2015, I suffered an accident of shoulder dislocation when I was training at the gym. So, I had a very bad shoulder injury that made me stop any kind of activity. My anxiety got a lot worse and I put on almost 60kg in 2 years.
In 2017, I decided to change the course of my life and started doing CrossFit.
First, I thought I would not keep on doing the classes because it was very hard. But it was hard because I was way too fat. Any activity would be hard for me at that time. So, I kept on going and fell in love with it.
The feeling of being part of a great family makes CrossFit so unique. The community encourages everyone. No one is left behind!
Ever since I started CrossFit I've lost 40kg and became a reference in the sport in Brazil even though I'm not an Athlete.
As a hobby, I run an Instagram @fabiobroco where I share my experience and encourage those who want to change their lives but think it's impossible to do so.
Nowadays I have amazing sponsors who believe my message is really important and share the same philosophy! So, they help me get my message across.
My sponsors are: Hopper Nutrition (health and nutrition-related products such as supplements), Burpee Brasil (clothing brand), Ultrawod (Equipment) and Casal Wod (clothing brand).
⏱ Describe a typical day of training
I train 6 times a week at Black Jungle CrossFit in Rio das Ostras. I train there because I love their philosophy and I feel very welcome there.
I have a trainer, Thiago Machado, who currently lives in Ireland and programs for me. He knows the way I am and knows what needs to be done in order for me to progress daily. I train alone.
My training sessions take up to 2 hours daily. I do lots of conditioning and strength exercises. I work out with a lot of weights.
All the cardio I've been doing helped me lose weight.
I start my session by warming up and doing some mobility activities. After that, I follow the plan and work on my weaknesses(mostly gymnastics).
I love barbell cycling workouts. My favorite benchmark is Grace- 30 cleans and jerks for time.
👊 How do you keep going and push harder?
---
TAKE YOUR TIME! Start from the elements and practice the simple things.
---
One thing I learned is that we can't rely on motivation because one day it is there and the other it isn't. So, I simply put my game mask on and go do the work.
I know that I'm not where I'd like to be right now, but when I look back I see how far I've walked. So, I keep that in mind and never give up. But one thing that certainly helps is to do something we really like. We need to have pleasure in what we do.
If I am to give a piece of advice for those who want to start any kind of physical activity, I will say: TAKE YOUR TIME! Start from the elements and practice the simple things. Nobody lifts a lot of weight skipping the basics.
🏆 How are you doing today and what does the future look like?
Right now I've been doing lots of Metcons so I can get better cardio in order to compete in local CrossFit competitions.
5 years from now, I want to be a Master Athlete in CrossFit which is for those who are 35+ years-old (the only requirement is the minimum age). What I plan is to perform better, so I can start competing in this division of Brazil, but I also want to have another law firm in a different state.
🤕 How do you recover, rest and handle injuries?
In order to avoid injuries and setbacks, I do a lot of mobility activities as well as I go to a physiotherapist every week as prevention. I also warm up really well before my workout session.
Since my accident in 2015 I haven't had any injury. I also try to sleep for at least 8 hours a day.
In addition I take some recovery supplements by Hopper Nutrition: 21-15-9 and AFAP right after the workouts. These are the fast recoveries that certainly help me to recover.
🍎 How is your diet and what supplements do you use?
I don't say that I diet. I say that I learned how to eat right.
I do have a nutritionist, but ever since I learned how to balance things I took control over my eating habits and lost this massive amount of weight I mentioned before. What I basically do is count my macros.
If I'm going to have a very exhausting and long session of training I try to eat a little bit more of carbs so I can have enough energy to do such kind of activity.
I also take my favorite pre-workout by Hopper Nutrition Murph. It really gives me the right amount of energy to face the training session.
A good thing is that I don't like drinking alcohol in general. I also don't drink coffee/tea or anything like that. I pretty much drink water and juice.
As a human being I like having a social life so I don't mind if I have to go to a birthday party and eat whatever I want to- these days are my cheat meal days. But as I keep my diet clean most of the time, I seldom have them.
👍 What has inspired and motivated you?
I am totally inspired by a bunch of people who show it's possible to get where we want to as long as we stick to the plan.
To name a few: Lari Cunha, Guilherme Malheiros, Caro Hobo, Vivi Aiello, Karime Ferrari, Anderon Primo, Ben Bergeron, Giselle Santos and Coelho.
A book that I really recommend is "Chasing Excellence" by Ben Bergeron. It really helped me see that excuses are not gonna take me anywhere, hard work will
✏️ Advice for other people who want to improve themselves?
---
TRUST THE PROCESS! Everything has the right time to happen.
---
My piece of advice for those who want to improve is: TRUST THE PROCESS! Everything has the right time to happen. There's no way of improvement if you skip the stages.
Start from the elements and build a very strong foundation so in the future you can really take advantage of every single thing.
Focus on your weaknesses! They are the point you should be targeting.
🤝 Are you taking on clients right now?
I'm not a coach or personal trainer, so I don't take clients, but I do encourage people every day!
📝 Where can we learn more about you?
You can find me on Instagram @fabiobroco and YouTube Fábio Broco