Interview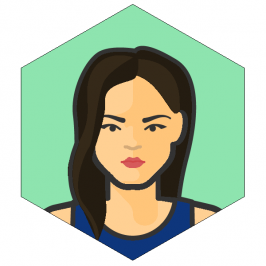 We talked with Anna Zucker in April, 2020.
Stats
Anna Zuckers Stats When We Talked with Her 💪

👋 Hi! Tell us about yourself and your training
Hi! My name is Anna Zucker, I'm 30 and I live in Brooklyn, New York City.
Before the pandemic put everything on pause, I was a full time personal trainer at Equinox, as well as a yoga teacher. Now I'm training some clients virtually, just completed my Precision Nutrition certification and am still seeing my trainer virtually and training myself.
Growing up, I played soccer, basketball, and danced. Later in life, I gained a lot of weight, and in 2016 I started a weight loss journey, with the help of a personal trainer.
After losing weight, I fell in love with exercise and training as I continued to get stronger and explored other kinds of movement, like yoga. Over the next few years I got my yoga teacher certification and started teaching part time, and later fully changed careers, wanting a completely active lifestyle, and I became a certified Personal Trainer and started working at Equinox in 2018.
In my 2 years at Equinox, I attended ongoing education courses to understand the science of anatomy, kinesiology, biomechanics, fitness and the art of coaching, the principles of sales.
I got to connect with fascinating people, and trained many different types of clients, helped them achieve incredible things, like getting out of pain, moving better, getting stronger, becoming more comfortable and confident in their skin, and making seemingly inconsequential small choices every day that add up to long-term, sustainable lifestyle changes.
A highlight of my time at Equinox was training a former professional soccer player who was going to be on American Ninja Warrior. Training athletes is something I'd love to learn more about and hope to do more of in the future.
What I love most about fitness is the exhilaration of physically feeling and seeing your body achieve whatever you want it to. How the value of discipline and focus is tangibly evident. That it makes you healthy physically, mentally, and spiritually.
⏱ Describe a typical day of training
I'm currently learning with my trainer and following the program he wrote for me. I started seeing him after an injury caused by my hypermobility, and he began teaching me how to build and irradiate tension throughout my body, how to engage my muscles, to strengthen and control my active ranges of motion.
My program is based on learning fundamental movement patterns (squat, hinge, deadlift, lunge, plank, push up, pull up) using tension in each position, moving slowly. Prior to my injury I was lifting heavy, but I've returned to the basics to build a strong foundation without hyperextending my joints and it's already paid off a lot.
I train by myself, especially now, alone in my room. I ordered a kettlebell and a pull up bar so I have everything I need! I like to train 5 days a week, 1-3 hours per session, depending on my energy. I also see my trainer separately for sessions during the week, virtually.
I used to do cardio at the gym, but I can't say I miss the stairclimber. Now I've started dancing around my room for 25-30 minutes to adapt to the new situation, just moving, getting my heart rate up and feeling good. This is separate from my training.
I also start each day doing CARs for each joint – from FRC – highly recommended.
My favorite exercise is a handstand, but I've only just started working on it again.
👊 How do you keep going and push harder?
---
It's never a question of motivation for me, it's simply a part of my life
---
I never give up. Why would I? As long as I'm not injured, I'm going to keep going and push harder.
Training is euphoric, when done correctly, it makes me feel amazing, it's the best part of the day, a highlight of being alive.
It's never a question of motivation for me, it's simply a part of my life, so I'll always have time for it, no matter what, even if it's 11 at night after a long day or 4 in the morning.
🏆 How are you doing today and what does the future look like?
Right now, my training has been better than ever. Being quarantined and practicing alone in my room where no one can see me has given me a new level of focus. I'm feeling strength improvements every day, and seeing my body change as it becomes leaner and more muscular.
My number one fitness goal is to keep getting stronger without getting reinjured or being in pain, and right now that's going well, so I'm happy, and it's something I want to continue. As long as I train intelligently and consistently, I'll be able to stay strong and pain-free.
Of course, I have other aesthetic goals. I will probably always think I could be leaner, more muscular, more toned. For me it's not productive, healthy or even necessary to focus on that as my top priority. I've found shifting my focus to what I can do and achieve with my body creates a more positive mindset and even better, yet slower, results.
This is something I learned from my colleague, friend and second trainer Helena. She helped me both change my mindset and lift incredibly heavy weights. It was such a happy experience, I had never felt so strong and excited.
🤕 How do you recover, rest and handle injuries?
I've had a few different injuries, and they were all caused by my hypermobile joints taking on too much stress, with my surrounding muscles not firing or engaging at all. The number one way to avoid injuries is to learn how to actually use your muscles, build strength in all ranges of motion, move slowly and don't progress too quickly. There's no rush.
Recovery and rest are also important to prevent injury. I like to have 2 rest days per week. I get a minimum of 8 hours of sleep every night, sleep is very important to me and I can feel the difference everywhere when I'm lacking in sleep.
🍎 How is your diet and what supplements do you use?
I eat pretty healthily, but I don't follow any specific diet or count calories. I eat mostly whole foods, lean protein, vegetables, fruits, grains, carbs, etc. I don't really eat processed food and not much dairy.
I try to eat my biggest meals around when I train so I efficiently burn energy and recover and repair my muscles afterwards. I drink black coffee every morning and try to get 100 ounces of water a day. I love sweets and I'll eat them occasionally.
I don't really have a "cheat day" but if I want something more "cheat" like once in a while then I will. But mostly I prefer to eat in a way that makes my body physically feel good.
👍 What has inspired and motivated you?
My current trainer Steven inspires me to be strong, controlled, focused, patient and as zen-like as he is. I met him in a group fitness class, as he was also a yoga teacher, and seeing how he combines the meditative, mindful aspect of yoga with the principles of tough and consistent training is exactly the style that works for me.
I was also inspired and motivated by my various teachers, colleagues, clients, and managers during my journey through Equinox. Having so many different types of trainers to learn from was definitely a highlight. My most recent manager Lisa also inspired me to be a badass boss lady of fitness, and showed how to lead a team firmly yet with kindness, and how to build my business with confidence and compassion.
Overall, my own fitness journeys inspire me most. The first one, weight loss, was a journey of sheer will and determination. It's what made everything that came after that possible. I know if I could physically achieve that, I could do anything. I think everyone should look at themselves, their own journeys and what they've been through, and draw strength and inspiration from their own lives.
✏️ Advice for other people who want to improve themselves?
Ask for help! My journey started because I didn't know how to achieve my fitness goal at the time (weight loss) by myself, and I was lucky to get a trainer that helped me. From there it was my surprise that I ended up loving training and later made it my life.
I'll always be grateful for my first trainer and current friend, Angel. It certainly wasn't easy to come into a commercial gym in Manhattan being overweight, anxious, with zero knowledge or confidence in what I was supposed to be doing there. Even though he looked intimidating, he was always kind to me, nonjudgmental, and relentlessly enthusiastic.
He shared stories with me about things he'd overcome in his life that I couldn't even imagine and never stopped pushing or inspiring me to keep going and live a life I could be proud of. I know I internalized and memorized this experience forever, and I integrated these qualities into my career as a trainer and used them to help my clients to change their lives.
It doesn't have to be the same for you, but it goes to show the value of having a trainer, a teacher. Someone to guide, educate and inspire you and help you understand your body. I love having a trainer now even more that I am one myself. It reminds me of why I started this, and why now I also get to help and inspire other people on their own journeys.
🤝 Are you taking on clients right now?
---
Training is about more than learning to exercise. It's training to be strong and fit for life.
---
Yes. With the current situation, I'm doing all virtual training. One on one and small groups. The personalized attention can be valuable for anyone, no matter what your goal is.
If it is a lifestyle change you're after, you will need more coaching on other aspects of your life, and that's one avenue I've always enjoyed and excelled at as a trainer. I've seen numerous clients lose weight, leave relationships, leave jobs, start over.
Training is about more than learning to exercise. It's training to be strong and fit for life.
📝 Where can we learn more about you?
You can see me on Instagram @annavinyasa and reach me by DM or email [email protected] for 1-on-1, small group training, and whole lifestyle coaching inquiries.