Interview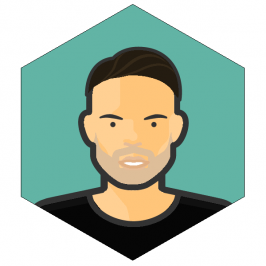 We talked with Alessandro Giovanniello in March, 2020.
Stats
👋 Hi! Tell us about yourself and your training
Hi. My name is Alessandro Giovanniello, I am 26 years old. I'm an Italian. Born and raised in Siena, son of restaurateurs, and for seven years in Florence. I have been passionate about fitness since I was a teenager, which is why it has now become the my job.
I always believed and then found that physical activity is the medium, which a person can feel better about himself and consequently be less self-conscious and shy in the relationship with other people.
⏱ Describe a typical day of training
---
I generally train by dividing the push and pull exercises.
---
I try to train as much as possible, being a personal trainer on the days when I have a lot of appointments I can't make time for myself.
I generally train by dividing the push and pull exercises. It thus becomes a full body workout that gives me a lot of satisfaction in terms of muscle growth.
If the structure is well done I think it is one of the best training for growth muscle if you don't have much time.
I love working in traction, so everything related to pull ups, rowing machine with dumbbell, lat machine, etc. I always try to start with a strength exercise and then gradually play on series and repetitions.
I'm working in Virgin Active. They allow us to obtain certifications that make us more and more competent in the fitness field.
👊 How do you keep going and push harder?
If you ask me why I always try to improve myself, my answer is that nobody should ever be satisfied, never be satisfied, never feel arrived.
This motto is like a mantra for me, which is why, even if sometimes I am tired and I don't want to train because I would prefer to go home, I remember what I said, so I change my negative thinking into positive petrol.
🏆 How are you doing today and what does the future look like?
On a physical level, I feel good, but just look on Instagram and you realize that around you there are people who are one or two steps ahead.
I guess, to improve we must not feel like reference points, but we must take the best from those people in whom we could recognize ourselves.
This applies to me in my physical and professional training.
If I could find fault with my path but I think it's everyone's problem, it's that in bodybuilding you never know enough.
🤕 How do you recover, rest and handle injuries?
Until September I played football here in Italy in a semi-professional category, I broke the posterior cruciate ligament and I cured myself through the harp wave system, which I believe is the best method to recover and implement performance.
I'm not a big traveler, I'm young it's true I should think about having fun, but I like my job. If I take a break I only do it in the summer. I pull the plug 15 days, but I don't give up training wherever I am.
🍎 How is your diet and what supplements do you use?
For my diet, I follow the zone diet (40-30-30). Being a subject that I tend to quickly accumulate fat when I eat a lot of carbohydrates, I found refuge in this very valid diet. Even if it doesn't, I use food supplements like whey protein, glutamine, creatine because they help recovery after workouts.
I try to drink at least 2/3 liters of water per day.
When I go out to dinner with friends or there are parties, people know about my job, I try not to make them weigh my perennial diet life and I eat everything (then I feel guilty towards myself) and they are happy.
👍 What has inspired and motivated you?
---
I love the Gilles Cometti method, which assembles different contraction regimes in a single series.
---
I would like to become an icon in fitness in Italy as Giorgio Merlino (personal trainer of Chiara Ferragni and Fedez) and Paolo Zotta (personal trainer of Elodie, Diletta leotta, Tommaso paradiso, etc.) have become a name that immediately leads back to public figures. It would not be bad.
As for my training, I love the Gilles Cometti method, which assembles different contraction regimes in a single series.
when I train I don't have a favorite musical genre, I listen to everything I want.
✏️ Advice for other people who want to improve themselves?
For those people who want to be autonomous, I do not recommend watching videos on YouTube, rather than turning to a profession to be followed remotely.
🤝 Are you taking on clients right now?
In Italy right now Instagram is a nice business card. From this platform I hire physical and virtual clients for the service I offer online coaching.
People when they hire us don't know who we are or have been informed by other people or have looked at our proven channels.
I believe that it accounts for a lot of 15 seconds that flow from the handshake, which I explain better: In 15 seconds, we need to make people understand who we are facing, who we are, and who are very important, first and foremost, the appearance, they buy the PERSON subsequently buy our competences.
To have a good look, to ask people and to make them comfortable are three factors that make a difference between the choice of a personal person or another.
📝 Where can we learn more about you?
You can find me on Instagram: @personal_g or on Facebook: Alessandro Giovanniello