Interview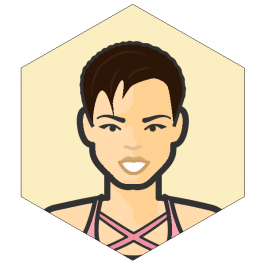 We talked with Teresa Cesario in April, 2020.
Stats
Teresa Cesarios Stats When We Talked with Her 💪

👋 Hi! Tell us about yourself and your training
Hi. I'm Teresa Cesario and I am a passionate Italian pixie. I'm 32 and married to a man who looks like Thor. A resident of South Beach in Miami FL, I was born and raised a corn-fed Midwestern girl with a beautiful family.
My initial draw to fitness came through mental health and spirituality. I spent my early 20's exploring meditation, nutrition and mystical consciousness.
While at an ashram in Snowmass, Colorado a Monk said to me "If you eat something that's alive, you're going to feel alive – If you eat something that's dead you're going to feel dead."
From that point on, I began a plant-based diet, which in my 20's included lots of quesadillas and veggie pizzas.
I knew something needed to change, I turned to the Institute for integrative nutrition where I studied and became a Holistic Health Coach.
After receiving my coaching certificate, I became a yoga teacher thru Zen Yoga Garage in Chicago.
My passion for yoga comes primarily with the realization that the endorphins released during that physical activity afforded me the ability to come off of my anti-depressant medication.
Shortly after becoming a yoga teacher, I moved to Miami with my husband and with his support I went cold turkey off of all non-holistic medications and have been all-natural for the past nine years.
I didn't begin any focused-fitness routine until I moved to Miami. If I'm being honest most of that motivation came from the fact that the aesthetic inflation in Miami was mind-boggling in comparison to Chicago.
I began HIIT training and strength training with two private trainers as well as balancing the bulk with flexibility raining at Modo Yoga Miami Beach.
When I am not training, I work in the world of song and spirits, I'm a brand manager with a Major Vodka brand and fully support a well-balanced recreational lifestyle with a life for wellness.
I also have my own Vlog on IGTV called Martinis and Musicals with Doctor Bruce Carter.
⏱ Describe a typical day of training
---
Having a workout partner keeps you accountable and motivated.
---
Fitness is vital to happiness and mental well-being. For me is never a choice "not to". Workout is a necessity.
I am 5'7", 115 lbs and have less than 12% body fat. I believe my pescatarian diet, as well as the protein supplements I use support this healthy weight.
I use LYFE collagen Pprotein developed by Dr. Ivan Rusilko and my trainer Ana Vaughn Becker.
Monday, Wednesday, and Friday, I do focused body training with Alfred Lloyd at SHIFT Training rotating muscle groups with a private trainer and my bestie Bruce.
Having a workout partner keeps you accountable and motivated. Seeing Bruce makes me ridiculously happy, almost like kids rejoining during recess – our workouts are tough but they feel like playtime.
Find a fitness partner who keeps you motivated and honest.
I'm in the yoga studio seven days a week at Modo Yoga Garage – the heated space allows me to keep my flexibility while still holding my strength.
With the current "Locked-In" Climate I've turned to online training. I use my trainer Ana Vaughn Becker's online program Anatome Academy.
Her program is comprehensive and great if you have little to no equipment.
👊 How do you keep going and push harder?
---
A way I stay motivated is by sharing my fitness trial and tribulations with my friends.
---
My biggest challenge is having to overcome body dysmorphia – With a society that keeps showing you what "Perfect" looks like it's hard when you don't quite fit that mold.
As of now, I'm happier with my body than I ever have been.
A way I stay motivated is by sharing my fitness trial and tribulations with my friends. I post daily #sweatchecks and challenge my community to participate in physical contests so we all keep growing and strengthening together.
I also keep a digital journal with "check ins" on the CALM app. This allows me to see how I felt on every given day and can backtrack and see what kind of meals/workouts I had on good and bad days.
I then adjust so my eating and fitness support the happy days over the latter.
🏆 How are you doing today and what does the future look like?
Right now, I think we're all dealing with the transitional energy from the COVID-19 pandemic. Having to adjust how we workout will be a real challenge.
Will gyms close? Will there be mandatory gloves for public gyms? Will yoga studios limit the number of students even more?
The future is unclear but I do believe this is a big opportunity for digital content creators in the fitness space.
I don't have plans particularly as I am taking each day one at a time.
🤕 How do you recover, rest and handle injuries?
Thank goodness that I have never had serious injuries. Yoga helps to keep my muscles from tearing or spraining. I also work with a Body Work specialist for bi-weekly massages focusing on the areas that I have been training that week.
🍎 How is your diet and what supplements do you use?
My diet is pescatarian and I try to eat seasonally (i.e. fruits and veggies that are in season to the FL climate).
I take vitamin C, probiotics, Tart Cherry Extract, Iron, Wellness Pills (Whole Foods) and ginkgo as supplements to support immunity.
L-Glutamine has been my saving grace as a supplement, I take two scoops of the Lifetime fitness powder with my morning shakes.
As I mentioned, I work in the liquor industry so I do go out cocktailing on a weekly basis. I try to sip straight martinis without added sugars and I prefer Absolut Elyx.
👍 What has inspired and motivated you?
My father is 60 and looks like he's 40. His dedication to physical health has been a lifelong mission of his.
He has always been a constant source of fitness and spiritual motivation.
My mother always worked and took care of us as kids. Now in her 60's as well she has carved out time in her life to be in the best shape she can. When she got married she weighed 120 lbs. I got married in 2018 and wore her dress… she could still fit in it.
Dr Ivan Rusilko and Ana Becker both inspire me to be a pinnacle of health – please follow their Instagram accounts @drivanrusilko and @annavaughnbecker.
✏️ Advice for other people who want to improve themselves?
---
Fitness is a gift to yourself that you should receive daily.
---
Always go – even when it's slow. Make yourself do something physical EVERYDAY NO MATTER WHAT.
Fitness is a gift to yourself that you should receive daily. I use the App "Calm" for their daily 10 min morning meditations as well as their masterclasses at night.
Meditation is very personal. My advice to beginning meditators would be to be easy on yourself and follow guided practices still you feel like you can plug in to your subconscious alone.
🤝 Are you taking on clients right now?
Meditation clients only as I don't have time with my job to teach yoga and with all studios being closed, I have no interest in teaching digital classes.
📝 Where can we learn more about you?
Visit my website teresacesario.com and please follow me on Instagram @teresaCesario.