Interview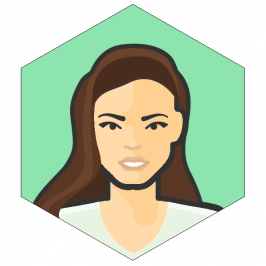 We talked with Sydney Brown in January, 2020.
Stats
Sydney Browns Stats When We Talked with Her 💪

👋 Hi! Tell us about yourself and your training
My name is Sydney and I am 28 years old from a small town Greensville, Ontario, Canada.
I started gymnastics when I was 1 and a half years old and it has been a huge part of my life. I trained 25 hours a week and competed in artistic gymnastics.
I switched to power tumbling when I was 15 years old and competed nationally and internationally.
After high school I submitted my demo video to Royal Caribbean and left for my first contract onboard with Oasis of the Seas.
10 years later I have performed around the world with Franco Dragone, Cirque Du Soleil and I just finished my 7th contract with Royal Caribbean at the end of 2019.
I am very grateful to be doing what I love and getting to explore the world.
I am currently sponsored by Gymshark and Women's Best. They both approached me to join in social media campaigns. I get to create unique videos for their platforms and I love it!
⏱ Describe a typical day of training
When I was competing in gymnastics, I was training 25 hours a week.
Now my training varies depending on if I'm on or off-contract. When I am working, I perform in 9-10 shows per week which keeps me in shape. During our warm-ups on the ship, I do a lot of handstand training and conditioning.
I would sometimes go to a spin class on our break in between shows or do laps of the jogging track.
We have a big fitness center onboard that is accessible as well.
When I am off contract, I find it harder to stay motivated and the gym is less accessible.
I wear an apple watch and I like to track my steps and workouts. It's amazing to see the difference in step counts when I am on a contract and traveling vs. when I am home.
When I am on the ship and docked in port I can easily get in 20,000 steps by midday. When I am home I find it hard to get 5,000 steps in! It just makes me so much more aware and a reminder to get up and move!
My training varies depending on if I am in a gymnastics gym vs. a fitness gym.
I love to tumble, try new skills and do conditioning such as standing back tucks and press to handstands.
A fitness gym still feels a bit foreign to me because I have grown up in a gymnastics environment. I think I should make it a 2020 goal to go in with more knowledge and confidence!
👊 How do you keep going and push harder?
---
Nothing motivates me more than knowing I have to stand on stage in a swimsuit in front of thousands of people!
---
I think because I started gymnastics when I was so young, so it is normal for me to train. It is still fun for me to walk into a gym and throw my body around and try new skills.
I think the biggest challenge I have faced was going from having a coach my whole life keeping me disciplined to now being on my own and finding that motivation when I don't feel like working out.
However, when I am on the ship I perform in an aqua show and nothing motivates me more than knowing I have to stand on stage in a swimsuit in front of thousands of people!
🏆 How are you doing today and what does the future look like?
I am off contract right now. Currently, I am visiting friends in South Florida and escaping the Canadian winter.
I am still unsure of what will be next for me. I'm thinking of doing some more traveling and then studying firefighting in a couple of months! It will be a complete change for me but I like that it is something hands-on and different every day.
I have lived a fast-paced lifestyle and I don't know if I can happily work in an office 9:00-5:00. I thrive off excitement!
I have been going to a fitness gym here in Miami. I have joined a pilates club and have done some occasional rock climbing.
My goal for the next 5 years is to get more toned in certain areas. On the ship, I find it so easy to stay in shape and look the way I want.
I need to create a consistent routine with eating and working out while off-contract. I tend to let myself get lazy and complacent when I am on land and I need to sort that out soon because it looks like I am transitioning to land life!
In the next 5 years, I would love to have a job I am passionate about and happy about. A stable home instead of living out of a suitcase. I do want a family one day but I have not put a timeframe on that yet.
If I could start over in my fitness journey I think I would have told my teenage self to be more disciplined when I was injured with my knee. I tore my ACL, MCL, and meniscus when I was 14 years old and was out for a year to recover.
I still ate like a gymnast and went from training 25 hours a week to nothing for the first couple of months. I went into practice to condition but it wasn't enough. I gained weight and it took me years to get rid of it because of my lack of discipline.
🤕 How do you recover, rest and handle injuries?
Unfortunately in the sport of gymnastics and in the performing world, injuries are quite common.
When I was 14 years old I tore my ACL, MCL, and meniscus while doing a bar dismount. I had to take a year off to allow my body to accept my new ACL. I was still going to practice and conditioning during this time.
When I was 18 I re-tore my MCL and meniscus. Luckily that has been it for me for big injuries.
My body is my job. Being injured while on a contract is a bit different than when I grew up training.
Now I am being paid to do a job. We are allowed to modify our skills to a certain extent to give our bodies a rest. If it's a big injury you will get sent home and someone will come to replace you.
Luckily I have never had to be sent home but I can't imagine it feels very good. When someone is injured in the cast it is their responsibility to take care of themselves. The best they can is doing physio, eating healthy, modify workouts, etc.
I try and get 8 hours of sleep. I'm not too strict with it. When I was working on cruise ships I had to be flexible with schedules.
If you're needed somewhere, it's not accepted that you're out of town or stuck in traffic. You have to be ready for anything!
We have access to an amazing fitness center, steam rooms, and hot tubs all onboard for recovery.
🍎 How is your diet and what supplements do you use?
I don't follow a specific diet. I do my best to eat healthily and I actually enjoy healthy foods.
I like a cheat meal every now and then. My go-to snack is popcorn or veggies with hummus. My favorite cheat meal is pizza and ice cream is my weakness.
I love making big salads with my favorite veggies, berries, grapes, and mashed up avocado with balsamic and oil.
I don't take any supplements. I don't use pre-workout or drink protein shakes. I also don't drink tea or coffee. I sound so boring. 🙂
For the last 5 years, I have stuck to chicken, turkey, and fish for my main source of protein. I like wine and the occasional cocktails when I am out with friends.
👍 What has inspired and motivated you?
Honestly social media really inspires me. It inspires me to travel, stay in shape and create fitness goals for myself.
I love seeing different skills and acrobatic poses online and then trying to recreate them with my own twist.
The Olympics are really inspiring to me as well! I can't wait to watch all the athletes compete. To me, it's the highest you can go in a sport.
✏️ Advice for other people who want to improve themselves?
---
A coach wouldn't tell you to try something that you are not ready for.
---
When it comes to gymnastics fear is a very big part of it.
I always told myself growing up that if my coach thinks I can do it, then I can. A coach wouldn't tell you to try something that you are not ready for.
As for overall fitness and body confidence, diet really matters. Allow yourself the odd cheat meal but try and stay consistent with eating healthy and your body will get used to it. The cravings do fade away!
Make healthy food that you actually enjoy! I think a lot of people expect results within 2 weeks and that is not always the case.
Give yourself 3 months of healthy eating and exercise a couple of days a week and you and others around you will notice a difference.
🤝 Are you taking on clients right now?
I do not take clients. I have a lot of followers asking me how to execute certain skills and how to hold a handstand. I usually ask the person for a video of them attempting the skill so I can give them my feedback and corrections.
I have a lot of handstand tips as well!
📝 Where can we learn more about you?
You can follow me on social media. My instagram and TikTok is @sydneybrown_xo.
I do have blog. It's new! www.thesaltypassport.com or feel free to shoot me an email and say hi! [email protected]