Interview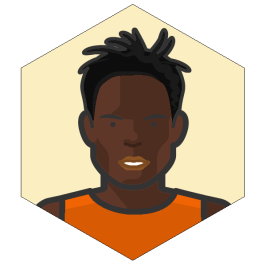 We talked with Okurut George in May, 2020.
Stats
👋 Hi! Tell us about yourself and your training
My name is Okurut George, and I'm 26 years old. I'm from Uganda, Africa and I do live in Kitgum District, which is in Northern Uganda. I have relocated to the city called Kampala Capital City, I am single and I don't have children yet.
I don't have a job but I am a freelance yoga and acro yoga instructor, a photographer, and a dancer. I stopped my studies in 2014 because I couldn't manage to continue because of financial issues.
I have managed to make yoga and acro yoga well-known in different parts of Uganda.
Mostly I introduced yoga in the slums of Uganda which have made a lot of people interested and it has also been published by one of our newspapers in Uganda called Observers, then also partnering with different non-profit organizations, schools on yoga teaching and meditation to adults and children.
Although most of the time I am not paid for doing it, I just do it out of love because it changed my life and it's time for me to give back to the communities.
Sometimes they facilitate me with transport after teaching because most of the people I reach out to can't afford to pay because of financial issues and also it's something new to them.
As a dancer, you have to practice before starting a dance. But it wasn't so serious as I was still studying by then at the institution.
So now I have been doing yoga since 2015, after dropping out of school in 2014 when I was figuring what to do in life as I was so stressed and depressed with everything.
That's why I had to find something which I can do out of passion and with love and happiness.
I had some of the sports which I have been doing while I was a child like playing football and running in high school. Like any other normal person, I always had hobbies like swimming, playing cards, listening to music, and traveling besides fitness.
Since I got into yoga and sharing it with the communities, I got some sponsors who could sponsor some of the communities in which I'm supposed to go and teach.
Yeah, it benefited me on supporting myself and my family because some of them were sponsoring, as I was teaching the communities free of charge.
---
Yoga has made me live in the present
---
I have liked a lot of things in fitness because it has changed my lifestyle. Yoga has made me live in the present, not the past or in the future.
Also, I see my flexibility increasing each day because when I was a child, I had a terrible car accident which left me to be in the hospital for more than nine months, so my life was not happy as any other person or child.
But now I am a happy person who has managed to inspire, motivate, and encourage young fellows that fitness can take you somewhere in life.
As I talk now, I have made a lot of friends through fitness and I am still also meeting more new ones who are really amazing to share beautiful stories with them which makes me stronger each day of life.
⏱ Describe a typical day of training
Before my own training, I was constantly striving to practice more, study more, and learn more. But doing it alone was difficult, and enrolling in yoga teacher training was exactly the push and commitment I needed to get closer to my goals.
As a yogi, I turn to yoga teacher training for my own personal development when I want to take my practice and study to the next level.
Even the most dedicated yogi practice regularly, attend frequent workshops, go on retreats and read and study on their own.
Regardless of my teaching aspirations, training is an experience that will push me to dig deep and will challenge me mentally and physically, and also the methodically of various styles with components of yoga to give me a strong foundation.
I focus on educating clients in ways that can support their goals and exercises with my method of teaching as a freelancer, as I don't own a studio.
I meet them where they are on specific days on the week and never push them harder than necessary to help them feel successful.
I do train every morning, like 10 minutes of breathing, then I do 20 minutes of asanas to prepare my body for the day. And during the day, I do my personal training for one hour, in a week like four times.
Then when I am reaching out to the schools or communities depends on the age bracket and I teach them according to what they supposed to get of benefits.
I don't follow any specific program, I just put more focus on the points. I am weaker because yoga is always full-body practice unless you decide to focus on specific parts of the body.
I like to do more breathing because it has given me a lot of benefits in the body, mentally and physically. Even if I don't do yoga to lose fat as my body is in a moderate state, I need to maintain it and be more flexible.
I don't have any specific place of practicing unless I am in meditation that's when I will need some quiet place, but yoga can be done at any place as long as it's clean and not overcrowded.
Mostly I train alone and I do train with others for a few days, if I am not teaching the communities or schools. So, my training preparation is not so hard. I just take my working clothes, yoga mat, yoga block, water bottle, and a speaker in my bag.
Sometimes, I use relaxing music.
Yeah, I do have some yoga types which I love to do because they let me heat up so fast and also helps me deepen my flexibilities.
I do sweat so much during the practice because the body and the breathing are all moving together. And some of the yoga types are Patanjali and Vasistha yoga, Ashtanga, and Vinyasa flow.
Mostly I do follow my diet because I need to have a healthy body. At times I do other workouts for the stomach like sit-ups but yoga is my favorite exercise.
In my practice, I do use a phone watch to stop me when the time as reached but I don't have any other tool for measuring my training. And I don't keep a training log.
👊 How do you keep going and push harder?
---
For me, the challenge is in flexibility.
---
Yeah, this is a really good question, I don't train at the gym because I don't need any machines to practice. I just need a yoga mat and sometimes a clean floor.
Other days I do feel so low motivation to practice, then I see my yoga and remember what yoga has given my life, this gets up my body to practice. Once my body is heated up seriously and the flow of the body with breathing makes me keep on for a long time.
As it's part of my body, so if I don't practice any single day, I feel like there is something missing in my body throughout that day and that makes me keep pushing harder on practice. Even I should be an inspiration to other youths.
Yeah, I have different times for my practice according to the plan of the day because there sometimes I get so busy on other activities or when I am traveling a lot, so that makes my time differ always.
And with my family, as I do stay with my sister, we are together and at times we practice together. I do visit my mum five times a week when I am around because she is not all that healthy, so I have to check every time.
As yoga is not like the gym so I don't see the biggest challenge there. For me, the challenge is in flexibility. The hardest day was bending class because I had a terrible car accident which affected my back, so when I did that class it made me feel cold and abnormal that day because I have pushed my back to its normal limitations.
🏆 How are you doing today and what does the future look like?
At the moment my training is growing each day because the lockdown of the country has enabled me to practice every day and work on my limitations, even also learn new things, which I didn't think of.
Where I am now seeing myself in the next 5 years, I will have my own yoga studio which will help a lot of community people and international ones on building their goals and dreams come through doing workshops, retreats, and normal classes.
Through that, I am focused on building the exchange programs between the local communities and the global yoga communities which is more supportive of each other.
Apparently, my plans are to ground myself and also let my community know the benefits of yoga and other fitness practice in our daily life through reaching out to different communities, schools, orphanages, and non-profit organizations.
After that, I will be traveling to different countries attending and also teaching yoga as I do inspire them about what I am doing in my country.
Yeah, I will be setting up some small business to run so that they can support me financially while I do deepen my own study because I would love always to learn new things that I can share with my community.
And what I could love to change in my fitness journey is that how I see things always and be calmer, no rush, just to accept the flow because sometimes I see that I am on the rush with the world.
🤕 How do you recover, rest and handle injuries?
Yeah, I am always so careful about injuries before I start my training. I have never experienced injuries because I start learning from the basics and I flow with the breathing, never rush.
I love to take my team on my practice so that I can feel my body more, even if at times I do get minor injuries which just needs me to have a rest and my body gets back to normal.
I will sleep like five to six hours. But now it depends on how busy I am because some days I do sleep for like three hours, but when I am not busy, I make sure I sleep like eight hours.
I just flow with my travel always because I am someone who is more flexible, and I do live in the present because I try to avoid the stress of traveling like when you have many schedules and others get canceled.
So, I plan less ahead of me and I move that which is there at that moment.
And I have never taken any supplements to improve my recovery because I have never been on any serious injuries from my practices. So, I am a natural person who doesn't use any medicine because I grew up knowing that medicine is harmful to the human body.
🍎 How is your diet and what supplements do you use?
---
I don't have any favorite supplement brands because I have never experienced it.
---
I don't think that I do follow diet procedures just because I do eat more vegetables. And I make sure that I do have enough for the body because we have a lot of fresh things in our country.
So, I don't always even think about the count calories seriously because I rarely feed on meat which has a lot of calories. And in a day, I don't know how many calories I go for.
I do balance my proteins, carbohydrates, or some other things each day during my eating. And even when I go out or on social occasions, I do make sure that I get what I eat and which is enough for me, even if I don't follow diet always.
I don't have any supplements because here things are different always as we get things from the garden and mostly they don't have them. I don't have any favorite supplement brands because I have never experienced it.
I do always time my food and I know the exact time of eating.
Oh yeah, we have a lot of hot days and I think, we have more hot days than cold ones. And I stated that we have fresh food, so our food is ok with either hot or cold days, all are the same as what we eat anyways.
Because I always eat junk food which is rolex, a chapati with eggs or beans. Sometimes I even eat it like breakfast or sometimes when I don't want to eat food in the evening, that's when I have rolex.
I stay lean the whole year because my body is moderate and I do fast with fruits which are fresh, so that gives my body to be active and also clean it.
I feel hungry just because I change my practice to breathing techniques only. And I do cut when I eat less and I am doing a lot of things which makes me not think of eating every time.
I drink tea every day but with less sugar and at times without.
I am not a fan of coffee and alcohol, I do take it once in the while when I am with friends and I take enough, but not too much which will stop me to practice the next day.
I do use any fitness tracker to measure my diet and activity level.
👍 What has inspired and motivated you?
I was inspired and motivated by one person called Bobby when I went to learn dance and during the warm-up, we had yoga and I felt interested in it.
So I had to look where they teach it regularly and that's where I met the lady called Biibo Tag who mentored me seriously because she saw me showing a big interest in it.
She was also motivating me to push harder. That made me do more research on my own because I didn't know things about podcasts, books, and gym things.
So, now when I started to learn more from the internet, and I started to see people doing good things. And I started to follow some of them because of their work which motivates me to be like them.
I also remember to get some of the advice from August telling me that I will seriously become a hero by inspiring a lot of people around the world and keep sharing my practice on media so that the world can get to know me well.
That made me start following some of the people on Instagram like Lamoote, Rosie, etc because of their amazing photos and the artwork on them.
✏️ Advice for other people who want to improve themselves?
---
---
So, now to all people who would love to start up fitness. Please don't wait until you grow old or you are told by a friend. Please, just start now.
I would love to recommend for you some experienced fitness people like whom you need to check out. And as you are new who is planning to join, please don't be like those who goes to the studio after eating.
That is a stupid thing to do because you will not really enjoy that day.
As I add on to that, I know there are a lot of wrong things happening at the studio or at the gym. But be focused on what has taken you there, and also don't leave your precious sport because you have joined a new one.
You can create time which can balance all of them well because, after your practice from the studio or gym, you will feel so seriously fresh when you step outside after the training.
🤝 Are you taking on clients right now?
---
It's just the matter of directing our bodies to do it.
---
Yes, I have clients whom I am taking both in real-life and over the internet because they saw my work and they saw that I can be the answer to their questions.
I need to tell everyone that whenever you get into my class seriously, you will never be the same person. I will give you my best ever and also I do value your decision on whatever we are doing.
So, now those ones who would love to take part in my class, it's not hard to sign up for. You can just reach out on my pages, and we can schedule the time and days which are more comfortable for you. We can also do some adjustments if needed for the time.
Some of my new clients ask me how I can manage to do what I am doing. Seriously I tell you that everyone can do what I do. It's just the matter of directing our bodies to do it.
📝 Where can we learn more about you?
I'm on Facebook and Instagram.
Also an article about my work on Daily Monitor.