Interview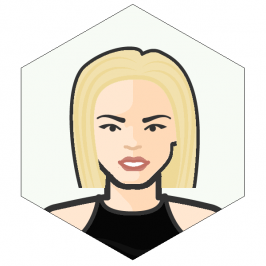 We talked with Nicole Trimmel in March, 2020.
Stats
Nicole Trimmels Stats When We Talked with Her 💪

👋 Hi! Tell us about yourself and your training
My name is Nicole Trimmel, I am 37 years old, and I am a manifold World and European Champion in kickboxing from Austria. Nearly 20 years I was on top of the world and during my career I did a total of 408 fights. My training was and still is on although I stopped competing back in 2017.
Sport is my lifestyle and I will never stop to train – this mindset is one I want to share with you. It is never too late to start with training and you can never be too old for training.
As a successful athlete, my training was always a mixture of different parts and only a small part of this was kickboxing. I used to train a lot of general staff like athletics, speed training, core-training, balance training, mobility, strength, endurance and of course also kickboxing. I love kickboxing – it's my passion.
When I was a little girl, I already wanted to learn martial arts. I wanted to do something traditional like Kung Fu or Ninjutsu but I lived in a village so the opportunities were small. At age 15 I entered a beginner course in kickboxing. The rest is history.
Even as a professional athlete I always worked beside. I only changed from a full time job to half time job and did also a lot of coaching seminars besides. In Austria, I have the highest coach qualification.
⏱ Describe a typical day of training
---
I've never had motivational problems.
---
My philosophy: QUALITY instead of QUANTITY. I started in a normal club in Austria when I started to do kickboxing. I was lucky and I had a very good coach there.
My first coach is Joachim. He worked for the Austrian army and had a really good education in sport and training. So from the very first day I was in good hands and I learned to train with a lot of quality.
Later, I invested in a very professional team. I wanted to get the best of the world so I could not train like everybody else did. So at the end, I had a sport scientist in my team, who did the planning of my training, and an own kickboxing coach with whom every single training in kickboxing stacked together with the rest of the plan. Intensities, etc. were according to the training season.
So a normal day started with an early workout at 6 a.m. (before work) like strength training in the gym. Then I passed on to my work and later in the afternoon I had my kickboxing training with my coach.
Despite the kickboxing training, I trained a lot on my own. Of course, in the beginning I had my coaches who taught me and for a couple of years. We had a training group (everybody was from my performance coach) with Matthias a Jiu Jitsu European Champion, Heidi doing triathlon but in the last years I trained alone.
I've never had motivational problems. I love to train and I know the recipe for my training. As I went through all the coaching education in Austria, I also know what I have to look for to have a high quality in training and I have a very high level of feeling for myself! The best investment is the investment in your body and in your health!
👊 How do you keep going and push harder?
---
If you want high performance, give your body time to prepare for high performance!
---
As I mentioned earlier, I've never faced motivational problems. Of course, there are bad days and there are good days. I also found a recipe for the NOT so good days – I always started with mobilizations of my body, I took more time for the warm-up until my body did not recognize that he now has to perform.
As a coach (so after my active career), I had to find out that lots of athletes have no feeling for their body but they want high performance immediately? How should this work?
I watched them just putting on running shoes, without any kind of warm-up, no kind of preparations and just starting to run a 400m full speed run. When watching them my body started to have pains just when watching them!!!!
Think about it: If you want high performance, give your body time to prepare for high performance! Put in a song, which gets you in a good mood for training, which changes your mindset! Try it and give it a chance!
🏆 How are you doing today and what does the future look like?
As I retired from active competitions, which does not mean that I have stopped to train (!), I will never stop training. My training, of course, changed a little bit. I started to do CrossFit and some other kind of sports and now I don't need to stick to a fixed training plan.
For example, couple of months before a kickboxing competition I did not do long cycling trips as it did not stick to the plan to improve speed, etc. Now I can do my cycle trips and I really enjoy it. I have more flexibility in doing what I love.
Kickboxing is still a part of my training. I also work as a coach for the Austrian national team in kickboxing and also in Thai boxing. I do a lot of workshops for companies, hotels or even private persons and I do keynotes in regards to success, mindset, training, etc. and I do personal training. So I am not getting bored.
According to the actual COVID-19 problem, I founded an Instagram platform called "quarantrainment" together with a friend of mine. So this keeps me busy as well. It's a platform for athletes, sport enthusiasts but also for people who need ideas for their training at home right now.
🤕 How do you recover, rest and handle injuries?
Although I was more than 20 years in a combat sports and did 408 fights I only suffered from two bad injuries. Once I had a surgery on my meniscus and the worse one was a torn cruciate ligament which kicked me out for one year. And again it's the power of what you think in this situation.
When I was laying there in front of the doctor and he said: 99% your ligament is off… I immediately asked what does that mean to me? He said, one year return to active competition sport in kickboxing.
My first impulse was: Wow! I got one year now, one year where I can do all the things I cannot do during a "normal" year. I want to come back STRONGER than before. It was like this.
Approximately one year later, I returned to the ring but on a high level – it was the WAKO (world association of kickboxing organization) worldcup in fullcontact kickboxing in Budapest/H. I won it.
In the same year, I got WAKO European Champion in full contact kickboxing in Greece. I said to myself, when somebody can make it – it's me! Think about this mindset!
🍎 How is your diet and what supplements do you use?
---
I am not a fan of short cutting weight because it is not healthy and unfortunately lots of martial arts fighters still do it.
---
Fortunately, I was on a diet very seldom. At the beginning of 2012, I cut down 10kg because I started to do an ambitious project. After winning everything in kickboxing, which is a non-Olympic sport, my team and I started a project.
Women's boxing got Olympic in 2012. The "only" qualification for the Olympics in London was the AIBA World Championships in Boxing in China. So we took this idea and made our way. I had to qualify to the Austrian Boxing national team and cut down 10kg besides I had to fulfill all the criteria from the Austrian team, had international fights and qualified for China where I was kicked out.
I am not a fan of short cutting weight because it is not healthy and unfortunately lots of martial arts fighters still do it. They cut down lots of kilos in the last days, don't eat, don't drink enough and the focus is just on the weight. Nobody thinks about on the fight. They win the fight against the scale – but they lose against their opponent!
👍 What has inspired and motivated you?
If somebody inspired me from the very beginning when I was a little girl, it was Bruce Lee or a shaolin monk. Being strong, having a very high level of body control, knowing what kind of power you have but not using it just on purpose.
Today, I am inspired by two former athletes – they are now around 70 years old and still I meet them every week in the gym. They were the very first fitness models during their youth but still they hit the gym!
✏️ Advice for other people who want to improve themselves?
It's never too late to start with training!
🤝 Are you taking on clients right now?
Sure even during this special situation (COVID-19) there are opportunities.
📝 Where can we learn more about you?
Just check out my Instagram: @nicole.trimmel, my website nicole-trimmel.at or our latest platform on Instagram @quarantrainment.