Interview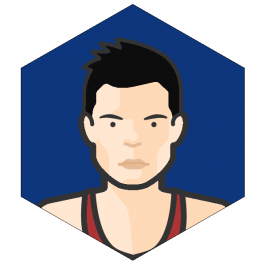 We talked with Michael Zerafa in July, 2020.
Stats
Hi! Tell us about yourself and your training
My name is Michael Zerafa and I am 28 years of age, from Melbourne, Australia. I am a professional boxer, currently sitting at number 1 in the middleweight division in Australia and number 4 in the world.
Describe a typical day of training
Every day is different and consists of different types of training. It varies between five to eight hours per day and the training regime consists of strength training, pad work, drills, foot work, recovery and bag work.
For cardio, I run between 10-15km per day. I find it therapeutic to run and do it as a hobby more so than training.
Because boxing is an individual sport, it's hard to train with others but in saying that my team are always around me. I have different sessions a day with different trainers so as much as I'm training on my own, I have my team beside me every step of the way.
During training, I usually bring skipping rope, change of clothes, boxing gloves, hand wraps, ball guard, head gear, mouthguard and earphones.
I don't take any supplements other than an occasional protein shake if prescribed as one of my meals/intakes for the day as well as daily vitamins to ensure I am staying healthy.
How do you keep going and push harder?
---
I know all the hard work will pay off so when my motivation is low, I remind myself where I will be very soon and it keeps me going.
---
I keep going and pushing because there is one place I am working towards and that's to be a world champion. I know all the hard work will pay off so when my motivation is low, I remind myself where I will be very soon and it keeps me going.
The other main thing that keeps me going is the support I receive. I push harder for those beside me during my journey as well as giving back to the community. I love to help where I can and do volunteer work at any chance I get.
The biggest challenge would be falling short to Kell Brook. Going the distance with him was one of the biggest challenges in my career so far.
How are you doing today and what does the future look like?
Today, I am working hard to achieve my goals. I put in countless hours of work towards my goal each and every day and I know that my hard work will pay off to becoming a world champion.
There isn't anything I'd change. I'm a firm believer that everything that happens, happens for a reason and I am super grateful for how far I've come, where I'm headed and the people I have by my side.
How do you recover, rest and handle injuries?
I avoid injuries by constant treatments by my massage therapist Joey from Elite Sports Massage as well as cold and hot contrast therapy (ice bath to 37 degree water) and sauna.
In addition to that, I try to sleep early and get a good night's sleep to ensure my body isn't fatigued and I am ready for each session.
I sleep an average about five to seven hours a night.
How is your diet and what supplements do you use?
Preparation for training is ensuring I eat the right foods, which my chef Mick from Nutrition Capital in Coburg prepares guaranteeing my calories and macros are all met. This is measured as I use the Polar H10 monitor which calculates the calories & fat I am burning per session.
In saying that, I have a massive sweet tooth. I can just eat sugar all day and it'll get me through. Obviously when I'm in camp I am on a strict diet as mentioned above but I allow myself to eat junk food (chocolate) when I feel like it.
I intermediate fast where I won't have anything to eat in the morning and eat a properly proportioned meal in the evening prepared by my chef Mick from Nutrition Capital that is weighed, calorie counted all macros considered. I also love my sweets so after I eat my meal, I'll eat chocolate or lollies.
I don't drink coffee and not a fan of alcohol so it makes it easy for me at social events as it doesn't affect me in any way.
What has inspired and motivated you?
---
I do what I do to give back to those who believe in me.
---
What has inspired me and motivates me is the chance to give back. I want to do this for everyone around me whether it be my family, friends and supporters. I do what I do to give back to those who believe in me.
I'm grateful for my sponsors for believing in me, which gives me a drive to continue to persevere. Armadura, Zoom recruitment, Oracle Consulting Group, NKG Buiding Surveyors, St George Construction, Signature Commercial Construction, Talk Think Change Psychology, Powercore Fitness, Elite Performance, Diesel Contruction, Greenvale Dentistry, Addikted to Ink, F4 Studios, Melbourne Mouthguards and Rival.
I love listening to motivational speeches and podcast while working out.
Advice for other people who want to improve themselves?
Work hard for what you want. While others are sleeping, you work for your goals and dreams. Don't ever lose focus of the end goal and never be afraid to ask for help by those around you.
One of my biggest supporters and sponsors is Aggie Kastanos from Talk Think Change Psychology. She is my go-to person when I need to debrief and motivate myself to keep going.
Are you taking on clients right now?
Although I am a qualified personal trainer, as my training schedule consists of intense training for five to eight hours per day and is my full-time job, it's difficult to be able to take on clients.
Where can we learn more about you?
You can follow me at Michael Pretty Boy Zerafa on Instagram and Facebook as well as my website michaelzerafa.com